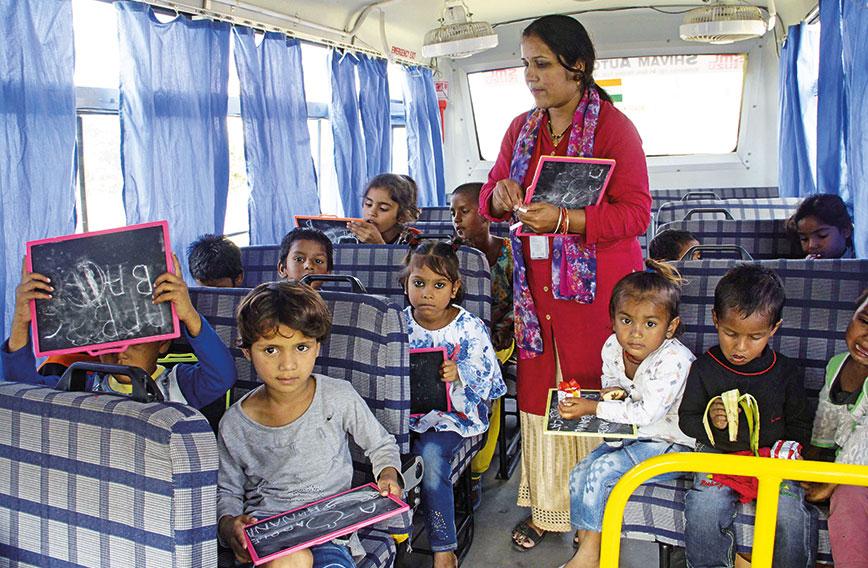 The bus has a smart board, audio-visual aids and rows of books
Off the street and into school
Rakesh Agrawal, Dehradun
Published: Aug. 16, 2022
Updated: Jun. 29, 2023
After three days of intermittent rain, the sky began to clear and Meenakshi, Joginder, Rahul with his sister Kajal, and Shalu happily began to walk to school. They passed a cluster of dilapidated huts in their slum, Bindalpul, near the bank of the Bindal rivulet, where rag pickers, daily wage workers, street vendors and domestic workers live. The children boarded a bus to alight at City Board Street Smart Centre, a kilometre away, where another bus awaited them.
Except that this yellow bus was a stationary bus, converted into a school with seats, a smart board, a TV screen, audio-visual aids and rows of books.
"Welcome, children, after three days," said Deepika Chauhan, their young teacher. All five children occupied their seats in two rows, put on the overhead fan and picked up their slates. Soon, another 10 children from the basti joined them and Chauhan began the class, teaching the English alphabet with attractive pictures on the smart board and asking the children to write the letters on their slates. After a while, she came over to talk to every child and see what they had written.
An hour later, lessons were over. Each child was given a glass of milk with Bournvita, two bananas and patties and pastries. "You can't teach children on an empty stomach so we combine learning with tasty and nutritious food," says Chauhan.
Welcome to the Street Smart Programme of the Aasraa Trust, a non-profit organization based in Dehradun, dedicated to teaching out-of-school children working as rag pickers or engaged in begging. Around 649 children attend the Street Smart programme. Aasra has converted a fleet of eight buses into Mobile Learning Centres to bring literacy to their doorsteps. Where lanes are too narrow for buses to enter, the non-profit has imaginatively designed makeshift schools by refurbishing thelas or cycle carts.
You can see one such school at the edge of the basti at Premnagar, a locality on the western fringe of the city. The cart becomes a large table and books, slates, notebooks, colours, pencils are stored on it. The children love to sit around the cart on plastic chairs and tables with their slates and a few toys.
Their teacher at this thela school is a policeman. Dharmendra Rautela, SHO of Premnagar Police Station in Dehradun, was so impressed with the concept that he volunteered to teach these children. Two very young children, Karan and Nandini, pick up red plastic letters of the English alphabet and place them next to the relevant pictures. They repeat "A for Apple, B for Ball," with gusto.
Founded by 44-year-old Shaila Brijnath in 2009, the Aasraa Trust runs a series of projects to help underprivileged children from impoverished homes get access to education. It also provides nutrition, medical care, shelter and skilling. Aasraa works with Childline to help abandoned and abused children as well.
"Our vision is to impart a life with dignity to children from the streets and slums of Dehradun. We seek to break the cycle of poverty that governs their lives and empower them through education and vocational training combined with healthcare and education. We reach out to vulnerable children and give them opportunity, care and love," says Brijnath.
A former stockbroker from the UK, Brijnath had an elite education and career. After graduating from Christ Church College, University of Kent in Canterbury, she spent several years abroad working with stock exchanges in the US and UK. She returned to India in 2008 to Dehradun with a mission in her heart: to help children living on the periphery of society.
When she spotted a group of street children selling balloons, combs, flowers and toys to shoppers at Astley Hall, a premier shopping complex in Dehradun, she decided to make her first move. "Shaila realized that they were unlettered and thought she could teach them, but not during prime shopping time," says Shalini Rahi, communication manager at Aasraa.
She set up a table on the pavement outside the shopping complex and began teaching the children Hindi and English alphabets, counting and basic maths, using small colourful toys and pictures.
In a few months, the children learnt these basic skills. Helped by Aasraa, some of them joined government schools, in keeping with the provisions of the Right to Education Act.
All the informal schools help children get admission into government schools. Six-year-old Avtar, eight-year-old Roli and 11-year-old Aniket from the Mobile Learning Centre in Premnagar have joined the Government Primary School, Kholupani in Classes 1, 3 and 5, respectively.
Eleven-year-old Rita, from Chabil Bagh, a slum cluster where she lived with her mother, a domestic help, and father, a stone-cutter, has got admission into Purkal Youth Development Society (PYDS), a CBSE-affiliated school on the outskirts of the city started by G.K. Swami, a former investment consultant. Altogether 19 children from Aasra have joined PYDS. Six other girls who used to work as rag pickers, now attend Guru Ram Rai school, a private senior secondary school in Dehradun.
What started as a small set-up with a group of 35 children has now grown into a large organization that works with over 4,000 children — 1,800 through the Street Smart Programme and about 2,200 through Wings Of Doon, a school remedial programme under which Aasraa has 14 centres across the city and provides free transport, education, meals and medical check-ups to all its children.