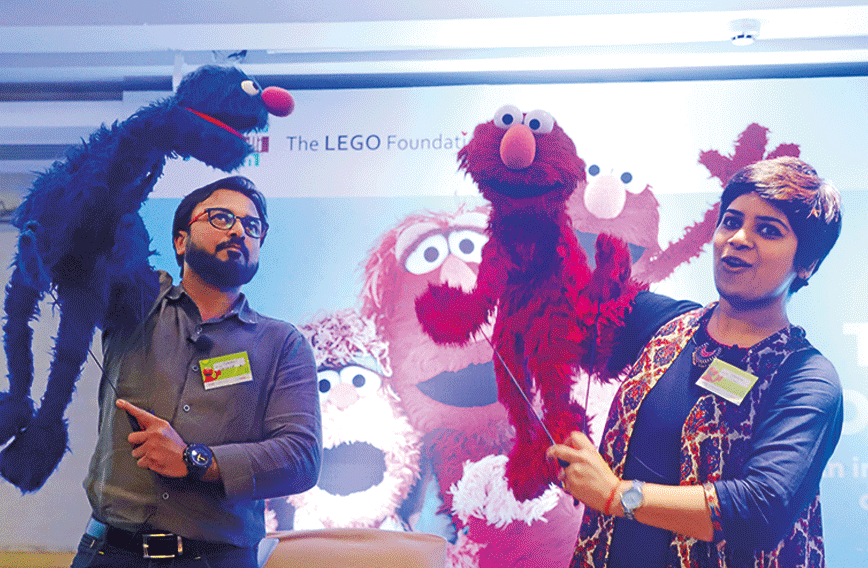 Sesame muppets Elmo and Grover welcome participants to the Play Every Day conference
Parents who play make better sense to children
Kavita Charanji, New Delhi
Published: Jul. 13, 2019
Updated: Jul. 13, 2019
More play time makes children smarter. That's what a project by Sesame Workshop and Lego Foundation called Play Every Day, implemented in low-resource communities in India, Mexico and South Africa, indicates. When parents and teachers helped children between three and six years old to play, the children not only had fun, they became more creative.
To disseminate their findings, Sesame Workshop India and the Lego Foundation hosted a Play Conference in Delhi recently. NGOs, corporates, foundations, academics and government representatives shared ideas on play-friendly programmes and the challenges they confront in getting children to play more.
Parents and teachers don't always understand the importance of play, for instance. It is difficult to motivate them to introduce new forms of learning.
"The parents felt it was just fun and non-serious. But after we started engaging with them and they saw the benefits of play, the transformation was amazing," says Sonali Khan, managing director of Sesame Workshop India.
Play Every Day was launched in 2016. The programme went through three phases of research, testing and refinement in communities. Finally, the 12-week programme began between September and December 2018. In India, Play Every Day reached 2,500 families with three- to six-year-olds across nine low-resource communities in Delhi. With the help of trained facilitators and NGOs, Sesame Workshop India organised play workshops with parents and children, play fairs, street plays, rallies and other community events.
"In India, the message we sent out was that play was linked to children's language development, maths, number concepts and social values that would make them good citizens," says Ira Joshi, vice-president, education & research, Sesame Workshop India.
Through hands-on activities, facilitators showed parents that their children didn't need expensive toys to become sharp learners. Locally available material like recycled cardboard boxes, plastic bottles, cups and everyday household objects would do just as well. A popular game was Number Tower where children counted cardboard boxes and, in the process, learnt addition and subtraction. The recycled material was also transformed into more exciting toys like cars and playhouses.
"Creative thinking is very important. In school we are taught that there is only one right answer, for example, that an object is a box or a car. But the idea that it could be something else is a big part of skill sets," says Khan.
Sesame also introduced textless storybooks with images that allowed mothers to craft their own stories. "The books gave a great deal of encouragement and a sense of agency to mothers," says Khan.
Word games were popular too. One effective strategy was to involve children in the daily chores of their mothers. By just hanging out laundry, children sorted, counted clothes and played other games with their mothers.
"All the women initially complained that they had no time to incorporate play into their busy routines. But they were very happy with our strategy because it enabled them to keep an eye on their children. The kids became quick learners and the mothers found their chores lightened," says Nikhita Bhatia, content specialist at Sesame Workshop India.
A multi-country research evaluation of Play Every Day by an external evaluator showed that India fared well on several counts. For instance, according to reports by those who looked after the children, frequency of play increased by 23 percent in India, three percent in Mexico and 15 percent in South Africa.
The caregivers revealed increased confidence as "play mentors" for their children through quality play time with an increase of eight percent in India, 11 percent in Mexico and 18 percent in South Africa.
They were also more confident of using recycled materials like plastic bottles, cans and cardboard rolls as play objects. Likewise, Indian children showed an increase in creative thinking on how to use household items for play.
Khan and Diego Adame, director, Learning Through Play in Early Childhood, Lego Foundation, released the Global Book of Play. Meant for early childhood development providers and experts, the book showcased their learnings from India, Mexico and South Africa.
"The emphasis on children from 0-6 years is missing worldwide. We know that the best return on investment is for governments to focus on early childhood education but that doesn't happen. Governments agree but they don't commit their money to this group," said Adame.
In a keynote address, Dr Mythili Bector, officer on special duty, primary school education, Directorate of Education, Delhi, talked about the Delhi government's initiatives in pre-primary education. A grant of Rs 1 lakh has been allotted to schools for teaching-learning material like musical instruments, CD players, origami sheets, puppets and activity books, to name just a few. Each nursery class, she said, has a classroom library. While teacher motivation was a challenge sometimes, she said the "Happiness Curriculum" has been introduced from nursery to Class 8 to help children become self-aware, creative and happier.
There was also a panel discussion on varied models of incorporating play in Early Childhood Development (ECD) programmes. Dr Swati Popat Vats, president of the Podar Education Network and president of the Early Childhood Association India, cited the example of the Podar Jumbo Kids pre-primary schools that are based on the philosophy of 'Kiducation.' This is essentially education from the child's perspective with play as its core philosophy.
Dr Naveen Thomas, co-founder of Headstreams, talked about the organisation's Tackle Caravan programme which encourages trained youth facilitators and children to play together in the local community. The youth serve as role models for the children, he pointed out.
Dr Sudeshna Chatterjee, board member, International Play Association, stressed the importance of play in disaster and crisis situations.
The issue was topical since the new draft education policy emphasises early childhood education.