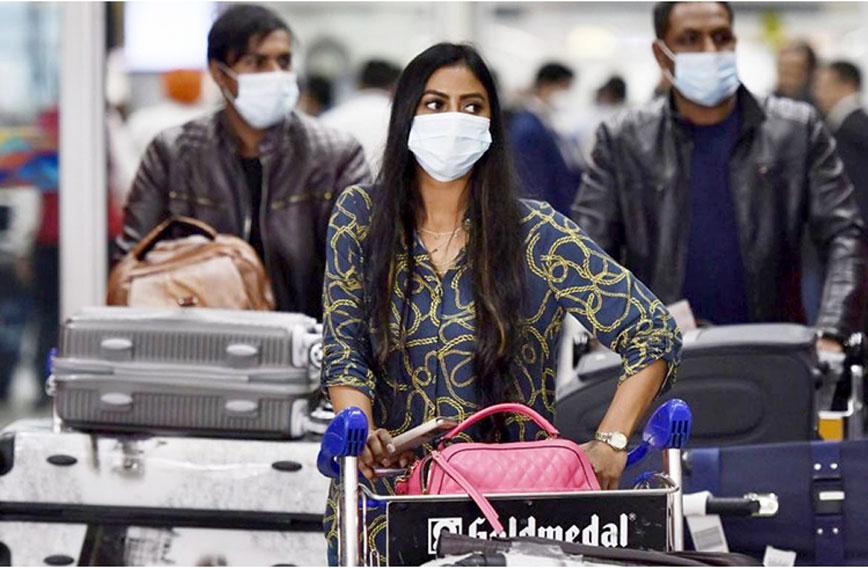 Study abroad but stay at home for a while
Sidika Sehgal, New Delhi
Published: Apr. 23, 2020
Updated: Apr. 23, 2020
Universities and schools were the first to shut down when the coronavirus began spreading rapidly across the world. Indian students studying abroad hurried home and now face a period of uncertainty. It's unlikely they will be able to return to their foreign campuses anytime soon.
Classes have gone online and universities have been prompt to make that shift. The University of New South Wales (UNSW) in Sydney, Australia, was able to start producing online material within two weeks.
"I think what will happen is that we will leapfrog to the online platform. It will be a challenge but I see no alternative. We can't simply write off 2020 as a bad year," says Amit Dasgupta, 66, a former Indian diplomat and now country director of the University of New South Wales (UNSW).
That means faculty members will have to be trained to use the digital medium optimally. Students will also have to accept this solution and attend online classes according to international time zones.
"Students realize that it's not a particular university that's denying them face-to-face education. The entire world is facing COVID-19 and face-to-face education has been taken out of the equation for everyone. So there is reluctant and grudging acceptance for online education," says Dasgupta. Despite COVID-19's devastating impacts, he sees this as a moment of opportunity for universities to develop quality online modules.
"I'm getting a lot of questions about what happens if it's remote learning in the first semester. Will colleges charge the same amount? Will they give people an option to defer a semester without having to reapply? The answer, of course, is that no one knows," said Nicholas Henderson, director and co-founder of Essai Education.
Since 2015, Essai Education has been facilitating entry of Indian students into universities in the US mostly. They also help students who want to study in the UK and Singapore.
Henderson, 36, has interacted with some parents who have indicated that their children are not keen to start their college career at home in their bedrooms. "But I think most people would just get on with it. I don't think they would be tremendously excited about having the first semester online. Who would be but what other option is there?" he says.
If universities do shift to the digital platform for the fall semester, there will obviously be no charge for room and boarding. Students would like to pay lower tuition fees as well.
"It would be interesting to see if tuition costs go down if teaching goes online. I'd be surprised if they do. Big universities, like Harvard, have enormous endowments, nearly $20-30 billion. But some universities need the revenue to come from students," says Henderson.
However, students say there are disciplines that don't lend themselves to online learning. Srishti Dass is a 21-year-old undergraduate student at the School of Visual Arts, New York (SVA). She is studying fine arts and specializing in painting. Dass works on large canvases. She has set up a makeshift studio at her house in Delhi but her teachers are not able to offer useful critique via video.
Facilities like a good library are also missing. Meenakshi Nair, a 22-year-old master's student at the School of Oriental and African Studies (SOAS), University of London, says, "I am resentful that I don't have access to the library and that I'm not on campus, but it's no one's fault." She is pursuing a master's degree in comparative literature. Most of the resources she needs to write her dissertation are available online but the same is not true for medieval studies, she says.
Students who are applying for the fall semester and are scheduled to travel overseas in August and September this year have hard choices to make. As of April 14, universities had made no official announcement about the fall semester.
According to the Open Doors 2019 report by the Institute of International Education, in the 2018-19 academic session there were a little over a million international students in US universities of whom 18 percent (about 200,000) were Indian students. Their website reports that international students contributed $45 billion to the US economy in 2018.
At the University of New South Wales, nearly 33 percent of students are non-Australians. According to Dass, the percentage is as high as 75 percent at the School of Visual Arts.
Since international students bring in revenue, universities will need to keep their interests in mind. In the American education system, students have to make a deposit of a few hundred dollars by May 1, which is a binding commitment to that university. There has to be some clarity by then.
Henderson believes that it won't be financially viable for universities to cancel a year. "If universities invest aggressively in on-campus testing and take very strict health precautions on campus, I could see that working," he said.
Indian students continue to be keen to study in foreign universities. Surprisingly, at Essai Education, none of the students have dropped out. Dasgupta reported that in 2020, they have received more applications from students to study at UNSW than they have seen over the last two or three years.
"One could argue that it's because Australia has managed to contain COVID-19 far more successfully than any other country. Another rationale is that if you remove US and Canada from the equation, the obvious choice is Australia, which is the third most preferred destination for foreign education according to the Ministry of External Affairs. Which of these reasons is the more logical one, I can't say," said Dasgupta.
The financial impact of COVID-19 will also dictate decisions. Education loans won't be easy to come by. Scholarships may not come through.
This year, Duke University has cancelled the Robertson scholarship, which is a full, merit-based scholarship, awarded to 32 students each year. It differs from scholarship to scholarship, says Henderson. Another student who won a scholarship to Tulane University in New Orleans has the option to defer by a year.
Stuti Pachisia, a 22-year-old from Kolkata, secured the Gates Fellowship to pursue a PhD in English at the University of Cambridge. She is scheduled to fly late September and has been assured that her funding will come through. "My family is hopeful right now because this is a universal problem. I'm not the only one facing this pandemic. So universities will come up with a solution that takes all of this into account," she said.
Dasgupta points out that the COVID-19 pandemic impacts education globally. "It's not just about those who are trying to go abroad. It's also domestic education. There are 350 million Indian students who are going to school or college. So are you going to live right through 2020 without educating children and denying college education? I don't think a society can afford to do that."n