A student with a bunch of a rare wild fruit
Kids get to grow and sell veggies in Kerala schools
Shree Padre,, Thodupuzha
Published: Nov. 29, 2019
Updated: Apr. 23, 2020
One day in the week, children in Thodupuzha taluk in Idukki district of Kerala carry two bags to school. One, of course, contains their books. The other has freshly harvested vegetables from their homestead gardens. If you peep inside, you will be surprised.
Apart from familiar vegetables there are some unusual ones. You can see colocasia leaves, clove beans, bird's eye chillies, moringa leaves, banana stems, banana flowers, a leafy vegetable called taludama, tamarind leaves and more.
The produce is picked up and sold by the Kerala Agriculture Development Society (KADS), popular here for its efforts to empower farmers.
Each student's produce is marked, weighed and a price mentioned. A list is drawn up and handed over to the headmaster along with money for the produce collected. The headmaster doesn't distribute the cash to students but ensures it is credited to their bank accounts.
KADS sells the produce at a special counter on its premises. Needless to say, the fresh, organic, local vegetables supplied by schoolchildren vanish in a jiffy. Customers wait to buy and even pay a little above the market rate for some items.
The children are part of an unusual programme called Pachchakudukka which KADS launched last year in three schools on a pilot basis. Pachcha in Malayalam means green and kudukka is a terracotta piggy bank children used in the past. The programme proved very popular, despite Kerala's devastating floods.
Twenty schools within a radius of 20 km from Thodupuzha are now taking part in it. Students from around 1,000 homes bring vegetables from their homestead farms to their schools for sale at KAD's premises.
Pachchakudukka is the brainchild of Antony Kandirikkal, 58, president of KADS which has been headquartered in Thodupuzha for 18 years. Students can bring any home-grown vegetables or fruits even in very small quantities.
"Around 20 veggies that come to our Pachchakudukka counter for sale aren't available in markets elsewhere. I think even professors at Kerala Agriculture University might not be aware of them. Our programme will rekindle interest among the younger generation in our ancient culture of homestead farming," says Kandirikkal.
"In fact, homestead farming is a hidden economy. Once the programme gains momentum, we will be able to collect Rs 2 lakh worth of vegetables from each school. That means Rs 40 lakh from 20 schools. Just imagine what the output of 2,000 schools would be."
In Kerala, vegetable production is at its lowest during the monsoon. Despite this, students who participated earned over Rs 2.75 lakh till end-October. Of course, KADS' main agenda is educative.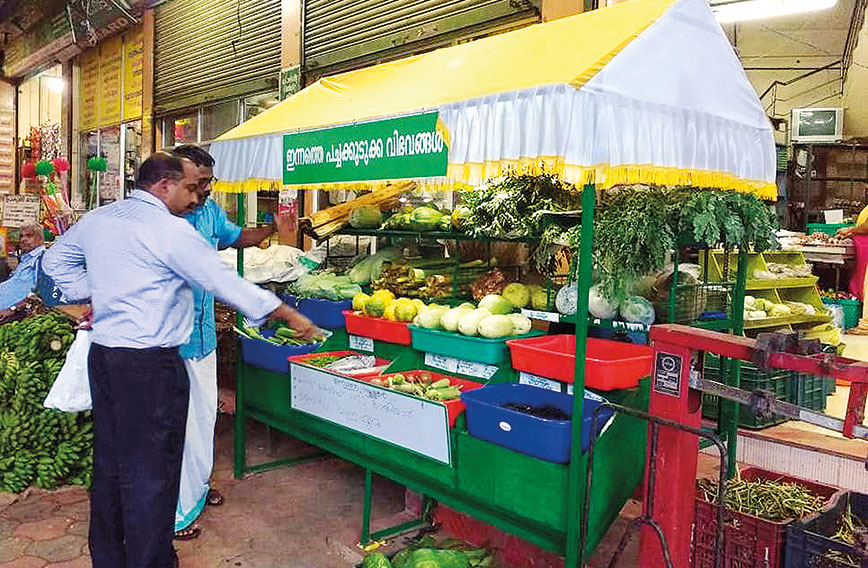 The Pachchakudukka counter at KADS which sells farm produce brought by schoolchildren
"This experiment can spark an interest in farming among schoolchildren, inspire them to grow their own vegetables and create awareness of the importance of safe, nutritious, locally grown foods. And we are providing a ready market," says K.M. Mathew, coordinator of the Pachchakudukka programme.
KADS goes to four schools a day and collects vegetables all five days of the week from different schools. Currently, 50 students from each school are chosen to take part in the programme. Mathew believes that the attitudes of schoolchildren towards agriculture will change over time. They will not see farming as a loser's profession.
"A big change has started," he says.
Banking on vegetables
Last year, office-bearers of KADS were discussing strategies to increase the supply of safe and local veggies to their two stalls. Kandirikkal and Mathew visited the schools three times, to seek their participation, brief them, get a coordinator appointed, create awareness among students and then inaugurate the programme.
Although 50 students have been chosen, teachers don't turn down vegetables brought by other students. Each school has appointed a teacher coordinator who keeps in touch with the students, inspires them to stay involved and addresses their problems, if any.
KADS fixes prices for the veggies based on that day's market price. It pays a little extra also. Children bring eggs from ducks and hens. If local shops are buying an egg for Rs 5.50, KADS pays the students Rs 6. The final rate list is posted on the notice board. The amount deposited in the student's bank account can be drawn only at the end of the school year. The idea is to make students realise how 'small drops make an ocean'. Also, if the money is available in a lump sum, children can use it to pay for school uniforms or books.
Two products that children bring in large quantities are curry leaf and moringa leaf. Kerala's curry leaf supply comes from neighbouring Tamil Nadu. It is invariably drenched in pesticides. People are aware of this so local curry leaves are snapped up. Initially, KADS didn't know what to do with its copious amounts of moringa leaves. Now they have realised that moringa leaves can be sold for as much as Rs 400 per kg if they are dried and crushed.
Two months ago, KADS opened a small Pachchakudukka counter in their marketing area. Five students from St Thomas High School, Thudanganad, the topper in vegetable supply, were invited. They were honoured on the inaugural day. Within two hours all the vegetables sold out. "Customers now time their visits. They come in the afternoon when produce from the schools arrives at the counter. Most veggies get sold on the same day. We transact around Rs 5,000 to Rs 6,000 worth of business every day," says a KADS staff member.
KADS had planned to send unsold vegetables to their Ernakulam branch. But they say they don't have any leftover stock. Demand exceeds supply.
St Thomas High School has been consistently coming first in supply of vegetables. Since the start of the programme the school has supplied vegetables worth Rs 120,000. Next are St John's High School, Kurumannu, Sacred Heart G.S.S., Mudalakodam, and St George High School, Udumbannoor.
Maria Thomas, a Class 9 student of St Thomas, topped in vegetable supply. Every week, she would bring vegetables worth not less than Rs 1,000. Last year she earned Rs 28,000. "My parents gave me a separate plot two or three years ago to cultivate vegetables. I have been growing cowpea, chillies, brinjal, cabbage and carrots. My interest doubled when I took part in the Pachchakudukka programme," she says.
Maria is keen to specialise in a farm-related subject. "I am interested in studying emerging areas in farming like aquaponics and hydroponics," she says.
"Internal bonds within the family strengthen when children assist their parents in vegetable farming activities in the morning," explains Sijo Mon Joseph, teacher-coordinator of the Pachchakudukka programme at St Thomas. "They begin to understand the importance of growing food and of saving. They also develop a healthy respect for farming."
Shany John, headmistress of St Thomas, is excited about the programme. "Youth look down on farming. They prefer to migrate to the city. The most positive aspect of Pachchakudukka is that it has the potential to erase such false notions. In future, these students can make a decent living as farmers if they have land, without seeking external help. My sincere hope is that this programme is extended to the entire state."
"Students who don't know anything about farming are becoming interested in growing vegetables. They can now identify banana stem, elephant foot yam, various tubers and distinguish between banana varieties. Isn't this a big change in mindset?" asks Rajesh Thomas, the driver-cum-salesman of Pachchakudukka.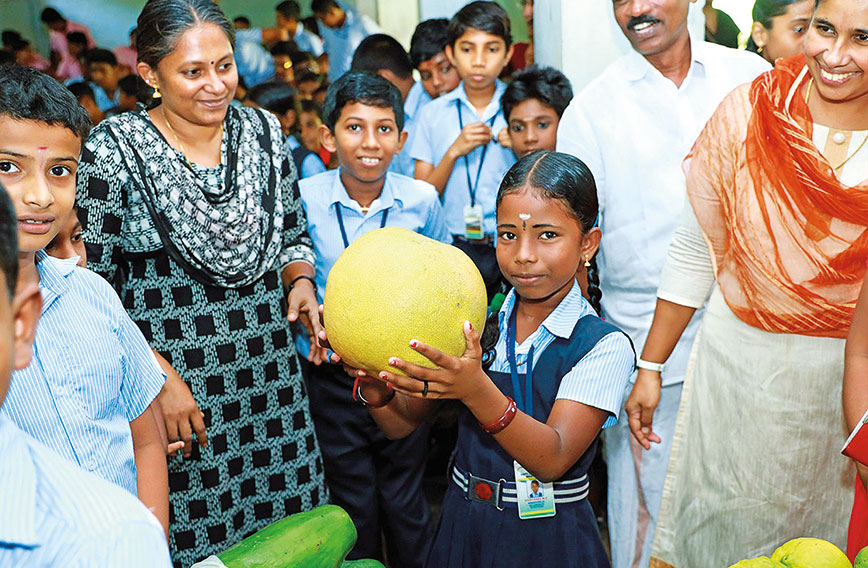 A schoolgirl proudly holds up a pomello she is contributing from her homestead garden
A school bank
As part of the Pachchakudukka programme, St George High School in Kallanickal is all set to start a 'school bank' to train children in the process of banking. The school bank keeps an account of the weekly income of students from their vegetable sales and then deposits the money into their bank accounts.
"The bank will have a staff of two — the 'maker' or manager and the 'checker' or accountant," says Philip Kutty, the coordinator. "Every month they will be swapped to ensure the maximum number of students understand banking practices."
KADS had planned to set up a 'bala chanda' or a children's market on the first day of Chingam month (August-September) which is celebrated in Kerala as farmers' day. On that day, it was decided children would carry out the entire gamut of business activities — price fixing, marketing, interaction with customers, sales and account keeping. Unfortunately, the plan fell through.
KADS plans to extend the Pachchakudukka programme to Ernakulam where they have a branch. Since Ernakulam is a city, they realise they will have to change their strategies. "We might have to teach children how to cultivate vegetables in grow bags on terraces. The quantity of vegetables we procure is not that important. Our objective is to ensure schoolchildren understand the importance of growing safe vegetables and the monetary returns and confidence they get by growing their own vegetables," says Kandirikkal.
"We need to invest Rs 6 lakh for a vehicle and a driver. To make a profit we have to procure Rs 10,000 worth of vegetables every day. It's okay if we lose some money. Our objective is to make vegetable farming a subject of discussion in the city."
As the monsoon has receded the time is ripe to start planting vegetables in a big way. KADS has many programmes up its sleeve. It plans to encourage growing of leafy vegetables. There are many such vegetables that are grown on homesteads. KADS intends to introduce these vegetables to schoolchildren and hold demonstration sessions to show how they can be cooked. They plan to partner Sajeevan Kavungara, a non-profit well-versed in growing local leafy vegetables.
"Pachchakudukka has received the highest community acceptance among all KADS programmes in the past two decades," says Kandirikkal proudly. "Children in farmers' homes grow up hearing their parents say every day that farming is a losing profession. We have to turn this notion on its head."
KADS – 98474 13168 ; kadstdpa@yahoo.co.in