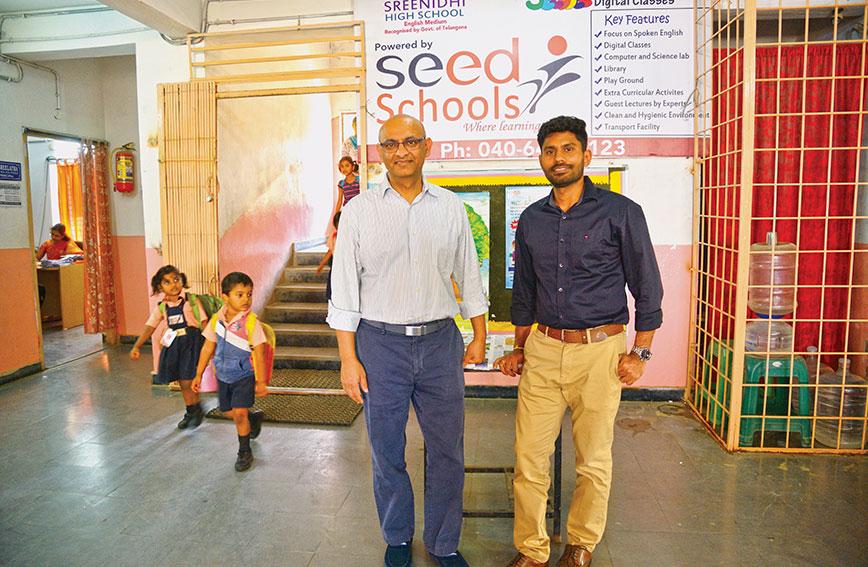 Harish Mamtani and Manish Kumar at a low-cost private school in Hyderabad. SEED has helped to improve the school's quality of education
SEED takes over, upgrades low-cost pvt schools
Civil Society News, Hyderabad
Published: Apr. 21, 2017
Updated: Jan. 29, 2020
Private school education has been much in demand because most government schools don't do a good job. Everyone can go to a government school, but how does that help when teachers don't perform, pedagogy is dysfunctional and infrastructure sucks? The result is that setting up a private school has come to be seen as nothing less than a great business proposition. There are children and there is demand for anything that is a few notches above what the government offers.
The bigger and better private schools have become brands to contend with. They charge fancy fees and many exotic considerations go into gaining admission. But far from this high-end action, there are also tens of thousands of small private schools mushrooming in remote neighbourhoods across the country where the less fortunate are compelled to go. Because of their accessibility, they are the real substitutes for government schools but, in fact, aren't significantly better. Demand keeps them running and yet financial sustainability, hiring teachers, maintaining buildings and so forth are challenges they are faced with. For many promoters, such schools become a burden they would happily dump if they could.
This is where Manish Kumar, 34, and Harish Mamtani, 50, have decided to step in and use their entrepreneurial skills to put these low-cost private schools through a transformation. It is an end-to-end approach in which they fix the finances of a school, upgrade teaching, improve learning outcomes, introduce new technologies and establish better managerial practices. The idea is to give children from modest homes the equivalent of the best at an affordable price and ignite in them the desire to learn and go on to college and so on.
In 2013, Kumar and Mamtani created SEED Edu Corp (India) Pvt Ltd for which they have raised funds from social investors, the Acumen Fund being one of them. SEED stands for Standards of Excellence in Education and Development. There are three schools with altogether nearly 1,300 students that SEED runs in Hyderabad. The intention is to institutionalise the changes it is making in these schools to serve as a better model for the low-cost private school and thereafter scale it up.
SEED is essentially a school management company. Profitability matters as it is important to be sustainable. But a key component of the return on investment is the social impact the schools are expected to have. They are meant to transform lives through better quality education.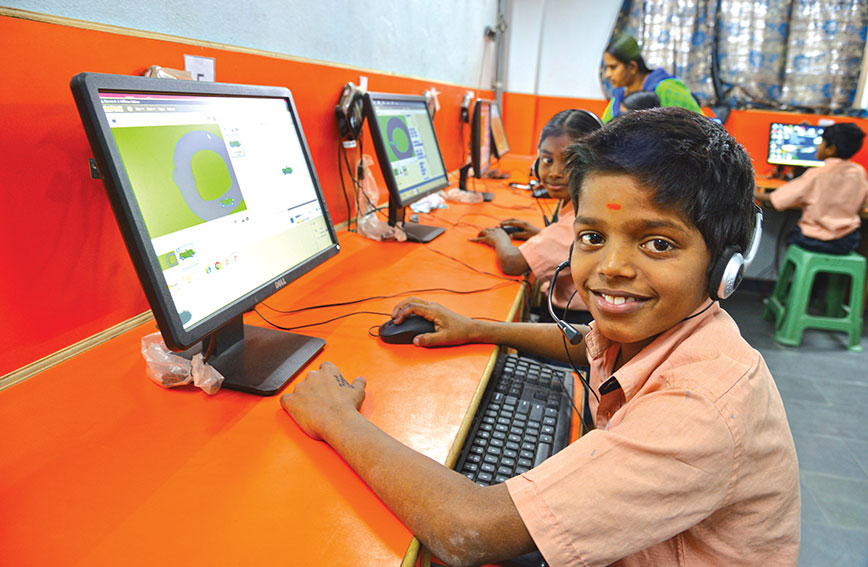 Children at the computer learning class
Regulation in India requires that schools be societies and not for profit though they are, in fact, money-making machines. The SEED Schools approach is interesting because it turns this situation on its head. SEED Edu Corp is a business with a dominant social purpose of creating low-cost and affordable private schools that have high standards. The three schools it works with in Hyderabad outsource their requirements to the company, which infuses into the schools new efficiencies, best practices, better talent and a robust spirit of inclusiveness.
The three schools are nondescript and not in the well-off parts of Hyderabad — Abhyudaya High School, St Sai Grammar School and Sreenidhi High School. They serve families with modest incomes. The schools are in rented premises, so there isn't the grabbing of land that is associated with private educational institutions. The fees are just Rs 1,500 a month. Recently, crowdfunding was used to award scholarships to orphans.
The transformations in these schools are meant to go deep and endure over the long term. A generation of children who might have been lost to poor schooling is almost certainly finding a whole new meaning in getting educated. They are encouraged to explore and comprehend. Group activities promote teamwork. English is the medium in which they learn and express themselves. Children also get to use computers and experience digital learning so that they are technologically empowered. Teaching skills are being enhanced. Since inclusion is a clear goal, problems of caste and economic status are being addressed.
The school buildings are clean and there are hygienic washrooms. Parents are encouraged to be engaged with the schools.
The company also enriches the education space through the diverse group of professionals it has succeeded in bringing together as a core group. These aren't people Civil Society has spent time with but their profiles are interesting. Satish Kotra is the Chief Operating Officer and has some 19 years of experience in banking and capital markets, having worked with HDFC Bank and Citi. Shivani Dhavalikar has a degree in economics and has taught in a low-income school in Pune. Aarti Mandhania is a trained psychotherapist who works with children. Renuka Boorgula was an architect before she made the shift to education and worked in the UK and India. Swetali Mahapatra comes with a degree in computer science and exposure as a teacher for two years in a low-income private school in Hyderabad.
Civil Society first came across Mamtani when he was an adviser to Gray Ghost Ventures, a social venture fund. He has spent a long time in the US, having gone there as a boy and then worked his way through an education.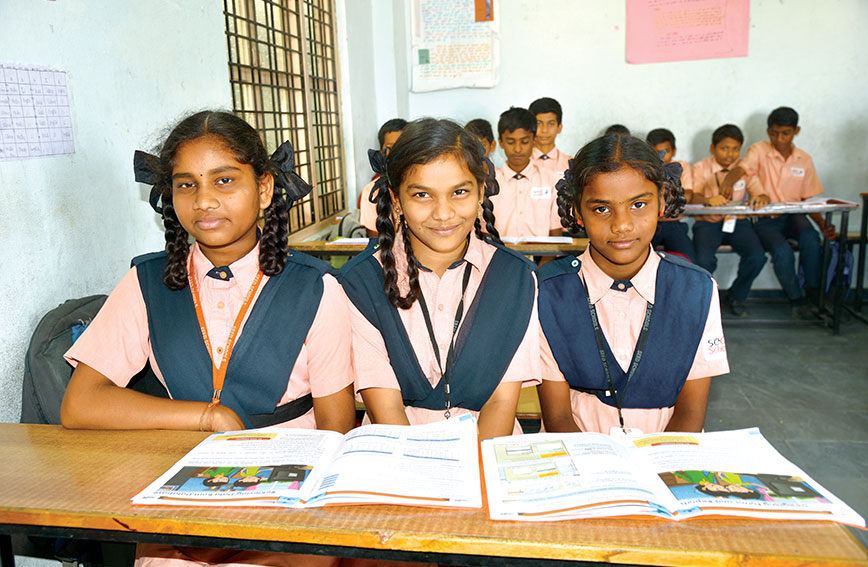 Girls in their neat classrooms
Mamtani has been into finance and wealth management. He has been at Merill Lynch, Morgan Stanley, Bank of America and Bluefish Capital. He serves on the board of the Atlanta CEO Council. He is also on the board of the TiE Global Board of Trustees.
He has middle-class origins and when he comes to Delhi it is invariably to visit his parents in Lajpat Nagar. He is a quiet and personable man with a gentle manner. In his preferences he comes across as being deeply inclusive and respectful of money.
The idea of SEED Schools came to him when he was the interim CEO for the Indian School Finance Company (ISFC), which lends to low-cost private schools so that they can expand and improve infrastructure.
Mamtani realised that money alone was not enough. Low-cost private schools needed a range of services to raise the standard of education they were offering. It was better teaching, curriculum, management and so on that would make them more impactful.
Kumar was also at ISFC and it was there that the two got together over the SEED Schools idea. He had been there for four years from the early stages of the company and played a role in driving its business strategy and taking it to 600 schools across India.
Kumar comes from a remote part of Bihar. But he has been to IIT Bombay and taken an MS degree from Georgia Tech in Atlanta. At 34 he is young and passionate about education, so much so that he took up teaching as a volunteer for two years in a low-cost private school.
At the SEED office at Banjara Hills in Hyderabad, just behind the Harley Davidson showroom, we get Kumar to talk about SEED and himself. It has been a whopping detour from being a highly-qualified engineer well on his way to a well-paid job in a large corporation to the role he now has as co-founder and CEO at SEED.
Like Mamtani, Kumar comes across as understated and gently paced. Both are obsessed with giving back to society, having got a lot for themselves out of life. There is a strong personal quotient in their involvement with the business and it manifests itself over multiple conversations.
Kumar remembers the time he was an extremely poor student. He was no good at maths and kept failing. His father would teach him and the other siblings and Kumar was just too scared to ask questions. "They had all but given up on me. But I remember the day I took courage and said I didn't understand something. My father explained it again and something clicked in my head."
So, SEED Schools has very special meaning for Kumar and Mamtani because it is an opportunity to help children exercise their right to know and learn in a free and creative environment. Usually, low-cost private schools are for those who can't hope to do any better — perhaps third, not even second best options. The SEED mission is to make them among the best.