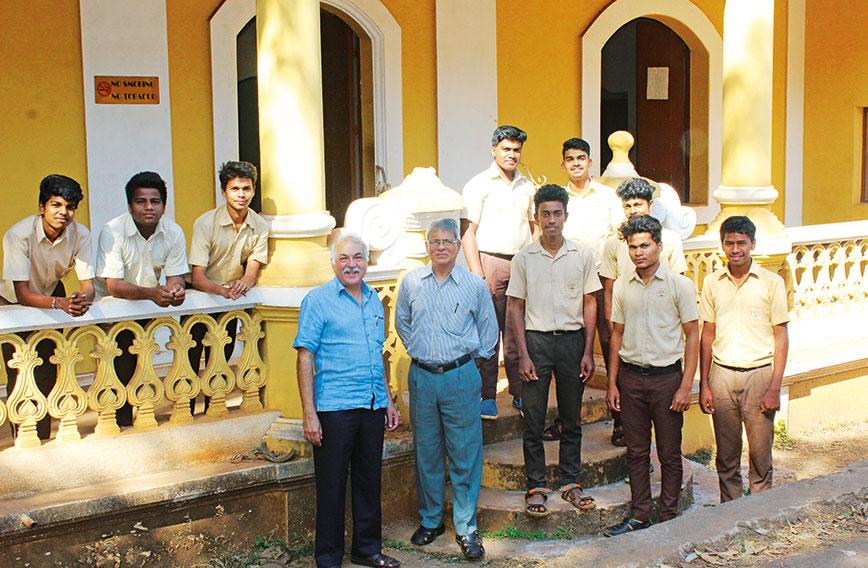 Mangurish Pai Raiker (left in deep blue shirt) with Pradeep Lotlikar and the first batch of students. The building is Raiker's ancestral home | Photograph by Derek Almeida
A farm college in Goa finally gets the success it deserves
Derek Almeida, Panaji
Published: Mar. 05, 2019
Updated: Jan. 29, 2020
In 2012, when Mangurish Pai Raiker began the arduous process of setting up Goa's first agriculture community college, no one in the government nor his friends believed the venture was worthwhile. Agriculture was on the decline, they said, and young people would not be interested. But Raiker, an industrialist, was determined.
"I approached several philanthropists, but no one was willing to part with money for an agriculture college," he said. "Eventually, I decided to finance it myself."
In 2013 he launched the Ramnath Crisna Pai Raiker College, named after his grandfather, after a long but fruitful struggle. In 2020, the first batch of Bachelor of Vocation (BVoc), Agriculture, will graduate.
The college now has 120 students from all over Goa and has put the village of Savoi Verem, where it is located, literally on the world map.
After six years of persistent work and without financial support from the state government, the college has succeeded in forging tie-ups with Michigan ßState University in the US and HAS University in Amsterdam. It is currently pursuing a memorandum of understanding with Jerusalem College of Agriculture.
Dr Karim Maredia, head of the department of horticulture, Michigan State University, has already made two trips to the college to interact with the staff and give guest lectures. Dr Kees van de Klundert and Dr Gert-Jan Duives from HAS come to the college every year for guest lectures. Three agriculture students from the Netherlands visited the college as exchange students. Three more are expected this year.
The college collaborated with the Indian Council of Agricultural Research (ICAR), Goa, when it undertook an extensive soil mapping exercise across the state. About 40 students participated and covered six talukas, which is nearly half of Goa. While ICAR used GPS to pinpoint areas from where soil samples were to be collected, it was the students who did all the legwork and got the opportunity to interact with scientists in ICAR laboratories.
Despite these achievements, the state government is yet to give the college financial aid to create or upgrade infrastructure or salary grants for the 18 teachers employed by it.
"On July 30, 2014, the then chief minister appreciated the work done by the college on the floor of the House and gave an assurance of financial support. Then, in the 2018 monsoon session the chief minister and the agriculture minister reiterated this assurance, but till date I have not received a single paisa from the government,"
says Raiker.
Starting from scratch
Over the years the Raiker family began to migrate from the village of Savoi Verem, which is around 26 km from Panaji. Mangurish Raiker, too, left to work in a multinational and later started a business in manufacturing corrugated boxes. What was left behind was the ancestral house, which Raiker thought was large enough to start a higher secondary school. After all, Goa has a tradition of educational institutions being set up in family homes.
However, having a place to house the school was not enough. The idea was a new one and it meant Raiker would have to work out everything from scratch. Fortunately, he found the right man in college-mate Pradeep Lotlikar who had graduated from the Konkan Krishi Vidyapeeth, Dapoli, in Maharashtra. Lotlikar, who was employed as an agriculture officer at All India Radio, came on board and the duo went to Ratnagiri to seek the advice of the former vice-chancellor of the Dapoli College and ask him how they could create an education model that would impart practical knowledge to students. The other members of Raiker's core team were Chintaman Pirni, Dr Sachin Tendulkar and Satish Tendulkar, then director of agriculture in Goa.
Around that time Raiker bumped into Vijay Kumar Mehrotra, the chairman of the then Board for Vocational Studies at Delhi airport. To Raiker's good luck, Mehrotra had a doctorate in horticulture and he agreed to visit Goa to help design a syllabus. "He stayed with us for four days, fine-tuned our plans and gave us insights into use of technology and controlled farming," said Raiker.
Armed with the syllabus, Raiker and his team approached the Higher Secondary Board for permission to start a Class 11 vocational course in agriculture. In order to start the course, a Board of Studies had to be constituted and Raiker and Lotlikar got experts from the Konkan Krishi Vidyapeeth, ICAR and the Department of Agriculture to form it. The syllabus was cleared in September 2012 and in June the following year the school was opened.
"We were given permission by the Board to admit 20 students but we got 26 applications," said Raiker, "we had to go back to the Board to increase the number."
Raiker then approached the government for financial support and was happy when he was given an assurance with a rider not to charge tuition fees.
Around this time, Raiker got news that a gold medallist from the Dapoli agriculture college, Shrirang Jambhale, was living in the village and providing assistance to farmers. After one meeting, Jambhale, who also holds a master's in social work from Pune University, agreed to join the college. Subsequently, a lady who was a research assistant to an agriculture scientist also joined. "It was like a blind man asking for one eye and getting two," was how Raiker described his stroke of luck.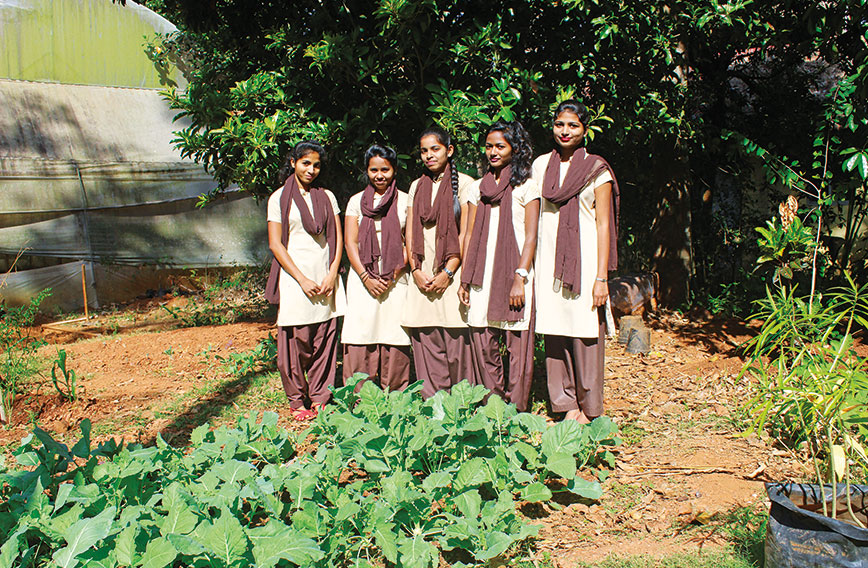 Girl students near a turnip patch | Photograph by Derek Almeida
As the first batch went to Class 12, the school started getting queries about upward mobility. After giving it much thought, Raiker came to the conclusion that starting a full-fledged college was not within his means. Instead, he opted for a community college which offers a one-year diploma, a two-year advanced diploma and a Bachelor of Vocation (BVoc) at the end of three years.
Initially, he sought permission from Konkan Krishi Vidyapeeth to start the course which was granted. Then, in 2015, Dr Satish Shetye took over as vice-chancellor of Goa University (GU) and he convinced Raiker to do the course under GU. But this meant heavy investment in infrastructure. A new ground-plus-two building with classrooms, laboratories, a library and hall was constructed in 2016 and the community college was launched. In May 2020 the first batch of BVoc students will pass out from the college.
Explaining the thought process behind the community college, Raiker, who was Goa Chamber of Commerce and Industry president in 2013, said, "I always wanted to launch a venture in agriculture with the aim of making it viable. I also knew that to revive agriculture one would need a trained workforce and introduce scientific methods and newer technologies. More important, we also had to teach students how to make a business plan."
In 2018 the first batch of 32 students passed the advanced diploma course. Today, over 100 students who trained in the college are back in the fields. Some have got jobs in the agriculture and forest departments and assist in schemes run by the Agriculture Technology Management Agency.
In 2013, when a storm damaged areca nut, banana and nutmeg plantations in Valopi and Bicholim, a team of students camped in the affected area for a week to help clear the debris and prepare the ground for replanting.
The college has also succeeded in generating income for the village. Stationery shops and paying guest accommodation for students have sprouted.
The college has drawn big names in the field of agriculture education like gold medallist Jose R. Faleiro, Girish Kamat, and Dr Sachin Tendulkar to interact with students, and plans are afoot to create facilities for video conferencing with experts around the world.
Raiker has forwarded applications to the director of education for aid under the pattern of assistance for higher secondary schools. When the community college was started he approached the Directorate of Higher Education and two years ago he applied to the central government under the University Grants Commission scheme. Sadly, Goa's first agriculture school is yet to receive financial support from the government. And this is perhaps why Raiker's achievement is laced with a modicum of hurt.