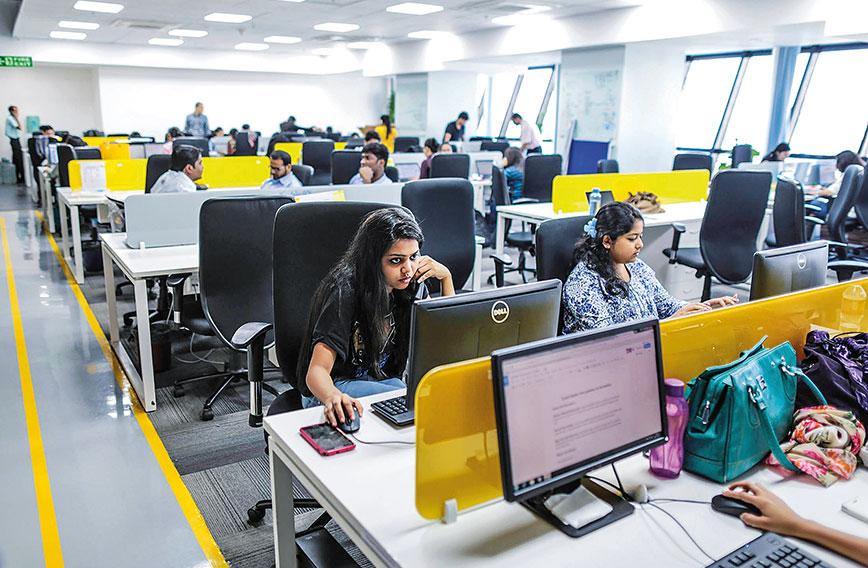 The IT sector will need to retrain its employees
IT can forge ahead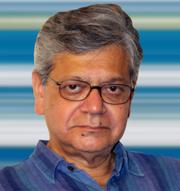 SUBIR ROY
Through this year, both the leaders of the Indian information technology industry and their lobbying group Nasscom have strenuously denied reports of job losses in the industry. They have claimed that while hiring and firing will go on simultaneously, at the end of the day there will be a net addition to the total number of jobs in the industry, albeit at a far lower rate than in the past. The government and IT minister bought into this scenario, saying reports of job losses in this sector were "motivated".
This is now set to change with the top six firms in India (TCS, Infosys, Wipro, Cognizant, HCL Technologies and Tech Mahindra) reporting a marginal fall in their total headcount in the first six months of the current financial year (2017-18). Though the fall is way less than one percent and the year may eventually end differently, the turning of the tide creates a sense of foreboding. Perhaps inevitably, the first trade union of IT staffers in Bengaluru has come into being.
What is the scenario ahead for the sector? First, it is critical to remember that having to employ fewer hands does not mean that the sector's high-performance days are over. The global ICT (Information and Communication Technology) space is undergoing a transformation in which many routine and repetitive functions like writing and testing code and maintaining enterprise applications are getting automated.
Simultaneously, huge new opportunities are being created with every kind of operation from running a company to delivering healthcare getting digitised. This is generating mountains of data that need to be analysed to yield insights for raising productivity. The problem with large Indian firms is that they specialised in offering armies of low-cost manpower to perform routine functions which are now rapidly getting automated.
This has left Indian leaders with the option to acquire the new digital technology and offer clients innovative solutions to improve efficiencies. They can do this in two ways: mammoth retraining of staff and acquiring technology startups. Big-time retraining is already on. It is in pursuing the latter that problems can arise. Buying a technology startup is a bit of a gamble, particularly in determining the price.
Stakeholders must have faith in managements and leave them to their jobs, knowing that some decisions taken will turn out to be wrong in hindsight. Absolutely the last thing that the managements of large Indian companies need is the kind of fracas that N.R. Narayana Murthy and others created over the acquisition of Panaya, forcing Vishal Sikka, an indisputable technology leader, out of Infosys.
There is also another route open for Indian IT leaders to take. The government is in mission mode to make the country digital and this offers an enormous new business opportunity involving work which is partially of the routine type. Here again, Infosys comes out with less than flying colours. It has traditionally ignored the Indian market and focused on the US. Additionally, it is in the limelight over complaints that its delivery of the GST network has been less than satisfactory. It is imperative for Indian IT firms to successfully execute low-margin domestic business so that their armies of employees with traditional skills have something to do.
An idea as to how various Indian companies are faring can be gleaned from the fact that medium-sized Indian companies are turning in better numbers and earning better improvements in valuations than larger ones. This is because the medium-sized firms are more focussed in terms of both domain (client industry) knowledge and geographic spread. Plus, they do not have armies of employees to look after.
So what can be the appropriate future model for Indian IT companies? They need to be nimble, run a tighter ship and immerse themselves in new technologies like that of the web, artificial intelligence and internet. Here, a caveat needs mention. Not all large firms are alike. TCS, the largest Indian company, seems unaffected by the current headwinds.
Among the six large players referred to above, it has added (not reduced) its headcount. Another large firm, HSL Technologies, which traditionally follows the inorganic growth route, has added the most to its headcount. In contrast, Cognizant, with a US management style and hire and fire ethos, shed the largest number of jobs.
Those who have tracked Indian IT from its early days do not underestimate its ability to innovate in the face of challenges and come out on top. Dark days were seen ahead of Indian IT after the Y2K job was over and the world was hit by the bursting of tech bubbles and the shock of 9/11. Thereafter, global and Indian IT had to face the downturn created by the financial crisis of 2008. On both occasions, Indian IT has been able to meet the challenge and return to high growth. There is no reason why it will not overcome the latest downsides because it has the ability to respond quickly and innovatively.
At the time when global IT needed large supplies of skilled manpower at low cost, Indian IT innovated the distributed offshore development model and thrived. Now that technology is the need of the hour, it will also be developed and acquired.
This positive view stems from the fact that the entrepreneurial spirit still drives the sector. The large number of startups in India and the funding they are securing bear testimony to this. India is still far behind Israel but moving in that direction. The larger and older firms have undergone a generational change which TCS has managed well but Infosys has not. Wipro, with its strong acquisition DNA, comes somewhere in between.
India is now a global leader in the use of biometric identification (Aadhaar) for direct benefit transfer and digital technology (Unified Payments Interface) to enable poor people with a simple feature phone to make and receive payments at very low cost.