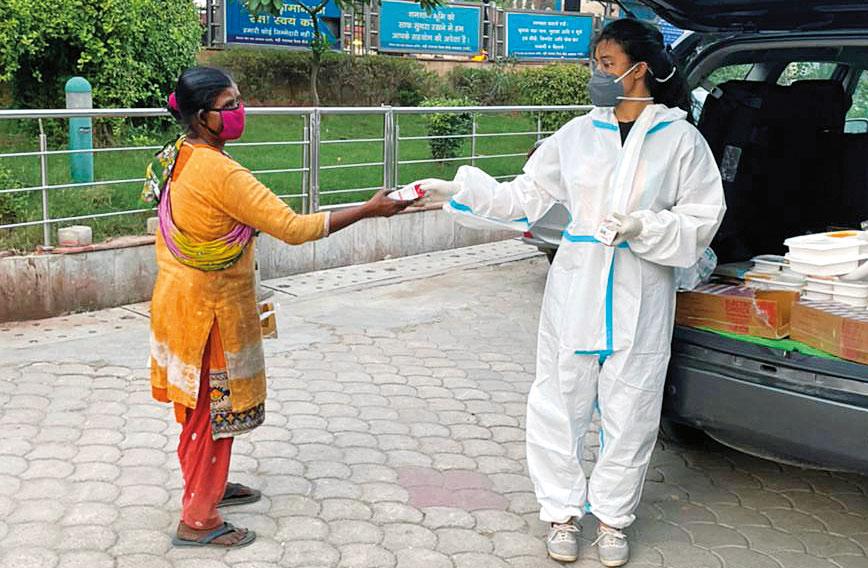 Volunteers of the Good Food Project drive to crematoriums and graveyards and distribute meals
For funeral workers a good meal with online fundraiser
Surmayi Khatana, New Delhi
Published: Jul. 14, 2021
Updated: Oct. 26, 2021
CREMATORIUM workers toiled day and night in Delhi's sweltering heat to provide a semblance of dignity to the dead in the horrific month of April, when the novel coronavirus infection raged. As a long line-up of bodies and their weeping relatives waited at crematoriums, it was the workers who stepped in to perform the last rites of passage.
Nobody gave them a second glance. But their back-breaking work took a toll on them. "They looked overworked, malnourished and tired," recounts Nandini Ghosh, when she first went to Nigambodh Ghat, a crematorium in central Delhi, and offered to bring food for the workers. The manager brusquely told her they didn't need meals.
Ghosh says she had read an article online about the plight of crematorium workers and decided she had to do something about it. She got on call with her friend, Shray Gupta, an entrepreneur working in rural electrification who was volunteering for COVID relief by helping to transport oxygen and other resources.
After placing an order with a nearby dhaba for 100 packets of food, Ghosh and Gupta drove down to Nigambodh Ghat. Although the manager refused their offer of food, the workers lined up for the packets.
Driving back home, Ghosh and Gupta decided to take their kind gesture forward. And that's how they started their voluntary group, The Good Food Project. With the help of friends they set up an online fundraiser, aiming to raise Rs 30,000 but within 48 hours they managed to collect over Rs 15 lakh. The team quickly assembled and divided various tasks — research, social media, food coordination and volunteer coordination.
The Good Food Project has 50 to 60 volunteers from different walks of life. Some work for companies, others are entrepreneurs, students, journalists and lawyers in their late twenties. Most volunteers are women and include non-binary individuals, who work with them.
Before setting out, the research team goes through online news sites and available data to relate the number of deaths to crematoriums and thus gauge the number of crematorium workers in need.
On their visits to crematoriums, volunteers would speak with the workers about their work. Usually, crematorium workers have two shifts. But, during the crisis, new workers had to be brought in on contract. In crematoriums like Karkardooma, workers live on-site. Many of them come from states like Bihar, Rajasthan and Haryana.
Due to caste-based social hierarchies, crematorium workers face marginalization. During the pandemic they had to put themselves at risk of infection by working for longer hours at low wages.
The facilities at the crematoriums are poor. The Good Food Project noticed that almost none of the automatic hand sanitizers were working. So they installed new functioning ones at the crematoriums they visited.
Although Nigambodh Ghat is the largest crematorium in New Delhi, it is equipped with only one washroom. It does not have a bathing area, so workers have been using the washroom for bathing. Ghosh noticed that one could look into the washroom, affording little or no privacy to the individual inside. She emphasized the need for proper washroom facilities.
Neither do the workers have adequate protection. On their trips to provide food, the volunteers would distribute masks daily as workers would either not have masks or have thin cloth ones. Personal protective equipment or PPE is not suitable due to the intense heat. It can also be a fire hazard. The Good Food Project has distributed over 14,000 masks so far.
They have now served 20,000 meals and 25,000 beverage servings, including ORS, juices and lassi packets. Most workers feel dehydrated because they work with fire and they have to bear the summer heat as well.
"We also take feedback from the workers on the food as to what works and what doesn't. Sometimes they tell us this is good or the paneer was too spicy today, so we alter the food accordingly," says Sam, a volunteer who has been working on the ground, delivering meals. A range of home kitchens and chefs have reached out through social media to collaborate and work with The Good Food Project.
Jagjit Singh, whom Ghosh knew from her work as a management consultant for a firm in New Delhi, agreed to help with transportation. Two more drivers were hired to pick up volunteers and food packets and drive them to the crematoriums.
During the peak of the second wave, they were serving workers in 25 crematoriums in Delhi-NCR. COVID cases have now declined and The Good Food Project is serving four to five crematoriums, including Nigambodh and the one in Punjabi Bagh.
They plan to expand their initiative to daily wage earners, especially in slums. They have already started distributing ration kits in Okhla where migrant labour from Bengal and Rajasthan live with people from the Gorkha community.
Social media has played a huge role in mobilizing volunteers and finding food suppliers. The team is a close-knit one. Ghosh says that it was the team that pushed for a second round of fundraising to expand. "Doing a corporate job from home while people are dying and suffering brings a deep sense of helplessness. Finding a sense of purpose has been my biggest takeaway," says Ghosh.
You can follow their journey on social media (@goodfood_project). You can help by donating to their cause. Or volunteer with them remotely or on the ground.