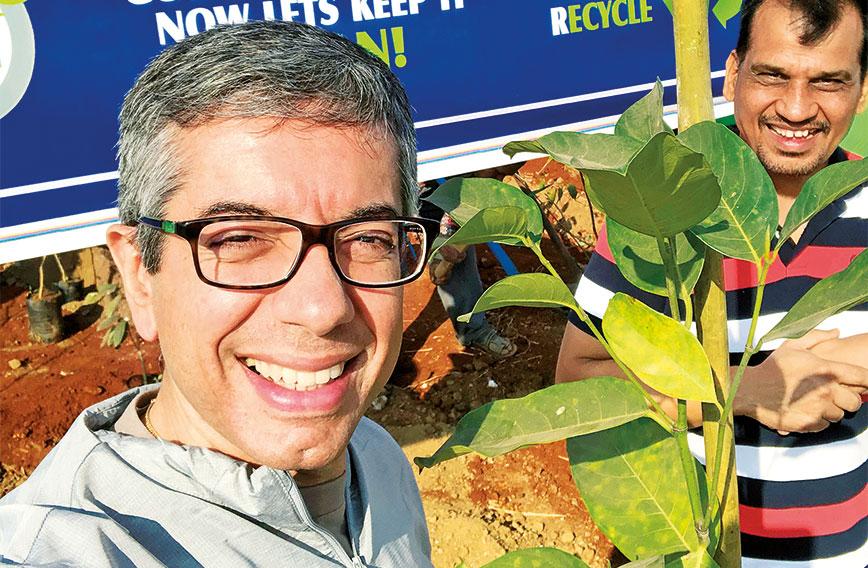 Gaurav Mehta: 'We moved into working with the police and local administrations.'
'We went from beekeeping to serving hot meals'
Civil Society News, New Delhi
Published: Oct. 26, 2021
Updated: Nov. 15, 2021
BANKS tend not to go to villages and small towns until they are nudged into doing so. But this is not the case with DCB Bank, it would seem, since it has 155 of its 354 branches in rural areas where it enthusiastically promotes local prosperity and well-being.
As the pandemic began to unfold in March last year, DCB Bank's CSR partner teams were setting out to hold courses in natural beekeeping and water use. The bank supports sustainable livelihoods and sponsors the planting of trees in degraded forest tracts. It also helps communities with waste management, which is a growing peri-urban challenge.
But with the pandemic and subsequent lockdown all these activities came to an abrupt standstill. Towns and villages were sealed off and though bank branches were open, there was little possibility of community engagement.
What followed was a rapid change in direction in keeping with the requirements of the pandemic. DCB Bank swung from beekeeping and such activities to whipping up 15,000 hot meals a day and reaching out to migrant labour. It began working with hospitals and the police.
In Rajaji National Park it teamed with WWF to help 750 families dependent on daily wages with rations and items for personal hygiene.
DCB Bank's partnerships with NGOs came in handy. For instance, it was working with Goonj in six states. There was the Giants Group in Mumbai from whom the hot meals came. It helped that it had long honed its ability to engage with communities as an extension of its banking activities.
The bank's long-term focus has been on sustainability and conservation. In the past four years, it has been instrumental in planting 400,000 trees, many of which are now beginning to be young clusters. This year it will plant another 100,000 trees, of which 60,000 will be grown using the Miyawaki method for rapidly raising micro-forests.
In cities like Mumbai, Delhi and Bengaluru, these micro-forests will serve as much-needed sinks for air pollution. Mumbai already has three locations where the Miyawaki method has been used and there is important learning from the experience here. In Delhi, a micro-forest is being planted a kilometre from the Ghazipur landfill adjoining a residential colony, in partnership with East Delhi Municipal Corporation.
Gaurav Mehta, who helms CSR at the bank, among other roles in marketing and investor relations, spoke to Civil Society about the experience during the pandemic and what lies ahead.
In terms of the pandemic, what has been DCB Bank's story?
The initial story of the pandemic was of a break or a hiatus in all projects. Like others, we were stumped. Our project teams that were in the field could not access villages or organize village leadership groups. They could not organize meetings of farmers.
We had training programmes lined up for natural beekeeping in Chhindwara, and Narmada district. But panchayats had stopped entry of city people or outsiders into their areas. If we go back to the first wave, or the first phase of the pandemic, there was confusion initially as to what was to be done.
More or less, it was a complete stop for a lot of our projects that were focused on developing sustainable livelihoods for communities. Plantation activities came to a standstill. Training programmes, not just for beekeeping, but also for water-use groups in Aurangabad, came to a stop.
But we pivoted around to include disaster relief management as one of our CSR thrust areas, at that time, which meant that we could jump right into COVID-19 relief programmes. That was an important pivot because a lot of communities who we were working with for skill development and other projects also needed help to cope with the pandemic.
We moved into working with police forces, with local administrations, with government hospitals. This happened with the government hospital in Jodhpur and Sassoon Hospital in Pune.
When you say you were working with the police and/or local administrations, what actually were you doing?
I'll point to a project that we did with World Wide Fund for Nature India, and the Uttarakhand Forest Department in the Rajaji National Park. There are quite a few communities who either live in the territory of the forest, or live in a part of the periphery of the forest that is not accessible very easily from the Haridwar side. They do need local transport. Since transport came to a halt, these populations had very few options to even bring basic rations home. And a lot of those people were daily wage-earners. Many of them were stuck, away from their homes, and the homes were vulnerable.
We moved into the area with the forest team and the forest department helped out with local transport. We were able to provide medical supplies, rations. Basic cooking inputs, even salt, sugar, atta, dal, ghee, tea, had to be moved in. There were around 750 families that were vulnerable at the time.
Another initiative we worked on covered Junagadh in south Gujarat, Palgarh in Mumbai and New Delhi. We rushed in food for migrants in Palgarh. I remember we worked with Giants Group of Mumbai who were cooking food in Byculla. And, just for comparison's sake, that's like cooking food in Delhi, say, in Lajpat Nagar, but shipping it to Manesar. With the roadblocks, the lockdowns, police permissions, and trying to arrange supplies so that you could cook 15,000 meals a day, it was a huge task. It may not be a big deal to provide 15,000 meals during normal times. But when everything is under lockdown, shipping hot meals to people every day is a challenge.
We worked with a group of entrepreneurs in Delhi who operate Subway outlets. And these business guys had gotten in touch with the Delhi government and the Delhi government allowed them to open Subway kitchens to cook food. We tied up with one of the five Subway kitchens that were reopened. And hot meals were prepared and shipped to the Anand Vihar Bus Depot to help migrants who were congregating there to go home.
It was different things for different people in different places — PPE, masks, sanitizers, basic personal hygiene items, wherever people required help. We were trying to assess the credibility of the agencies on the ground, and at the same time help speed up the delivery of relief, because at that time, speed was of the essence. Migrants were walking home, they were congregating and trains weren't working. So, a lot of pivoting did happen. The CSR projects that we were traditionally doing in sustainability, biodiversity, water recycling and waste management were paused and instead we focused on what we could do in terms of relief.
And now, we have started moving back into our project areas. In Taloja, in Mumbai, we're working with local societies to regenerate protected forest areas in the Taloja hills. There's a watershed programme there. We were working in Hyderabad on protecting the lake and the local community is back as are our employees at project sites.
For a bank, you show a lot of interest in and concern for rural areas and small towns. What drives this?
What drives this is a plain and simple realization that if we do not work now to conserve sources of water, to conserve biodiversity or to build back better, or to regenerate our lands, our future is in peril.
Our branches are in rural areas. Our staff are there, our customers are there and our future clients are going to be there. And there is this big realization that natural resources are in peril. We work with communities and that way we are able to do much more in areas where we have the space to do more. On groundwater development or watershed development we have projects ranging from two acres to six acres to 30 acres, going up to 100 acres.
In Banki, in Cuttack, Odisha, we have revived a very old and decrepit water source, which is a spring. We've got the sarpanch and everyone involved. They're doing shramdan, they're contributing tractor trolleys to excavate the silt. In another six months, we hope to have that project ready. It's going to help in the cultivation of rice and growing of fruit trees by local communities over a 100-acre range. Now, that sort of impact is not possible in the city.
As much as 50 percent of your presence is in rural areas.
Yes.
And in an active way, not just in a token way.
In a very active way, you are very right. DCB Bank has a way of ensuring that we make each branch relevant. So it's not a flag presence, it's meaningful banking. Even in villages or in branches that will have less than 2,000 individuals to cater to, it's meaningful banking for them.
You have plans for growing micro-forests in urban areas using the Miyawaki method. It is hugely important to stressed cities to have urban forests.
I'll start by saying that the bank has a target that it set for itself, three or four years ago, to plant 100,000 trees every year. We wanted to make a meaningful difference and we have planted over 400,000 trees.
One of the ideas was that planting trees would give DCB Bank employees an opportunity to put their hands to the soil. We have DCB Social, a volunteer group for employees who want to contribute to CSR activities. If you have a school that wants to do tree plantation, our social team will engage with them — college, medical centre, police station, you name it. As long as it's not private land, where we believe that the trees will be at risk later on.
Over time, while this greening effort picked up and we came across a plethora of options for tree plantation, we got into mangrove regeneration at Kanyakumari and we have done 25,000 mango saplings along the coast. We worked with the local fishermen's community there.
Then we stumbled on the Miyawaki method. It was a major leap of faith because it sounds almost magical that trees can grow 10 times faster. A 100-year-old tree cover of a regular forest can be created in, say, 10 years. It sounds like a good marketing plan, you know, with everything happening on steroids.
But the compelling story is that these forests do exist around the world. They have been planted and seem to thrive. And it was time, we thought, that we tried it out here because, if you remember, we spoke about going to rural areas to work on projects since they still have land available. You can do large-scale projects. When we came across Miyawaki we were very excited because this allowed us to do exactly what you said, create micro-urban forests or create micro-urban wooded areas.
Purists may not like the word forest to be used for Miyawaki. We have no problem with what word you like to use for this clump of trees, you want to say it's a forest, or a green area, woodland, a secondary forest…. We are happy with any definition because the beauty is, you do not need large spaces for this, and it fits straight into an urban situation in cities like Mumbai or Bengaluru or Delhi which are space-starved and the green cover has disappeared.
Miyawaki fits into this. Small, manageable, and after two years, you can let the trees grow on their own, without intervening in terms of watering them or trying to take extra care. So that's where we are with Miyawaki.
Mumbai has been a very successful experiment.The project is two years old and we have over 25,000 trees. We've created three very large plots. The saplings that were planted two years ago are nine feet tall. The only input that's been given is water at a regular schedule, and we're putting Jeevamrit, which is an organic fertilizer, to encourage microbial, fungal and bacterial growth in the soil. And that is all that we have done. We have not used any chemical fertilizer.
You have 25,000 young trees?
We do and let me point out that these are indigenous trees. They are not exotic varieties. The way we go about it is, our project team and our project partner will survey the area for indigenous trees. We refer to written material about what indigenous trees are native to that place. Because while we will use Indian species, some trees do well in the coastal area.
The two large projects in Mumbai are with the Navy in INS Hamla, so they are protected against foraging animals and against vandalism.
So two are with the Navy and the other with?
The Bhandup Pumping Station which is with the Brihanmumbai Municipal Corporation.
Is it a piece of learning that it is better to work in places where you can make sure your plants are going to survive because that's a challenge?
Indeed, survivability for the first two years is very important. And that's a big learning, that we should partner with institutions that can assure protection, at least against foraging animals. If that is ensured, project teams will ensure watering of plants, Jeevamrit application, etc. That is not a problem. The issue is creating a safe haven for plants for those two years. After two years, the concept of Miyawaki is that the roots of plants become strong enough to survive on their own. So the project withdraws from that area.