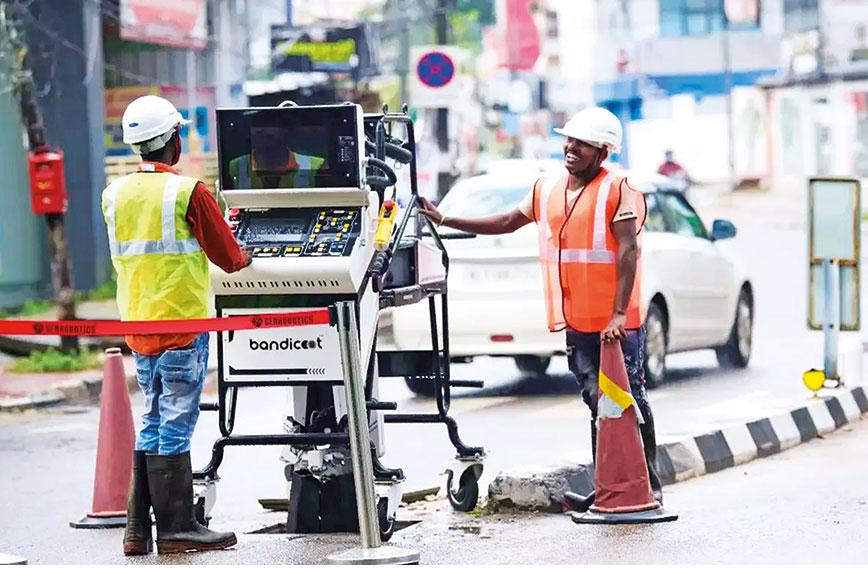 Bandicoot, a robotic machine, cleans sewer manholes
Ready for CSR 2.0? Five ideas for shifting gear
By R. A. Mashelkar
Published: Feb. 14, 2023
Updated: Feb. 17, 2023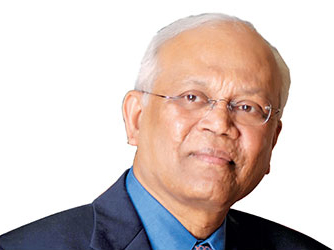 CORPORATIONS have an impact and touch lives in different ways when they use corporate social responsibility or CSR as a tool for social transformation. What was once goodhearted charity is now a more complex and sophisticated engagement with the development process in the country.
Though a scientist and not a businessman or a manager, I have been fortunate to have a ringside view among decision-makers in the corporate world. It has allowed me to see from up close how companies can make a difference.
I was chairman of the CSR committee of Reliance Industries, which has the largest CSR spend in India. I also chaired the CSR committees of Tata Motors and Godrej Agrovet, besides being a member of the CSR committee of Thermax. I have been a member of the Advisory Board of the Swades Foundation.
All these entities have had a social impact in multiple ways. They have gone beyond their business activities to improve lives. They have also integrated CSR in corporate strategy and thereby created shared value. As a member of the board of Hindustan Unilever for close to a decade I saw how the Shakti project created livelihood opportunities for rural women. It was done by familiarizing them with HUL's products while also training them on basic principles of distribution management. This network exponentially increased HUL's reach in rural India.
My interest in CSR is also tinged by my own rise out of poverty and the difference a scholarship given to me as young boy made to my life. It has been a wondrous experience for me at a personal level to now sit on the boards of companies and help shape the good that they can do with the many capacities they have. Based on my learnings, I have a few suggestions for CSR in the future.
First, India is changing rapidly. Innovation is all about doing things differently to make a significant difference. We must be continuously improving upon the existing regulation, strengthening implementation, facilitating compliance and, finally and most importantly, strengthening the entire CSR ecosystem to foster innovation and create major impact. If we allow for this continuous innovation, then a robust evidence-based, disclosure-led, trust-driven compliance regime for CSR will emerge, which will not only be best practice but next practice.

Second, in order to make truly transformative social impact, three things must go together, namely, corporate social responsibility, corporate social innovation and social entrepreneurship. They can all synergistically reinforce one another.
The investments companies make through CSR are not only physical and financial but also empathetic. This includes involved responsible business practices, direct or indirect social contribution, project implementation and public-private partnerships, finally followed by impact assessment.
Corporate social innovation refers to changes in business models and practices, achieving a triple bottom line, practising a circular economy and promoting intrapreneurship.
Social entrepreneurship combines profit generation with social value creation, getting support from impact investors and creating an enabling ecosystem for solutions.
The synergy of all these together will help India move forward rapidly in its socio-economic transformation.
Third, India's challenge is not so much a budget deficit but a trust deficit. The government should be a willing partner rather than a regulator in CSR projects. Trusting companies with their CSR governance potential as also the project execution potential and allowing them to make a choice about what is close to their heart, what they are good at contributing to, and so on is very important.
The government needs to specially create innovative policy changes that can create a major impact. For example, allowing companies to carry forward funds through an escrow account encourages alternative funding models such as impact investing, which has been long overdue. This will promote collective action with speed, scale and sustainability.
Fourth, CSR funds are rather limited for an individual company. So, the principle of 'more from less for more' is important. In other words, leverage small resources with big ideas to create an impact on more and more beneficiaries. This was the tagline that we used in every project at Tata Motors when I chaired the CSR committee. When a formal framework was developed at Tata Motors to measure the social return on capital, high ratios of benefit to cost were achieved by leveraging partners (for example NGOs), using innovative processes and having the right touch points.
Civil Society magazine had carried a cover story on Anjani Mashelkar Inclusive Innovation Awardees (March 2022 issue). Practically all of them had developed non-invasive, user-friendly, high-tech yet affordable diagnostics. The challenge for them was the lack of funding from proof of concept to prototyping and market validation. Normal venture capital was not available nor were commercial loans affordable. This 'valley of death' funding was made available to Rahul Rastogi who created a portable pocket-size ECG monitor. Today his 'Sanket' is exported to a dozen countries!
The point is that CSR funds should be used in those areas where there are no other viable mechanisms of funding available, where small help can make a big difference.
Fifth, the current CSR model is all about 'doing well and doing good'. This means after one has done 'well' by amassing wealth, one turns to doing 'good', by setting up charitable trusts or foundations or by doing it in compliance with the legislation. This is CSR 1.0. We need to move to CSR 2.0.
In my K.R. Narayanan Memorial Oration in Canberra in 2019, I talked about CSR 2.0. That meant 'doing well by doing good', meaning doing good itself should become a business. This could mean, for instance, despite income inequality, creating access equality by providing to the populace affordable high-quality goods and services.
This would mean providing affordable excellence to society: for example, high-quality medicines at affordable cost, providing green energy affordably, and so on.
That also means that, for instance, one cannot destroy forests or exploit mines and do some business that does good to society or write out some cheques for some good cause. It means it is all about balancing ecology, environment, economics, equity and ethics from end-to-end in all businesses. CSR 2.0 is all about doing good as well as being good.
It all begins and ends with businesses and business leaders being socially driven. There is no substitute for the idea of trusteeship. On a personal note, March 30, 2000, was a very special day. On that day the Padma Bhushan was bestowed on both me, a former Tata scholar, and Ratan Tata, head of the house of Tatas. By whom? President K.R. Narayanan, another former Tata scholar. It showed the transformative prowess of what is now known as Corporate Social Responsibility.
Let me explain why I call it transformative. President Narayanan was born in a small village in Kerala; I was born in a small village in Goa. He walked several kilometres to get to school, much like I walked barefoot to a municipal school. He sometimes stood outside the class and took notes because his family couldn't afford his tuition fees. Due to extreme poverty, my widowed mother could not afford notebooks or shoes, and I recall studying under streetlights. President Narayanan took his brother's help to copy notebooks and books and return them, and I remember sitting on a footpath, borrowing books from a kind bookstall owner, quickly reading them and returning them.

For both of us, the turning point of our academic lives was common. Both of us were Tata scholars. Speaking for myself, I would have had to leave my studies despite standing 11th among 1,35,000 students in Maharashtra in the matriculation exam in 1960. But it was the Sir Dorab Tata scholarship of Rs 60 per month for six years that helped me study. A similar opportunity came the way of President Narayanan when he got the J.N. Tata endowment scholarship, which helped him pursue his studies abroad.
The scholarships for President Narayanan and me were a direct result of the sense of corporate trusteeship that the Tatas have always demonstrated. Perhaps it is not widely known that the world's first-ever charitable trust was set up by Jamshed Tata in 1892, long before the Andrew Carnegie Trust (1901), the Rockefeller Foundation (1913), the Lord Lever Hulme Trust (1925) and the Ford Foundation (1936).The establishment of the trust was driven by the Tatas' belief in giving back to the people what came from the people.
Looking way back in history, the practice of doing good for society by the privileged goes back to the days of Guru Nanak Dev who propagated the guiding principle of 'Kirt Kar, Naam Jap, Vandd Chhak' which means working and sharing your earnings with others. The Sikh religion propagated the idea of donating one-tenth of income to charity which is referred to as daswandh.
Merchants of the Hindu faith also donated to the poor and got temples and night shelters built for them. Islam too has a law called zakat, which states that a certain percentage of earnings must be shared in the form of donations for the poor. In the pre-colonial era, religion was the driving force behind CSR.
The meaning of such philanthropy has changed over the years. Later models included trusteeship, public sector initiatives, National Voluntary Guidelines and, now, mandatory CSR. But at the heart of social responsibility is the inalienable reality that businesses are a part of society.
Dr Raghunath Anant Mashelkar is an influential thought leader who is globally recognized and honoured for his contributions to science and technology.