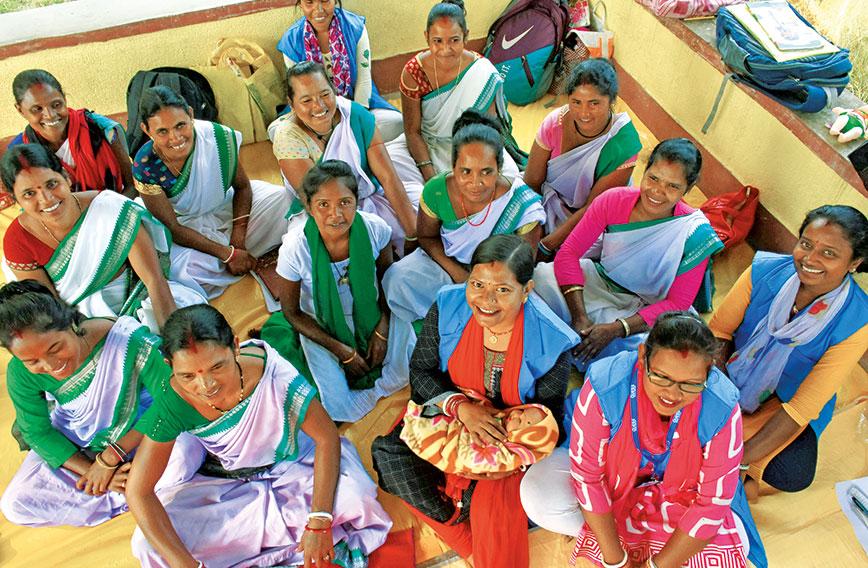 Sahiyas of the MANSI project which has led to the first-ever blocks in Jharkhand achieving the SDG goals on maternal and child mortality reduction
From philanthropy to co-creating change
By B. Muthuraman & Sourav Roy
Published: Feb. 13, 2023
Updated: Feb. 17, 2023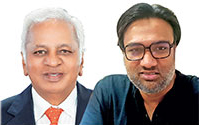 IT was 1996 and Tata Steel had set in motion a strategy for long-term growth with plans for a new integrated steel plant in Gopalpur, near Behrampur in Odisha. The site was selected as the most suitable coastal location after evaluating 18 different sites in coastal India. About 3,000 acres were required.
Behrampur was excellent as a site, it came with its own challenges — six villages with 638 households of 3,000 extended families with a population of about 12,000 opposed the project. They didn't want to give up their land and they were not convinced that the plant would be to their long-term benefit.
While 3,000 acres were acquired for the project because of the elaborate outreach by Tata Steel, the six villages remained unconvinced and resolute in their opposition. The Gopalpur plant finally never got built and it remains an example of how complex it is for corporations to deal with local social realities — even when acting transparently and with the best of intentions as we were in Tata Steel.
Often managements have a vision of development which is at variance with the way local people feel about their own lives and future. Insecurities over giving up land result from a long history of people being displaced by projects in villages and left abandoned to fend for themselves on the streets of cities. Displacement is harsh in the best of conditions, but it is especially so in an economy where social security is lacking. Small holdings and traditional occupations are preferred to benefits promised in a distant future.
Bridging such divides to everyone's benefit is the challenge that managements need to learn to cope with as they pursue business goals. Corporate Social Responsibility (CSR) must run deep to be truly meaningful. It should be imbued with all the seriousness and stamina required to engage with communities to help them better understand corporations and their goals and vice versa for managements to integrate social realities into a grand vision. In Gopalpur, consistent with Tata Steel's ethos and philosophy regarding society, each family was mapped for its assets, education, income and so on. A comprehensive resettlement and rehabilitation package was worked out with the core principle that the income levels and quality of life of every single family would be improved.
A new township of 500 to 600 acres was developed based on proximity to the plant site. It had access to good infrastructure like roads, power and water. The compensation for land was Rs 1 lakh per acre as compared to the then prevailing registered price of Rs 25,000 to Rs 35,000 per acre.
Each extended family was given a plot of 4,200 sq. ft and each core house was given a fully built up house of 257 sq. ft. The new township had fully built up houses, piped water supply, electrical connectivity to each plot, community centres and playgrounds.
Temples and other places of worship were shifted from the original villages. The youths of the displaced families were given technical training right from 1996 — first in Jamshedpur and then in Berhampur. Later Tata Steel established the JN Tata Technical Training Institute in Gopalpur.

Almost every single household was met and information was shared in a genuine and transparent manner. It was only because of the genuine concern for the people that Tata Steel could secure about 3,000 acres. In fact, a World Bank team that visited the site remarked that what we had built was one of the best rehab townships they had come across. Today, this township houses an engineering college and people are gainfully employed in the industries that have come up in that area both by Tata Steel and other companies.
The plant that was to have come up at Gopalpur now exists at Kalinganagar. At the new site, Tata Steel further improved its relief and rehabilitation programme. It is one of the finest steel plants in the world. But the learning from this experience has been invaluable.
The Gopalpur episode was replete with learning, but really speaking it was just one more stage in the evolution of Tata Steel's journey that began a century ago.
Tata Steel has navigated multiple evolutions in the social and operating context in which it operates: setting up industries to push for economic self-reliance in independent India, adapting to liberalization in the 1990s, successfully riding out the information technology maelstrom at the turn of this century, aligning to new market paradigms after financial crises of 1997 and 2008 and so on.
The growth and longevity of the company, however, cannot be adequately understood without placing them in the context of its relationship with society.
In the past 30 years or so, as the social context evolved from 'social licence to operate' for businesses to a rights conscious paradigm of social capital, the company has moved from well-designed asset-heavy philanthropy creating household-level outcomes to co-creating change models with communities and other partners for population-level outcomes.
Tata Steel had established the Tata Steel Rural Development Society in 1979 as one of the earliest 'corporate foundations' to prioritize community work, while the Tribal Culture Society was set up in 1986 in recognition of the sociological and anthropological uniqueness of tribal communities in advance of a ministry being set up. It also had a team of more than 300 people working on rural and community development. The focus was on asset creation and financial assistance for communities proximate to its operations at a time when public resources for such things were scarce. This resulted in more than 75 schools being set up which remain operational even today, a multitude of scholarships, ponds which helped small farmers, and more than 850,000 people being reached through health camps.
Between 2001 and 2013, rights movements became the bedrock for societal development. The states of Uttarakhand, Chhattisgarh and Jharkhand were formed as a consequence of significant people's movements. The Right to Education Act, the Right to Information Act and the National Rural Employment Guarantee Act came into existence, while nationwide movements like the Sarva Shiksha Abhiyan and the National Health Mission were initiated.
Tata Steel recognized the rights paradigm and consolidated formal consultation mechanisms with Scheduled Caste and Scheduled Tribe communities which informed its understanding, approach, and choice of work with society. And the consultations were validated in a gradual transition into a programme-based approach to impact work which was pioneering and sowed the seeds for the future.
MANSI (Maternal and Neonatal Survival Initiative) covered the entire block of Seraikela, Jharkhand, in a 10-year effort to bring down maternal and infant mortality rates, the first-ever ITI was adopted in public-private partnership mode which is sending youngsters from remote Jharkhand to Hong Kong as skilled technicians and the seeds of a structured programme to conserve and coach tribal languages was rolled out which today reaches more than 30,000 youngsters every year. And the average spend on social impact already exceeded the two percent threshold which was to be shortly mandated.

Adherence to process and expenditure norms have not been an element of constraint for Tata Steel, but it was amongst the first to recognize the need for expert social sector advice for the board of the company and set up a first of its kind advisory council for periodic consultations. The programmes initiated earlier were transformed to social change models drawing on over a decade of implementation.
MANSI led to the first-ever blocks in Jharkhand achieving the SDG goals on maternal and child mortality reduction, the education programme worked across entire districts to create 2,200-plus panchayats declaring themselves child labour-free and Samvaad matured as the largest platform for dialogue on tribal identity, cutting across national boundaries. An additional element focussing on grassroots governance and individual social leadership was introduced to foster a community embedded impact narrative with many completing fellowships and leadership programmes.
And an equal emphasis was laid on creating business managers and leaders who remain sensitive to social impact and learn from communities in their corporate pursuits, shaped through more than 75 leaders undergoing social immersion programmes. It also established the Tata Steel Foundation as an institutional platform which converged the resources, mandate, and talent to take the social impact narrative to the next level. It was also recognized as the most impactful CSR programme in the country in 2021 by the Ministry of Corporate Affairs along with a multitude of recognitions for its programmes for being models of social change.
The future is a heady mix of challenges and opportunities for communities. It will be a world where the environmental, social, and economic will irreversibly converge and necessitate an interdisciplinary approach to development. It will also be a world where the not-for-profit and for-profit models will both emerge as viable alternatives for social impact work, but the balance between both will be key.
Tata Steel recognizes this interdisciplinarity and strives to keep communities at the centre of its thought process in an evolving context. It believes in scaling its current change models to reach those who are the least served and most silent, while continuing to build new models in key areas like water and climate change which bring in the best of technology and science but at a pace and in a manner which takes into account the point of view of communities.
B. Muthuraman is a business leader and former MD of Tata Steel.
Sourav Roy is CEO of the Tata Steel Foundation.