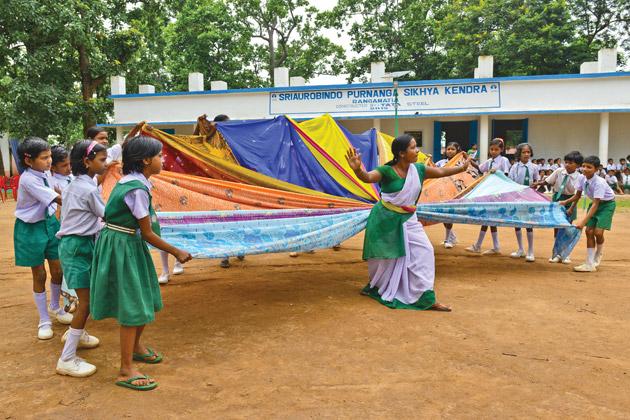 Children performing at the Rangamati school
2 schools for the tribal child in the middle of nowhere
Subir Roy, Jamshedpur
Published: Dec. 03, 2015
Updated: Feb. 06, 2016
This is a story of two schools. Both are in the same area, embedded in the same community. But there are key differences which offer an insight into how the process of mainstreaming poor tribal children happens in stages, with both the formal and non-formal support structures being equally important.
It is customary to visit a school during the day but we go to the informal school at Ghagiasahi, a tribal hamlet around a kilometre from the Sukinda chromite mines of Tata Steel in Odisha's Jajpur district, after dark. Once we get there we know why. There is a festive mood with tribal dancers and drummers performing with gusto.
In fact, the place properly comes alive routinely only in the afternoon when the children arrive and first tend to the vegetable garden and flowering plants. Then, with sundown, there is a prayer meeting followed by study and teaching, mostly in the form of help in coping with what has been taught at the government school earlier in the day.
Finally, there is dinner. The food is important as it is an incentive for the children to come. And they stay on until well into the evening because the area is not free from the typical power cuts that plague rural India and if they were to be nearer home there would in all probability be darkness and learning possible only by kerosene lamp.
IN A COWSHED WITH LAMPLIGHT
Tata Steel employees' involvement with the village and its children goes back two decades to 1994 when two of its young employees, Sri Krishna Mohanty and Gokulananda Tarai, while passing through on their bicycles, saw something both uplifting and saddening. In the gathering gloom a group of young boys and girls was busy with studies in a cowshed around a kerosene lamp.
This prompted them to come regularly after work to teach the children. More children came for help with their studies. As the centre grew, other Tata Steel employees joined in and the shed expanded in 1998 into the Swami Chidananda Cultural Centre. It was dedicated to not just educating tribal children but also linking them to their roots.
The secular, cultural and religious come together in three ways at the centre. Republic Day is celebrated by holding the annual sports meet. Birsa Munda Jayanti is celebrated to remember the tribal leader, freedom fighter and folk hero, and Pandit Raghunath Murmu Jayanti is celebrated to remember the founder of the Aichiki script. And the annual religious event on the calendar is an "Ashta Prahar Nama Yagna" round the clock on the full moon day of the month of Kartik on the Indian calendar.
The welcome dance for the visitors over, everybody settles down to the main event of the evening — a programme of song and dance by the youngsters which reflects both the traditional and current influences on them. All are in tribal attire but the boys wear colourful sports shoes while the girls are barefoot.
Dance and response to rhythm is in their blood. The choreography, by someone who looks like their cultural leader, is a mixture of tribal and popular music video, and the music and songs are mostly Oriya folk and bhajan, again filtered through popular mediums.
Among those present is a star — Motilal Mohanta, 23, a local boy and a past student of this centre. He holds an engineering diploma, works with a contractor in a nearby chromite mine, and comes in the evenings to help out with the teaching. So does Binod Mohanta, 22, who is now a final-year BA student who began at this centre. Bhim Hembram, 14, is a crossover. He is both a student and a teacher here, as the need arises.
I ask Suman Ho his age in Hindi and he replies in clearly articulated English, "I am 12 years," and goes on with little prompting, "I am sixth, in Kaliapani High School, will become engineer when I will grow up. I have two brothers, I am oldest son." His flow of English leaves me speechless.
The pride of the centre is Tripathy Murmu, who was among the first batch of students. He is now a lecturer in political science at SKCG Autonomous Government College, Paralakhemundi, after completing his postgraduate studies in philosophy from Odisha's leading liberal arts institution, Ravenshaw University in Cuttack.
THE RANGAMATI SCHOOL
Not far from Ghagiasahi, in another hamlet, Rangamati, is another school, also powered by Tata Steel employees in their personal capacity — the Sri Aurobindo Centre of Integral Education. A wing of the Sri Aurobindo Karmabhumi Trust, it owes its origins to the late Sisir Kumar Behera, a pharmacist working with Tata Steel at Sukinda. He started a meditation camp or study circle inside the Tata Steel campus in 1993 and in 1996 brought it to Rangamati, a poor tribal area which was then densely forested. He located it next to a horticultural rarity — two trees, a sal and a mahua, grown together.
The group started a school in 2001. To date there are no private schools there and the nearest government school is over two km away. The school now has 114 students, 73 boys and 41 girls, with nearly half being tribals. It is partly residential with 58 boarders. It is both like any other government recognised school of its kind, teaching in the state's Oriya medium, and also different in as much as, in keeping with the teachings of Sri Aurobindo and the Mother, it tries to impart purnanga education covering the mental, physical and spiritual.
Pankaj Kumar Satija, general manager, operations, ferro alloys and minerals, Tata Steel, Sukinda, explains how for the employees involved, the service sort of "drags you in" and you keep looking for opportunities to mainstream the children. He then draws a significant distinction between the employees' involvement in the two schools. "In the Rangamati school the involvement is more professional, in the Ghagiasahi school it is more emotional and involves giving a lot of one's time."
The difference between a group aerobics show at Rangamati and the spontaneous song and dance numbers at Ghagiasahi bears this out.