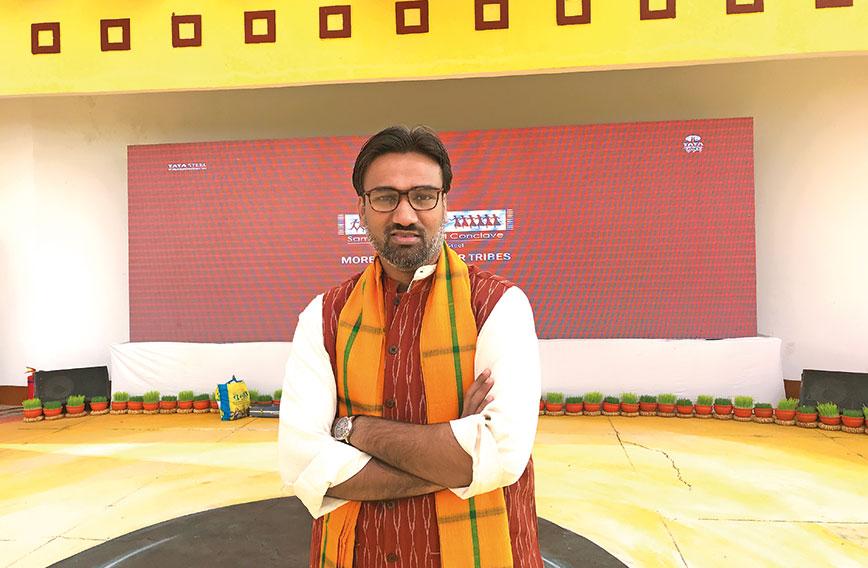 Sourav Roy: " With the tribal communities in Jharkhand and now in Odisha, we have a deep and meaningful relationship
Development is the target, says Tata Steel's Sourav Roy
Civil Society News, Jamshedpur
Published: Jan. 04, 2019
Updated: Jan. 04, 2019
It is five years since Jamshedpur began hosting Samvaad, an event at which tribal people from India and from across the world get to talk to one another and share their stories and concerns.
A celebration of cultural identities, there is song and dance and showcasing of cuisines. Traditional attire is worn with pride and is colourfully in evidence.
Samvaad means discourse. The idea is to give tribal people a space in which to speak about themselves and be better understood. They come from different states in India and from other countries as well, reaching out to each other and the world at large with messages of hope and despair.
Samvaad is part of Tata Steel's corporate social responsibility (CSR) efforts. What value does a steelmaker see in holding such a large and freefalling event? To find out, Civil Society spoke to Sourav Roy, head of CSR, at the fifth Samvaad held this November.
Samvaad is huge. How do you pull it all together?
This year we have about 1,700 tribal men and women who have joined us here in Jamshedpur from 24 states in India and 13 countries. The scale has grown over the past five years since we started Samvaad. There were 1,400 people last year.
It's a huge number of people.
It is, it is. In and around our areas of operations, like Jharkhand and Odisha, we generally have a very deep connect with the Adivasi population. It is a legacy that's not just from the last three or four years.
The way Biren (Bhuta, his predecessor) and the team conceptualised it, Samvaad is an honest space to celebrate tribalism and, at some point, what the tribal perspective on development might be.
The one thing that we've taken care of over the past several years is not to burden Samvaad beyond a point. There's a pace at which a platform like this needs to grow. We haven't found too many parallels to what we're trying to do, so there's really very little to learn from. We are happy with whatever pace it is growing at.
With deep connections with tribal people?
With the tribal communities in Jharkhand and now in Odisha it has been a deep and meaningful relationship. We know the tribal leaders. We've been working in these areas for a long time. We have been known for a particular ethos. It was with a fair amount of trust that we started out when it came to Samvaad.
If you go back to when we were starting this, many people didn't know what this platform was about. Was it going to be another mela? Was it going to be something more than that? But they still chose to join. It helped to have this 'starting quorum', if you will.
The second thing is the work we have been doing with tribal communities. We had been working on languages. We have been running tribal language classes which are deeply embedded in communities. We have been looking at preserving tribal heritage — musical instruments and how we could make sure the lineage continues.
While this has reinforced our relationships with communities, it has exposed us to a new set of understandings that has taken us deeper into identity and culture. It has made us realise that there's something here that we should grasp.
The way these things have been done is very evolved, if I may say so. So when we do language classes, the idea is not just to go somewhere, build a room, put up a white board and run a class.
We do it when there is an ask from the community. The classes are delivered by members from within that community. All that we do is give a small honorarium. There is significant engagement with the community on developing course material. Local intellectuals get together to create courses.
The ownership from within the community has been very high and I think that significantly expanded the regional core platform that we had. It also made us realise that language and identity are a notch above political boundaries.
Somewhere we started looking at the tribal discourse across India, outside Jharkhand, outside Odisha, with the realisation that tribal kinship patterns are not guided by political boundaries. There are certain locations here where 45,000 people from a particular tribe across all states congregate on a particular day. How does that happen?
You can say that the Santhals are the largest tribe in Jharkhand by population, but you can't call them a Jharkhandi tribe. They're all over, they're in Odisha, in Bangladesh, in West Bengal….
There may also be commonalities in the problems that tribal populations face. It is very important to first shine a light on the fact that they're not alone with their problems. It is a big reason why people come to Samvaad.
For instance, a genuine problem which we're now grappling with in our Thousand Schools programme in Odisha is, how do you use a tribal language for educating children? It can't be English to Hindi and then Hindi to Ho. There has to be a direct translation. The same problem exists in north Karnataka and west Rajasthan.
So when a lot of these people come together and find they are grappling with the same problems, there is an 'Aha!' moment. That's another reason why people have been drawn to Samvaad.
We also started regional Samvaads in 2016 because we realised not everyone can come to Jamshedpur. We started taking these one-and-a-half-day programmes to different parts of the country. We do four to six in a year. This year we did Dimapur, Madurai, Gajapati, Udaipur, Ranchi and Bhubaneswar. And a lot of people started coming there. So they started seeing value in one-and-a-half days of discussions and that's how the network expanded.
The other thing we did was that we started a tribal leaders' programme two years ago. About 180 tribal leaders from more than 20 states have taken part in a one-week leadership programme with us in Panchgani.
What is the leadership programme trying to achieve?
We help bright sparks who have the potential to be changemakers realise their potential. Remember, it is not our intention to make Samvaad a Tata Steel platform. To that extent we think it is important that we help a new leadership emerge.
We said, let's not put any boundary conditions on leadership. Let's look at people who may have tried something outlandish or have a fantastic idea and may have succeeded or have a fantastic idea and may have failed. There is a rigorous selection process. Every year there are about 350 to 400 applications out of which 95 to 100 are taken to Panchgani.
What we focus on is the base of the pyramid. How do you look at self-governance? How do you discipline yourself? How do you manage conflict and take decisions? We introduce them to people who have a world view or have expertise that may be useful to them. It could be on handling media and interpreting media in today's world.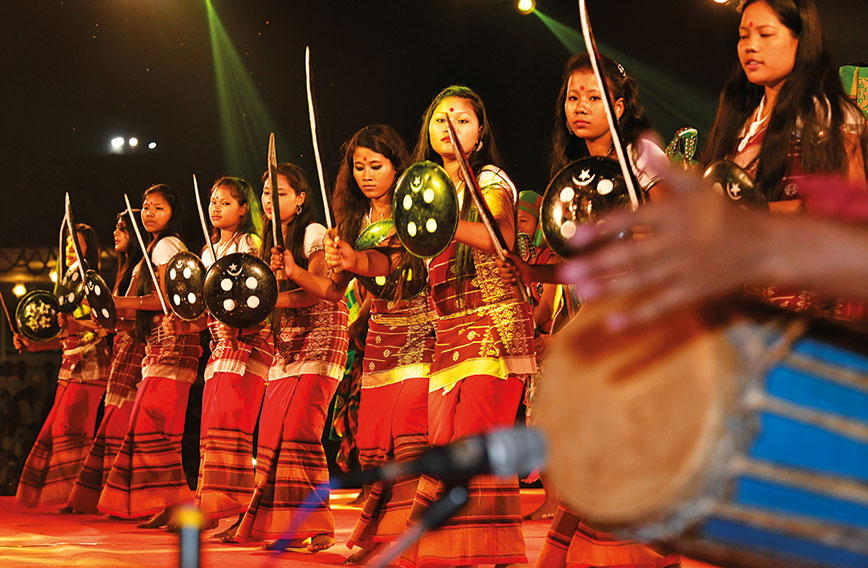 Samvaad is a celebration of cultural identities
The whole event is about coming together for social change. How does this play out? People come to Samvaad and go back to their different realities.
About a quarter or 25 percent of the people at this Samvaad are repeat attendees. How social change comes about is the start of a conversation.

It is five years, right? So let's say in five years there would be something you could map.
Almost without exception, they would not have been on a platform like this where their voices are heard. So that's the first step. There's some outstanding work that's happening in tribal India. But it doesn't get the platform to express itself unless it's a political channel or it's a government-sponsored channel or a media interview. But what if you are not a celebrity or living in a metro?
At Samvaad, you come here, share your story and there are 1,000 people around you who clap. People who've joined us shared their struggles and in an amphitheatre full of people you could literally feel the empathy and the strength that they derived from that. Now the same person goes back and becomes the convener of a state-level forum on an issue.
But you know, it functions at two or three levels. One, of course, is the bonding and the energy it multiplies but you've set out to attack a much deeper problem. The problem of social change and the tribal.
I don't think we've set out to tackle social change as a problem. Even this year you'll notice the emphasis is on coming together, not defining what social change is. I think the emphasis of Samvaad as a platform is to maintain neutrality and discover and understand what is relevant to tribal India today.

So to narrow it down a bit, when people come and go back to their own multiple realities, do you see them doing things differently? Asserting themselves?
Yes. A lot of them have started organising similar events themselves. In Maharashtra, for instance, people went back and organised Samvaads there. They felt that just the power of bringing communities together helped them start the dialogue process. Similar events, similar dialogues have been set up in different places.
People go back from Samvaad with confidence and a greater capacity for doing something tangible and meaningful in social change.
There are also impacts that we haven't thought of. For instance, when a lot of NGOs were responding to the Kerala floods, the first points of contact were all our tribal leaders in Wayanad who had attended Samvaad.

It's a CSR activity. Companies tend to want to get something tangible out of their CSR. How does it play out for Tata Steel?
I'll answer in two parts. One is the CSR piece. The clichéd two percent regime doesn't really mean anything to us in terms of a mathematical calculation. Our model of CSR goes beyond Schedule 7. If you look at how we, as a company, approach CSR, our work in the social space, or CSR and sustainability, it is actually one of the strategic objectives that the company has set out. At its core there was always board oversight on this and a mandated committee. Even now, all the conversations happen with the managing director and all of them. It's an intrinsic part of our identity as a company.
We have been a CSR implementing company for a long while. We have a very large team that works on development issues. The target that we set ourselves isn't to be the best in the CSR space but the best in the development space. It's a struggle at all times, but that's what we want to be.
With regard to Samvaad specifically, let's go back to the question of who exactly is a leader in CSR. It is something that I keep getting asked in various forums and I don't have an answer. Maybe it's best explained as four or five attributes a CSR leader should have. Spending in itself shouldn't be the criterion, right? It has to be a consistent commitment of resources because most development challenges are long-term challenges. You can't throw short-term money behind long-term challenges.
Second, what kind of talent do you value in your CSR team? Is it really run as some other function of your company or do you actually put your money where the problem is and assign the right talent.
Third would probably be your ability to allocate experimental capital to development. If you're not doing that you're not breaking boundaries, if you're not breaking boundaries then you're not a leading name in CSR or development, for that matter.
The fourth is, what is the quality of the relationship you have with your communities and is it truly a two-way street? Samvaad to me falls somewhere in the last two. It is clearly an experiment, but at the end of the day we're doing this as a company for a 110-year-old relationship we have with tribal communities.
Over the past 10 years, the world has changed at a frighteningly higher pace than in the previous 10 years. How can we truly, hand on our hearts, say that we have also continued to understand what development means for tribal communities. Samvaad really helps us understand that.
As a large steel producer in the region for a very long time, would you say that the transformations that have happened, economic and social, all of which Samvaad tries to achieve, have been adequate?
I personally believe that our relationship with communities is of a high order. I think we've made a fair amount of impact and created some significant change: not just through our CSR programmes but through employment. The challenge now is to transform these relationships as we transform as a company and become more efficient, more lean, new technology comes in and all of that.
We unequivocally would love to have as many of our employees as possible from the tribal communities, but we can't keep hiring plumbers and fitters and tractor drivers. It's not going to work. That's the dilemma.
The point of Samvaad is not to create economic impact in the areas around us. It has more to do with tribal identity and culture, and to make sure that these communities have a voice in the overall policy space.
Published in the January 2019 Issue