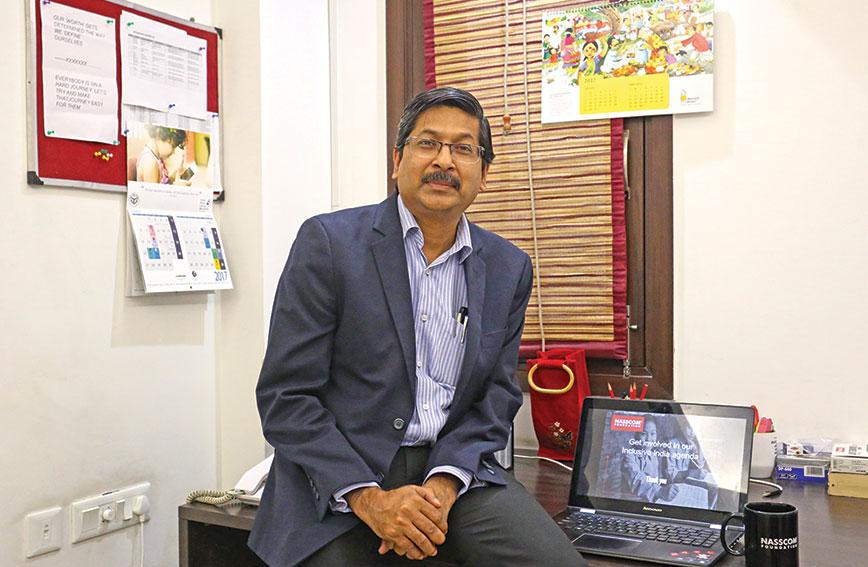 Shrikant Sinha: 'Our conferences are serious learning experiences'
'Companies are keen to measure impact'
Civil Society News, New Delhi
Published: Apr. 03, 2017
Updated: Apr. 03, 2017
The increase in funds for Corporate Social Responsibility (CSR) has led to a multiplicity of conferences and award ceremonies, prompting questions on whether they serve any purpose at all, or whether, like a lot of CSR, they are more about window-dressing than substance.
The Nasscom Foundation's CSR conference for 2017, its fifth year, concluded recently. Civil Society spoke to Shrikant Sinha, the foundation's CEO, on what the learning has been from bringing together companies, NGOs and government officials in an interactive environment.
The Nasscom Foundation's CSR conference has become a little institutionalised. It happens every year. What is it that you are seeking to achieve?
There are three things we are trying to achieve. The first is we want to help the corporate world and NGOs understand how the 2 percent CSR (funds) would mature over the years. Second, how the initiatives of the companies should align with the SDGs (Sustainable Development Goals), of which India is a signatory. The major focus for us is a buy-in from companies and the NGOs and how people can start working towards SDGs.
So, you want your conference to be a serious learning experience?
Absolutely. Let me talk about the third objective. Year on year, we have been changing the conference to suit the audience and ensure that it is a serious learning experience. It is an opportunity for collaboration between companies and NGOs. Nasscom Foundation, because of its connections with industry and NGOs, is able to bring them together.
A handshake opportunity?
Much more than a handshake. I'll give you an example. Companies in Pune know that the city has three to four major problems. So they have come together and formed Pune City Connect. It is working with companies, the Pune Municipal Corporation and NGOs to make sure that problems get resolved by 2020. This is the kind of case study we want to bring in.
What is the mechanism of the conference?
Let me talk about what we did. We had these walls where we told NGOs to come and display their material so companies get to know the things that are happening. One of the key goals of the conference is to generate serious learning so that companies do better CSR and people who can facilitate that from the social sector are aware of what they can do for companies.
Not only that. There were government officials there as well and social entrepreneurs too — essentially ensuring the complete ecosystem functions. This ecosystem has to be created today. Earlier, a philanthropic grant was given and the company forgot about it.
Companies are now maturing and saying, Look, what is my social return on investment? NGOs have not had any kind of exposure on how to report that. NGOs need to address transparency.
Are you saying these are issues raised during the conference?
Exactly. One of the things discussed in one of the panels was volunteering. How NGOs can actually benefit from volunteering efforts. But it isn't just plain and simple volunteering. When the Digital Melas happened these people were trained, they volunteered to train other people. We said, If you are most comfortable doing SBI Buddy, train on Buddy. No one is saying you have to train on Paytm or anything else. Whatever your core competence is, you can train on that.
The second point is skills. We are talking about a Bachelor's in vocational studies. In your final year, you decide whether you want to go for the vocational stream or you want to get a degree like a B.Com. How would industry take this up. Another thing that came up was that a lot of companies today want persons with disabilities. There is the same pool that keeps rotating across various companies. Training happens for the same people again and again.
How do you mean?
For example, under CSR you want to train 100 people with disabilities. So, you go to the people who are trained to skill these people and they will say, okay, you want a batch of 100, I will give you 100 (and) we will train them on that. Fine. You do things, they come. There is a residential programme, they get a stipend also. Training happens for them.
The next time a second company comes and says it would like to train people with disabilities and needs a batch of 100. The same people who were there before are there again because no one knows what are the total number of persons with disabilities, where they are located. But the people who have not been trained require it most.
What you are saying is that when you go to a limited number of people, a whole lot of people are excluded. So how does your conference help in increasing this bandwidth?
One is awareness. Second is getting the right people into the room. Today companies want to utilise their money in a creative manner. They want to come up with new ideas and see how it can help the last mile and the grassroots to scale up. They want to empower people through digital literacy or through financial literacy or even through providing access to health and sanitation.
We also try to burst certain bubbles. For example, a lot of money goes into education, into creating a parallel education system which is counter-intuitive. Money going into helping the current education system is what is productive and your returns on money invested in this way are higher.