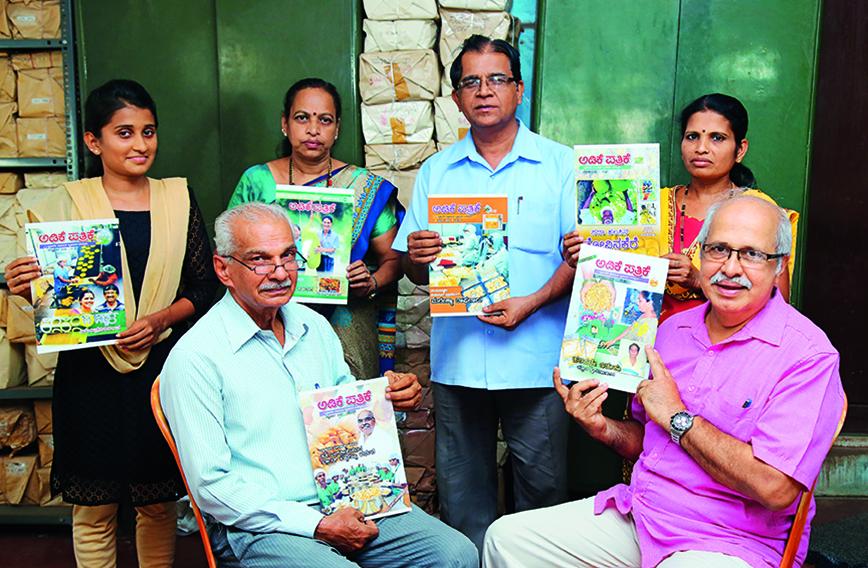 Farm magazine by farmers works well for them
Shree Padre
Published: Sep. 09, 2020
Updated: Sep. 11, 2020
In more ways than one, Adike Patrike is a unique publication. We tread a new path in content, reportage and presentation. We source most of our stories from experienced farmers. The magazine is of, by and for farmers.
Many farmers contribute to writing articles, editing, publishing and even distributing Adike Patrike. We term our brand of journalism 'self-help journalism.'
I was a freelance journalist when we started the magazine. Being a farmer myself, I knew the drawbacks of the farm media at that time. But we had no idea of how to produce a magazine. Nor were there any farmer-friendly periodicals we could turn to as examples.
The All India Areca Growers' Association, an apolitical farmers organization, is our parent body. It is several decades old. They gave us our initial start-up capital. We also generated our own funds. Many years later, the Farmer First Trust was floated to manage our publishing activity.
But let's go back to 1988, when Adike Patrike began. It was a period of crisis for farmers like us. The areca nut market had collapsed. Unlike earlier collapses, this one extended for a few years. At this juncture, a new president took over the All India Areca Growers' Association. The demand for a 'farmers' own publication' was voiced. I, a freelancer, was asked to take the lead and submit a report. My report advocated a magazine which had a new farmer-friendly approach. The idea was well-received. And lo and behold, we plunged into an unknown world.
Media pundits gave us two dire warnings. They advised us to produce a quarterly. You won't get material for a shorter periodicity, they said. They also said that our magazine wouldn't sell on news stands and that we would have to literally force people to buy subscriptions.
We insisted on a monthly. I felt a quarterly wouldn't be taken seriously. The day we released the first advertisement of Adike Patrike in newspapers, we started getting enquiries from agencies. Today we have over 125 agencies in five districts.
Adike means areca nut or supari. The nut grows on a tall perennial tree (Areca catechu). It's the main cash crop of five districts in Karnataka and the adjoining district of Kasaragod in Kerala. The two states produce 70 percent of India's areca nut.
Adike Patrike's target reader is the areca nut farmer. He grows a variety of crops like coconut, cocoa, pepper and cardamom. Therefore the information the farmer needs is also diverse — animal husbandry, manure, irrigation, labour-saving devices, banking, post-harvest technologies, to name a few. We cater to this demand for information.
ALL THEORY
What was the state of farm journalism when we entered the scene? There were a few government-owned farm publications. Agricultural experts, three or four together, used to write for newspapers and farm journals to get academic credit. Their sole objective was to write for the sake of writing. They weren't practising farming. They didn't source information from fields or address ground realities
Agricultural scientists were writing on what they thought would be good for farmers. It was old wine in older bottles. There were many details about the crop, but none about the farmer who had grown that crop.
The net result was that instead of being helpful, many articles actually misled farmers. Ironically, those who grew crops, the farmers, were not expressing themselves.
Cinema, sports or political publications have only two dimensions — you buy them and you read them. But periodicals on farming, electronics or bee-keeping are different. They have an important third dimension — implementation. To do that journalists require deep understanding of their target group's profession.
Farm publications offer new agriculture practices, new crops, newer technologies and so on. If this information is useful, it can be a blessing for farming families. But if the information that was published proves to be untested or wrong, it might put farmers in deep trouble.
One recent example is the extension of oil palm cultivation to areas without irrigation. Several farmers cut or burnt their five or six-year-old plantations in desperation since the crop was dismal. Such cases are not uncommon. A farm publication's duty is to double-check its content, use self-restraint and avoid publishing information that is only of commercial interest.
We consider all these issues and we are cautious when we consider a topic for publication. This has helped us build a reputation for reliability and farmer-friendliness.
REWRITING THE RULES
What is the criterion we use when we decide on a story? First of all, it should be useful and implementable for our farmer-readers. If not, it should at least expand their knowledge. The story should also be exclusive.
We can't rely on unsolicited articles that come through mail. We keep a constant watch on the goings-on in our country. This is essential to zero in on relevant stories. First, we identify a topic. Then we commission selected journalists to do the story. We follow a two-step approach for content generation. For our lead stories, I or my team members personally visit the site.
There is a second method we follow. If there is an interesting development, we contact the concerned farmer. Most of them don't know how to write an article. To help them, we send a questionnaire after explaining the story on the phone. After receiving answers, we phone again to clarify everything. Sometimes we straightaway interview the farmer over the phone. If there is a farmer who can write, we commission the story from him or her.
We use WhatsApp in a big way. If the reporter and the information provider have good rapport, we can produce valuable stories. Out of the many stories we published, the one on the Malaysian jackfruit farm is memorable. Two gentlemen of Indian origin, living in Malaysia, developed a 30-acre jackfruit farm. They shared each and every detail of the methods they employed with us. These techniques were not known to anyone in our country.
Another useful story was of a huge dehydration unit, equipped with two dozen big solar dryers, in Nashik district of Maharashtra. Nashik is a large, vegetable-growing belt. Market collapse is a recurrent phenomenon. Whenever prices of vegetables crashed, this unit would buy the vegetables and dehydrate them. They created a market for dehydrated vegetables. Large hotels, ships and the city of Mumbai bought from them. We did this story with the help of WhatsApp.
Experiences like this one inspired us to conduct a 'WhatsApp Journalism Workshop'. This method does have some limitations, but works well in certain contexts. In a way, this can be compared to citizen reporting.
ACTIVISM AND IMPACT
In three decades, Adike Patrike has initiated five movements.
In the first 10 years we came up with the idea of training farmers in farm journalism. Many professional journalists lack even working knowledge of farming. Instead of pinning hopes on them, why not impart basic writing skills to interested farmers?
So, in the next few years, we conducted five workshops in villages in different districts. We called this movement Krishikara Kaige Lekhani (pen in the farmer's hand). When we concluded our movement, we published a handbook with the same title.
Inspired by our initiative, the Centre for Agricultural Media, a like-minded organization, started conducting diploma courses in farm journalism. Today many such trainees — some are agriculture officers — write for different publications. All these efforts have helped to revitalize and upgrade farm journalism.
Our second movement was on chemical-free farming. We were the first to publish a series on vermi-composting in the early 1990s which continues to be popular. The third was a campaign on rainwater harvesting. The fourth was on farmer-centred value addition to augment the income of farmers. Our latest one is jackfruit development. (Read Civil Society, May 2018.)
What impact did we have over the years? Some tangible and some not. Our community-owned magazine brought positive changes to the world of journalism and the farming community.
The old way of writing on farming issues is disappearing. Scientists writing with an addendum of names has almost vanished. Newspaper editors have realized the importance of ascertaining the views of farmers. Actual field work — visiting the farm and talking to farmers — is another important criterion that is now insisted on. More interviews with farmers are appearing in both print and electronic media. With social media's popularity and spread rising, there are many more stories on farming, tips, YouTube videos and so on circulating. Some are really good, useful. Some others are misleading and amateurish.
We don't believe in restricting ourselves to print. In partnership with other organizations, we have been conducting awareness and training programmes on micro-irrigation, electronic fencing, biological control of pests, skill training for areca nut tree climbing, jackfruit festivals and seminars.
We started a 'plant friendship' organization called Samruddhi which has now completed 25 years. Farmers from five taluks meet every month, go on educational tours and exchange planting materials of vegetable and ornamental plants. This has boosted interest in vegetable cultivation.
We weren't experts when we started our campaign on rainwater harvesting in 1996. We began with a monthly series of success stories on rainwater harvesting by ordinary people titled "Nela Jala Ulisalau Nooru Vidhi" (hundreds of ways to conserve soil and water). The series ran for eight years.
The stories were well-received. We began getting requests to run awareness programmes by showcasing our success stories. Between 2002 and 2005, I must have travelled not less than 25,000 km all over southern Karnataka to present over 300 rainwater harvesting slideshows in workshops. Mainstream dailies invited me to write a regular column. We published a few books on these success stories.
One example we like to cite is of Diwakar Bhat and Sripathy Bhat. The two brothers, who live in Kadakoli in Sirsi, have a large areca nut farm. Fed up of acute water shortages, they were on the verge of selling their property. At that juncture, they read Adike Patrike's article on rainwater harvesting. They talked to us and started harvesting rain in a big way. One of the worst droughts in memory happened three years ago, but they had ample water.
In six districts, Adike Patrike is now remembered for having initiated water consciousness. Rooftop water harvesting became the most followed method. Today thousands of houses have implemented this effective technology without seeking any government help.
We also highlighted technology which could extract virgin coconut oil. It led to a movement in Tumkur district. Not less than 10 farmers are now using these simple machines to make coconut oil.
Our campaign on jackfruit development increased awareness, use and domestic consumption of this much ignored fruit. Today a wedding or a function in the home of a farmer is incomplete without jackfruit dishes. Many small-scale jackfruit processing units have sprung up. There has also been innovation, like coffee from jackfruit seeds, which is now sold by half a dozen entrepreneurs in Kerala. We gleaned this idea from the Philippines and propagated it.
Adike Patrike introduced Rajasthan's Ada bore well digging technology here, and began cabbage cultivation for the first time in Kasaragod. We organized tomato plant grafting and introduced the recipe for tender coconut jelly from the Philippines. All these initiatives were really useful for our farmers.
We have, on invitation, done workshops on farmer-friendly journalism for NGOs and government institutions. There are requests that we bring out Adike Patrike in English.
Pramod Jadhav, Deputy Commissioner of Maharashtra, gets Adike Patrike translated locally. Dr Sarthak Chowdhury, professor of Agriculture Extension at the Institute of Agricultural Science at Viswa Bharati University in Santiniketan, has been using our magazine as course material for his students for eight years after translating it.
Adike Patrike is now 33 years old. We look back in surprise. How did we sustain our venture despite so many challenges? We don't get subsidies from the government. No institution or funding agency sponsors us.
We have a full-fledged office and a small team at Puttur in coastal Karnataka. Our only sources of income are advertisements and magazine sales. We manage on a shoestring budget. Because of our support to chemical-free farming, fertilizer and pesticide companies don't advertise with us. That's okay. We have no regrets. Except for two months, when the COVID lockdown began, we have never missed a single issue. For 33 years, we have been there on the stands, on time.
There are always takers for need-based information. It's not easy to generate such content. Marketing is also challenging but not impossible. The biggest ingredient you need for success is to work with all your heart: dil se kaam karo.
Shree Padre is editor of Adike Patrike
Email: shreepadre@gmail.com