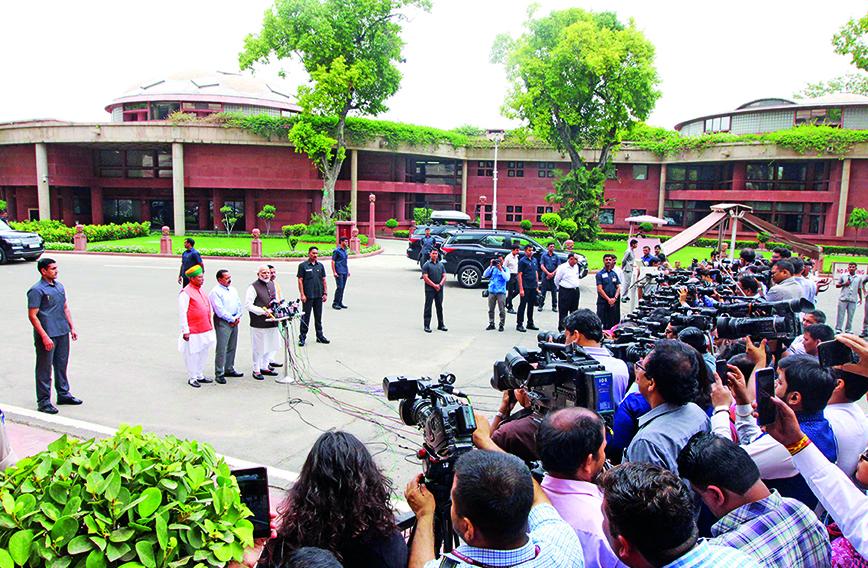 Rising intolerance of professional journalists by those in power has made the profession risky and risk-averse
Media is much more than the medium
Sanjaya Baru
Published: Sep. 09, 2020
Updated: Sep. 12, 2020
Addressing the silver jubilee of the Chandigarh Press Club in September 2005, Prime Minister Manmohan Singh warned the Indian media that a yawning gap was emerging between the media's phenomenal quantitative growth, in terms of revenues, readership and viewership and number of entities, and its qualitative development, in terms of the veracity of news, the quality of programming and the management of the media. "With the rapid growth of media," said Singh, "qualitative development has not kept step with quantitative growth.... The time has come for journalists to take stock of how competition has impacted quality."
Beginning from the post-Emergency years of 1978-80 and through the following decade of business development and the arrival of new technologies and then the post-liberalization decade of the 1990s, the Indian media lived through a quarter-century of unprecedented growth and expansion. In 1982, Indira Gandhi's information adviser, the venerable H.Y. Sharada Prasad, told me that he kept in regular touch only with the editors of five newspapers — Times of India, The Hindu, The Indian Express, The Statesman and Hindustan Times. About a quarter-century later, in 2004, as his successor in that post, I was required to keep in touch with these five and the editors of major Indian language publications like Dainik Jagran, Dainik Bhaskar, Eenadu, Malayala Manorama, Siasat, Lokmat and scores more. Moreover, I had to maintain a working relationship with television anchors and, equally important, the media moguls who owned print and TV companies.
Over the past two decades not only have numbers grown, new media platforms have emerged, like Twitter and Instagram, making the job of media management not just difficult but also more varied. This phase of growth of traditional media has suddenly been halted by the coronavirus pandemic as newspaper readership has dwindled and, more important, corporate advertising has virtually evaporated, exposing the extreme dependence of media on advertising. Subscriber-funded journalism is today the exception, with advertiser or corporate-funded journalism being the rule. This in itself has raised the question whether news media, print and TV, should be considered the 'fourth estate' — an institution of democracy on a par with the executive, the legislature and the judiciary — or simply as just another business activity, with its revenue model, its top line and bottomline. Is media an institution or merely a medium for making money and influencing opinion? As media revenues dip and the means of accessing news changes, journalists are losing jobs by the dozens. Those fortunate to be in employment are afraid to report the news of their comrades falling by the wayside, worried about when their turn will come. After four decades of growth and change the Indian media finds itself at a new crossroads.
POLITICAL BIG BOSSISM
The challenge posed by a loss of revenue on account of the post-COVID economic slowdown and altered news accessing habits comes on top of a more insidious crisis posed by growing political big bossism at the national and provincial levels. If journalists criticizing a Narendra Modi or a Sonia Gandhi are trolled and heckled, those critical of a Mamata Banerjee, a Y.S. Jagan Reddy or a Yogi Adityanath meet with worse fate. Rising intolerance on the part of those in power, at all levels of power — national, provincial, municipal — towards professional journalists has made the profession risky and risk-averse.
Reporters Without Borders, an international NGO, reported this summer that India's rank on a world press freedom index had slipped to 142 from 140 in a list of 180 countries. Another global NGO has highlighted through its Global Impunity Index India's sorry record in the number of unsolved cases of murder of journalists. From real estate dons to sand mafia, from anti-cow slaughter vigilantes to jihadi terrorists, all manner of groups have been targeting and killing journalists. If declining revenues and declining professional values are one side of the coin, the grim external environment is the other side. Caught between falling revenues and rising threats, professional journalists have been living through the worst phase of Indian media.
There are many factors that have contributed to this grim situation. First and foremost has been the growing link between business, politics and the media. In every state across India a significant chunk of the dominant media is controlled by dominant business and political interests. At one level one must welcome the total transparency in ownership and editorial stance. Tamil Nadu's Jaya TV was owned by the late J. Jayalalithaa's party. Businesspersons dealing with the state government were required to advertise on the channel as a way of making financial contributions to the party. The channel was blatantly partisan. There are scores of such politically aligned TV channels and hundreds of newspapers across the country.
CREDIBILITY REDUNDANT
There is no pretence of editorial independence, objectivity in reporting and regard for professional codes of conduct. Since political power is used to mobilize the finance required, editorial credibility does not determine readership. Rather, political loyalty does. What started in an incipient manner in far corners of the country has now become mainstream. Andhra Pradesh's Eenadu group heralded the rise of the Telugu Desam Party, while Congress party leader Y.S. Rajashekhar Reddy's son, Y.S. Jaganmohan Reddy, launched Sakshi, print and TV. Hyderabad's Deccan Chronicle was for long owned by the Congress party's T. Chandrashekhara Reddy, brother of the high-profile T. Subbirami Reddy. In Maharashtra, the Lokmat group is owned by the Congress party's Darda family, while Sakal has investment from the Sharad Pawar family. In Odisha, politician Jay Panda's wife, Jaggi Mangat Panda, runs OTV, while Arnab Goswami's Republic TV is funded by a clutch of BJP supporters. In West Bengal and Kerala the Left always had its own media mouthpieces, in print and TV, while The Telegraph has morphed into a Mamata Banerjee broadsheet. Most Hindi media groups across the Hindi-speaking region have gravitated towards the Bharatiya Janata Party. While India TV's Rajat Sharma has been openly a BJP supporter, the Times of India has allowed its Times Now TV channel to be openly pro-BJP. Chennai's The Hindu group had a long record of credibility, even after it tilted politically to the left during the editorship of the CPI(M)'s N. Ram.
Such political links were subtler in the national media. Hindustan Times was always with the Congress and the party rewarded its owners with membership of the Rajya Sabha and other kinds of support, even naming a street in New Delhi after K.K. Birla. A more sophisticated partisan game has been played by NDTV and the India Today group, both owing their initial rise to the generosity of the Nehru-Gandhi Darbar. NDTV's Prannoy Roy was favoured with prime time slots on Doordarshan before he launched his own channel. And NDTV, which employed the children of several influential people from the Nehru-Gandhi Darbar, benefitted not just from Doordarshan's munificence but also from privileged access to the finance ministry and the Prime Minister's Office.
Given the orientation of its inaugural issue in December 1975, it seemed India Today was in fact launched to defend Indira Gandhi's Emergency. The magazine's very first editorial, written by founding editor Aroon Purie, a Doon School contemporary of Rajiv Gandhi, openly accorded support to the Emergency, stating: "There has been worldwide concern about the curbs put on the press since the Emergency. Mrs Gandhi has repeatedly said that she does not want to muzzle the press. But, the problems for democracies is to decide where freedom begins and responsibility ends. .... As the Emergency continues, press censorship rules are gradually being relaxed to allow constructive criticism of government policies."
PROFESSIONAL CONDUCT
Many issues bedevil the media, ranging from nature of its ownership and the role of owners/publishers in the functioning of media to challenges posed by changing needs and interests of readers/viewers. One key issue on which journalists as a profession have complete control is the extent of and quality of their professionalism and professional conduct. There are many written and unwritten codes of conduct by which a journalist's professional worth can be gauged. However, there are no credible professional institutions that can offer an independent evaluation of the professional credibility of a journalist. The profession needs one such institution.
Neither the Press Council of India nor the Editors' Guild of India has been able to play its part and earn a standing within and without the profession. There are many media awards that recognize the professional contribution of a journalist but most of these are presented in recognition of individual "good news reports" published/produced by journalists. A very corrupt journalist may have filed an excellent news report that deserves recognition, but in rewarding the journalist for that 'story' the jury is not required to take account of the personal reputation for probity of a journalist. Media honours are for work done, not for how that work is done.
Several individuals have from time to time suggested the adoption of professional codes of conduct by media personnel. Several such codes have been drawn up by various institutions, media groups and individuals. Some media entities have even adopted such codes of conduct. In 2002 the Editors' Guild of India adopted "A Code of Practice for Journalists", and in 2010 the Press Council of India published "The Norms of Journalistic Conduct". As chief editor of Financial Express (2000-04) and of Business Standard (2009-2011), I encouraged both newspapers to adopt a code of conduct. The latter makes its internal code of conduct available to all its readers on its website. These are exceptions to the unfortunate rule that most Indian media have not defined appropriate professional codes of conduct, not to mention communicating these internally, within the organization, and externally, to all the stakeholders.
My professional life as a journalist has been in the print medium. I continue to believe that newspaper journalism is real journalism. Television is a medium that lends itself to reportage, but when it comes to analysis and expressing opinion the written word is a medium of communication superior to the spoken word and visual. There is, however, a more fundamental problem with news television, especially commercial TV. In competing for viewer attention with entertainment and sports channels, news TV has also become part-entertainment, part-sport. Sometimes wholly so. Journalists have become entertainers and performers. Their worth is determined by their TRPs — television rating points — not the inherent quality of their work. The medium has morphed the media.
In pursuit of TRPs, television media has resorted to all manner of gimmicks, ranging from the induction of "citizen journalists" to orchestrated shouting matches aimed at arousing the base instincts of a viewer. If a film producer uses sex and violence to capture audience attention, a TV anchor uses political bluff and bluster. One consequence of these trends has been to dilute the standing of a journalist as a news professional. Every profession, from that of a barber to that of a surgeon, has standards by which one's professionalism is judged. By allowing popularity to define one's professional standing, journalism has redefined itself as being in the entertainment business rather than the information business.
Sanjaya Baru is a writer and Distinguished Fellow at the Institute for Defence Studies & Analyses in New Delhi.