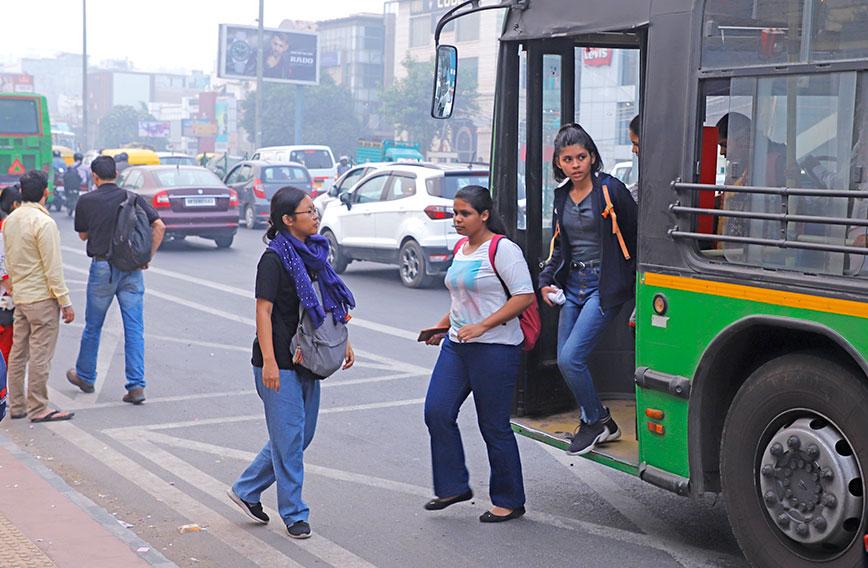 Public transport systems are an important measure of safety for women
Index shows what makes a city safe for women
Rwit Ghosh, New Delhi
Published: Dec. 04, 2019
Updated: Jun. 09, 2023
What are the key factors that make Indian cities safer for women? Safetipin, a social enterprise, together with the Asia Foundation, has formulated guidelines for an index that any city can use and has also released a safety analysis on the three two-tier cities of Bhopal, Gwalior and Jodhpur.
Safetipin provides tech solutions for safer cities. It has Delhi-based mobile apps which identify safer routes for women to get home at night and a 'Track Me' GPS which enables a trusted person to track the route a woman takes. A safety audit, using nine parameters, assesses if a public space is safe or unsafe.
Safetipin has collaborated with the Asia Foundation. The Korea International Cooperation Agency (KOICA) has funded the reports.
This isn't the first index on deciphering what makes a city safe. The Economist and Thomson Reuters publish a safety index every year comparing cities round the world. "We don't do this thing of trying to compare cities. We're trying to give each city tools to improve itself," says Kalpana Vishwanath, co-founder of Safetipin.
The Ministry of Housing and Urban Affairs also has its own index. Vishwanath points out that it looks mainly at police activity and CCTV usage whereas Safetipin's index is more holistic. "Safety is also about the built form. It includes public transport and infrastructure," says Vishwanath. Their index consists of 23 indicators under four broad categories: land use and built use, public infrastructure, public transportation and security.
Under land use and built use, 'mixed use' is one of the indicators. The study found mixed-use buildings invariably had socially diverse communities, an active street life and safety. They provided 'eyes on the street'.
One example is old Delhi. There are shops on the ground floor and homes on the second floor. The street is never deserted. "Even at 10:30 pm, a girl can go out with her friends and have chole bhature in old Delhi," says Vishwanath.
Other indicators are gated communities, a rising phenomenon in cities, and public parks and plazas. Footpaths, streetlights, pedestrian crossings, hawkers, night shelters and toilets are some indicators used to assess public infrastructure. Under public transportation, indicators include coverage, last- mile connectivity and women employees in the transport sector. Under security, police being present on the street and their reliability are key factors which provide a feeling of safety to women.
Safetipin chose Bhopal, Gwalior and Jodhpur for its report on women and mobility because all three cities have high rates of violence against women, according to the National Criminal Records Bureau.
Unsafe public transport has emerged as an important reason for women dropping out of the workforce. More women than men depend on public transport. The way they use public transport is also different. Unlike men, women undertake frequent short trips to go to work, to shop, to pick up children. But transport systems are designed for men to go to work. In the absence of proper transport, a very high percentage of women just walked to work.
Safetipin's two apps, My Safetipin and Safetipin Nite, came in handy for assessing the safety and convenience of a complete journey. Safety Audits were undertaken using nine parameters: Lighting, Openness, Visibility, Crowd, Security, Walk path, Availability of Public Transport, Gender Diversity and Feeling.
All three cities ranked poorly with Bhopal doing a bit better at 2.9/5. The city had better lighting but fared poorly on infrastructure at bus stops.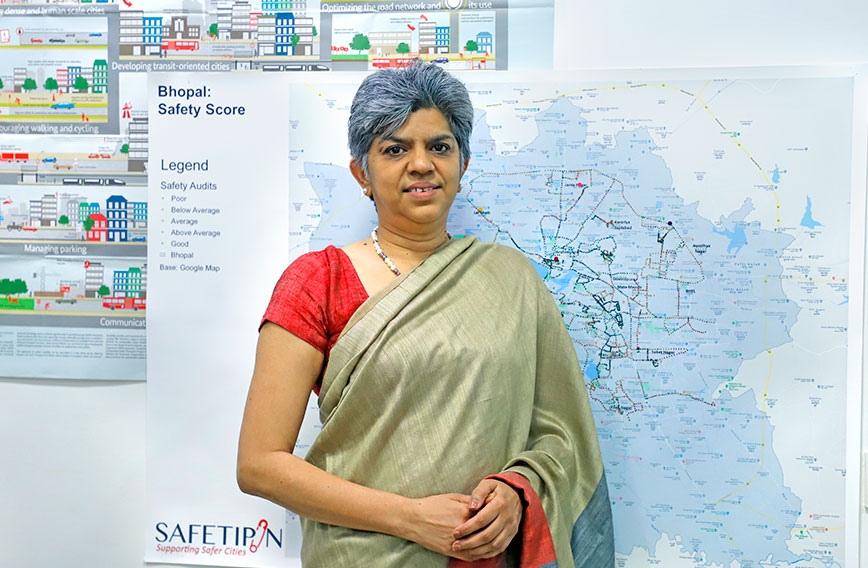 Kalpana Vishwanath, co-founder of Safetipin
"At bus stops, we found that both lighting and footpaths did not meet standards of safety," says Sonali Vyas, a programme manager at Safetipin.
Gwalior has a better transport network, although most of it consists of privately owned buses, autos and e-rickshaws. "The government needs to regularise informal transport instead of introducing more buses," says Vyas.
According to her, 20 new buses were introduced but because of poor ridership the service was stopped and subsequently the buses were used for electioneering.
Jodhpur, a tourist city, does have many areas which are safe. Vyas says they found that Mandol Garden, slightly outside the city, was deserted and unsafe. " We suggested increasing police patrols in that area," says Vyas.
The report has made a series of recommendations. Some are broad ones meant for all three cities and others are specific to each city.
Gwalior, for example, needs better footpaths and lighting along with public transport infrastructure and overall visibility. "I do believe that if you improve urban form, you can improve inclusion," says Vishwanath.
An important recommendation the report makes is to feminise the transport sector. For that, infrastructure will need to change. For example, you would need public toilets for women drivers. Such changes require policy interventions, says Vyas.
However, a radical overhaul of the transport sector isn't required. Instead, says Vishwanath, city transport systems needs to be made seamless. "Last mile connectivity really needs to get traction," says Vishwanath. "At the HUDA City metro station in Gurgaon, a police booth was installed. It was active from 5 pm to 8 pm. Autos were organised. Women waited in line and got an auto to their destination without trouble," says Vishwanath.
Recently, Safetipin undertook a study on Delhi with the Delhi government. In an earlier study, they had identified 7,000 dark spots in the city. Their recent survey in 2018-2019 showed that more than 4,000 of these had been fixed. "We found that dark spots have gone down to less than 3,000," remarks Vishwanath.
Safetipin has been lobbying with urban local bodies to implement some of their suggestions. "We have spoken to the CEO of the Smart Cities programme in both Gwalior and Bhopal," says Vishwanath.