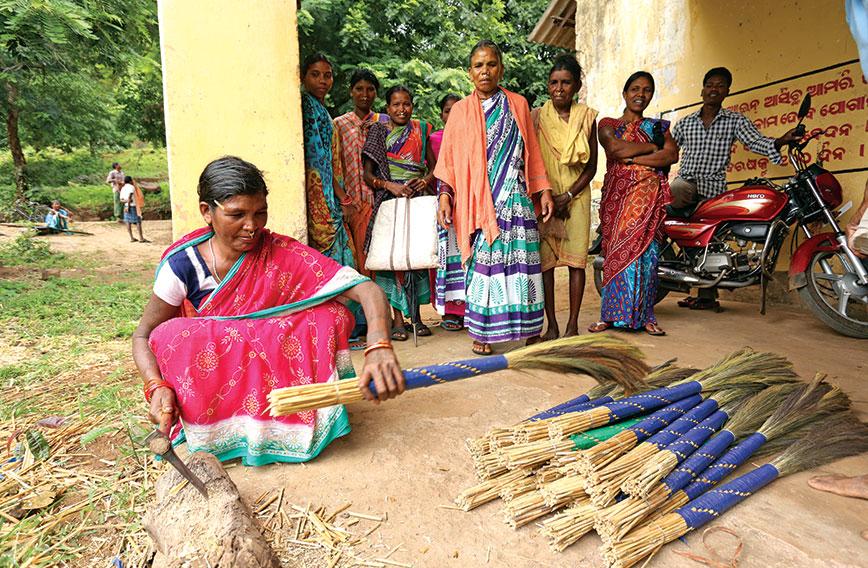 Insights into Adivasi livelihoods
Civil Society News, New Delhi
Published: May. 15, 2022
Updated: May. 15, 2022
A report from an ongoing study on the livelihoods of Adivasi communities underlines the extreme deprivation in which they live despite laws and policies ostensibly meant to benefit them. Not much has changed and Adivasis continue to remain the most impoverished people in India with the worst human development indicators, lagging behind in health and education.
Listed mostly as Scheduled Tribes under the Constitution, Adivasi communities grapple with new challenges. Development schemes over the years have robbed them of their lands, deprived them of their forests, denuded their environment and eroded the social cohesion of their communities. Around 55 percent of people who have been displaced from their lands because of dams, mines, wildlife sanctuaries etc, are Adivasis.
The study, which is called The Status of Adivasi Livelihoods Report, was conducted by PRADAN from March to April 2021 in Jharkhand and April to May 2021 in Odisha.
Altogether, 5,500 Adivasi and non-Adivasi households in 16 Adivasi-dominated districts of Jharkhand and Odisha were surveyed. There were also focus group discussions with Adivasi communities in 28 villages and interviews with 40 leading Adivasi and non-Adivasi intellectuals.
PRADAN, a voluntary organization of long standing, has worked closely with Adivasi communities in Jharkhand, Madhya Pradesh, Odisha, Chhattisgarh and West Bengal on issues of livelihood for the past 40 years and has a detailed understanding of their concerns.
"The paradox of want and deprivation in the midst of natural bounty and professed State support has puzzled us quite a bit," writes D. Narendranath, executive director of PRADAN, in the report. "It has been our considered view that we need a more nuanced understanding of Adivasi livelihoods and the socio-cultural setting that shapes their livelihoods if we are to evolve an appropriate response to end their plight."
This report delves deep into the lives and livelihoods of Adivasi communities. The status of Adivasis and other communities in the same region have been compared. The study also examines the impact of government measures. The idea is to share such findings with governments and NGOs to enable more efficient and appropriate interventions.
Adivasis comprise 8.6 percent of India's population and around 75 percent live in the Central India belt. Their culture is distinct: reverence for forests and nature, collective aspirations, a deep sense of community and a focus on need, not greed. A perspective that is gaining ground is that development initiatives often fail because they aren't designed keeping in mind Adivasi cultural and economic aspirations. For example, school education isn't imparted in an Adivasi language, health services don't factor in traditional practices, forests don't have trees they access for food and more.
"Earlier we used to get forest products like honey, bamboo, sal seeds etc, but nowadays we are not getting all these. Earlier we used to get medicinal plants and bark of certain trees for fighting malaria but those are not available these days. Earlier there were sambar deer, barking deer, spotted deer, peacock etc in our forests. After the intervention of industry and mining which has rapidly destroyed our forests, there is extinction of flora and fauna," states Sumani Jhudia, a tribal activist.
Here are some highlights of the report: Adivasi communities live in the undulating hill and forest terrain of Odisha and Jharkhand in Chhota Nagpur and the Eastern Ghats. Both regions are blessed with rivers and rainfall and were densely forested till a few decades ago. It still has sal forests and elephant herds. Individual landholdings are very small, under two hectares, on slopes and topsoil is thin, making conventional agriculture challenging.
A considerable number of Adivasis are also landless. In Odisha, 14 percent of Adivasis, 28 percent of non-Adivasis and 47 percent of PVTGs (Particularly Vulnerable Tribal Groups) said they were landless. In Jharkhand, the figure was 12 percent and 30 percent, respectively. Irrigation facilities are scarce. Fifty-three percent of Adivasi households depend on forest produce in Jharkhand and 75 percent in Odisha.
Section 4 of the report is on infrastructure, roads, telephones, education and health infrastructure. Internal roads seem to be missing. Fewer Adivasi villages were connected to the block headquarters as compared to non-Adivasi villages. Public transport likewise connected fewer Adivasi villages than non-Adivasi ones. Mobile connectivity was 73 percent for Adivasi villages and 90 percent for non-Adivasi villages. More NGOs worked in non-Adivasi villages. As for community forest rights, the results were pathetic. In Jharkhand, for instance, seven percent of Adivasi and three percent of non-Adivasi villages applied and one percent of Adivasi and three percent of non-Adivasi villages received those rights.
The next section profiles Adivasi households. The average family size is of five members. A large majority of the heads of household are not educated. Sixty-three percent had studied up to primary school and less than 12 percent up to Class 10. Tribal women fare even worse. Better income leads to higher literacy. Adivasis without land were found to have low levels of education in both states.
Although most Adivasi households (88 percent in Jharkhand and 84 percent in Odisha) are marginal or landless farmers with no access to irrigation they produce one rainfed crop per year. Interestingly, they could grow as many as 20 crops indicating rich crop diversity.
The average annual income of an Adivasi household was merely `75,378 in Jharkhand and `61,263 in Odisha. In Koraput it was just `42,183. There were six sources of income generation —farming, animal husbandry, forest produce, wage work, salaries/pension, non-farm work and remittances. Income from forest produce was very low in Odisha and also very modest in Jharkhand. Adivasi villages were located around 2 km from the forest in both states.
Almost half the Adivasi villages surveyed reported poor food consumption (46 percent) as compared to non-Adivasi households (23 percent). In Odisha, the PVTG households were the most undernourished. The study also found that children in as many as 50 percent of households were undernourished. The report also analyses the factors influencing income, literacy, food security etc.
This is a painstakingly detailed report and its findings should be implemented by all governments at the state and centre.