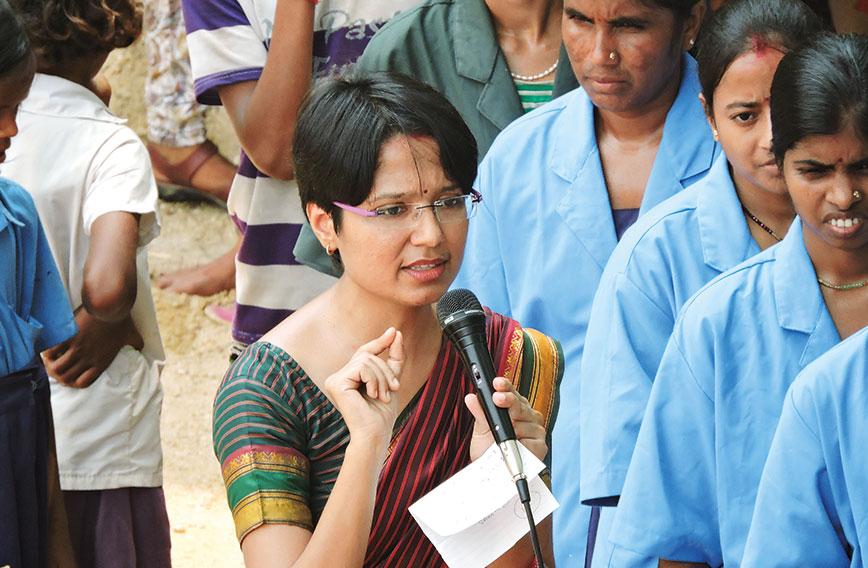 Dr Taru Jindal: 'When you truly want something, the universe conspires to make it happen'
Dr TARU JINDAL | New Delhi
Civil Society News
Published: Feb. 26, 2021
Updated: Feb. 26, 2021
Dr Taru Jindal earned her medical degrees in Pune and Mumbai, but it was in a district hospital in Motihari in Bihar that she first chose to work. Her assignment was to train nurses and doctors in adopting better practices. Her second assignment, too, was in Bihar, in the village of Masarhi, where she helped set up a community health centre.
Both opportunities came through Doctors For You (DFY) and its founder, Dr Ravikant Singh. She had made up her mind that the big cities didn't need her skills. Her motivation came from exposure as a student to the work of Dr Abhay Bang and Dr Prakash Amte in tribal areas.
Even as the Masarhi health centre took shape, Dr Jindal, 39 years old, sprang a cancer. Between sessions of chemotherapy, she now spends her time running a breastfeeding network and helpline. She also has a helpline for a lesser known affliction called vaginismus.
Q You studied in Mumbai and then went to practise in a government hospital in Motihari in Bihar's East Champaran district. What made you do this?
What took me there were my dreams. Dreams that my boyfriend and later my husband dreamed during our days in medical college of working where we were really needed. Though we both belonged to Mumbai, we felt the city didn't really need us. We were inspired by people who had done amazing work at the grassroots like Dr Abhay Bang and Dr Prakash Baba Amte in Gadchiroli district. We were constantly in touch with them. We were 29 when we graduated and got married.
Q How were you in contact with them? Most doctors go in the direction of high-earning careers.
We had a student organization in BJ Medical College in Pune called Prachiti which in Marathi means self-realization. Without them I wouldn't have thought of these things.
They used to take MBBS students to Baba Amte's Anandwan and to Dr Bang's SEARCH in Gadchiroli district. Students were also taken for volunteering to disaster-prone regions of Gujarat. Actual exposure is what made the difference. We were also part of student youth movements in Maharashtra. Conviction came from seeing all this.
Two visits I made after my MBBS transformed me. For my internship in 2007 I went to Melghat, a forested region inhabited by tribals and infamous for malnutrition deaths during the rainy season. I went for 14 days as a health worker for an NGO. I didn't even know such a world actually existed.
Q How did your association with Doctors For You happen?
When you truly want something with all your heart the universe conspires to make it happen. I believe that. I had two months left to complete my rural bond. Everyone was ready with what they were going to do. Someone was going to start a clinic, someone was going to do post-graduation, or maybe apply for a fellowship. I was like, I want to go to a village.
Just at that time, Dr Nobhojit Roy, head of the department of surgery at Bhabha Atomic Research Centre Hospital, met my brother and told him about this project in Bihar which was being run by CARE India, the Bill & Melinda Gates Foundation and Doctors For You. They were struggling to find doctors to work at the Motihari hospital. I spoke to Dr Ravikant Singh. It was a 10-minute call. I was familiar with his participation in the reservation campaign and I knew he was a good person. I wanted to work in a rural area so I just signed up for it.
Q What was your impression of the Motihari hospital?
I knew things were bad in rural Bihar. Dr Ravikant Singh and Dr Nobhojit Roy had told me everything. But actually seeing it… it was a lot worse.
I arrived there at 10.30 am. I stepped into the labour room. I saw dogs all around, rusted cots and blood on the floor everywhere. The labour room was stinking like a toilet. A woman was delivering a baby with bare hands. It was a total shock for me. More shocks followed. The baby came out. The woman tore the mother's sari and wiped the baby. The baby now had to be wrapped. The woman tore the mother's petticoat and wrapped the baby in it. And then I realized the woman wasn't a doctor or even a nurse, she was the sweeper.
Day after day I watched babies dying, not being revived. I saw mothers with ruptured uteruses being referred to other hospitals and going away in auto-rickshaws. The doctors who should have been responsible for the maternity ward were not around. I also found out that there was a five-km line of private nursing homes across from the district hospital. Clearly, there was something going on between the district hospital and the nursing homes. They were proliferating at the cost of this dysfunctional hospital.
I had to take a call whether to stay or leave. I had been sent as a trainer to train the doctors of that hospital. But there were no doctors to train. I didn't know what to do. But I thought, I made a commitment to be here for three months. I won't go back on that even if it means all that I will be able to do is clean up the labour room with a broom, I'll do that.
I started by building rapport with the nurses. I began a shramdaan movement to clean up the OT, a place where people would do surgery in a baniyan. That kind of shifted things in their minds because they began to think, if a doctor can sweep the OT with us then we can also do things.
They started taking ownership. I began working with the nurses, assisting them in difficult deliveries late into the night. They knew if the baby or mother died they would have it because the crowd could literally do anything at that time and there was no security. But now there was a doctor standing with them, saving their necks day in and day out. It made them think: this is what the doctors of this hospital were supposed to do but were not doing.
They saw my skills even though I was half their age. They began to respect me. Then they began to get interested in improving and we started working on their skills. By the time three months were over, I had already helped in improving their skills and changing their attitude. But, of course, the overall infrastructure of the hospital needed a bigger helping hand. I was too small to work on that.
Q How did the hospital's decrepit infrastructure get rebuilt?
The universe conspired once again. A new collector was sent to that district, Jeetendra Srivastava. We used to call him Singham. The movie had just released at that time. I approached him and he listened. He said to me, Taru, tell me what needs to be done and I'll do it. I used to go to his office at 7 pm every few days and brief him. Sir, this is what we need, this is what is happening at the hospital. He began to do midnight inspections of the hospital and he started suspending people who weren't doing their jobs.
Things began moving at such speed that people couldn't believe it. In six months the labour room, the OT, everything was reconstructed. Doctors who were never seen at the hospital were there at 9 am. New young doctors from medical colleges were recruited and the old ones were thrown out.
This kind of overhaul could only be done by someone as big as a collector. Nobody else could do it. I left after six months when our project was over. I joined as a lecturer at the Sevagram Medical College in Wardha. In 2017, the Motihari hospital won the Kayakalp Award, instituted by the Modi government. Nobody could believe it. It won the same award again, I think, in 2018.
Q So, the changes you made proved to be permanent?
I was just one of the catalysts. There were five or six people in that hospital for the past two decades who wanted to improve things but never got any help or support. I probably just sparked that light in them again. There was, of course, Jeetendra Srivastava and from the hospital side there was Vijay Jha, the hospital's administrator, a few nurses like Anju Sinha, and Dr Ravikant Singh, myself, and people from CARE India. It is a beautiful story of how people came together to do something amazing, instead of one person in isolation.
Q But you went back to Bihar once again, to Masarhi, one of its poorest areas. Why?
I had to come back. I didn't want to leave Bihar at all. I felt I was born to be there. This, Bihar, is my karmabhoomi. I began teaching at Sevagram but I would think, anybody can do this job. Every day I used to tell my husband that I had to go back.
Dr Ravikant Singh wanted to build a small health centre in his father's house in their ancestral village in Masarhi, about 25 km from Patna. He had studied in Mumbai and on a visit to his village after 12 years, he came across a man who died in his hut because of an ailment which was easily curable. That shook him.
He decided to convert his father's house into a health centre. He got a donor from Mumbai and he asked me if I wanted to handle the new centre. I was itching to go back. We decided to set up the health centre together.
Working in Masarhi was totally different from working at the Motihari Hospital. I did not know how to mould the minds of people in the community towards healthcare. I had to do a lot of innovation. We started a nurse assistant programme, celebrations like godhbharai, a self-help group for agriculture and farming to combat malnutrition.
Q But the community eventually accepted you?
Initially they shunned me at times. I tried a forceps delivery to save a baby and there were a few lacerations on the face. Word spread in the community that doctor ne sar phodh diya (doctor has damaged the head) and they stopped coming to my health centre for a month. I couldn't believe it. But it forced me to grow up overnight. There were a lot of ups and downs. But we stayed on. The average age of my team was between 25 and 30. There was a lot of dedication and energy and experimentation. We did a lot for the community and eventually it worked.
Q Why did you get interested in lactation?
I did my MD from Sion Hospital in Mumbai. One day, during my evening rounds, I met a mother who told me she was not able to breastfeed. I lectured her on the merits of breastfeeding and moved on. Later, I came to know the baby convulsed the next day because of low sugar and was sent to the ICU. I went to see the baby lying in the crib in the incubator and a sense of complete failure overcame me.
I began to wonder why in my entire 10 years of learning nobody had taught us about breastfeeding. We never had a single seminar on breastfeeding during my postgrad in gynaecology. No consultant talked about it. We talked instead of big things like laparoscopy and infertility.
After a lot of research, I came to know about 'breast crawl'. There was a video on YouTube, which said that like newborns of all animals, our babies too, immediately after birth with the cord still attached, if they are kept on the mother's abdomen, will crawl upwards towards the breast and suckle.
I thought, how is this possible? But the video showed this. The next day, I did this in my own labour room inside the hospital. And the baby crawled. I had to just protect the baby from falling. I think I did 100 breast crawls in the Sion Hospital's labour room.
I realized, we are the ones who don't allow the baby to breast crawl. Doctors and nurses come in the way. We just want to finish our work of cleaning up and stitches and interrupt this postnatal dance. There was a huge uproar in the nursing union against me. They wanted to quickly finish their work.
News of my work reached World Alliance for Breastfeeding Action, the world's biggest organization on breastfeeding, in Malaysia. They called me for their silver jubilee conference. I met many stalwarts in the science of lactation across the world and they trained me. I did a two-week breastfeeding course in 2017 and I earned my degree.
When I returned to Mumbai I underwent a lot of treatment for my tumour. But in 2018 I did more than 32 different workshops in 14 or 15 different districts of India, covering more than 3,000 doctors and nurses and training them in breastfeeding skills.