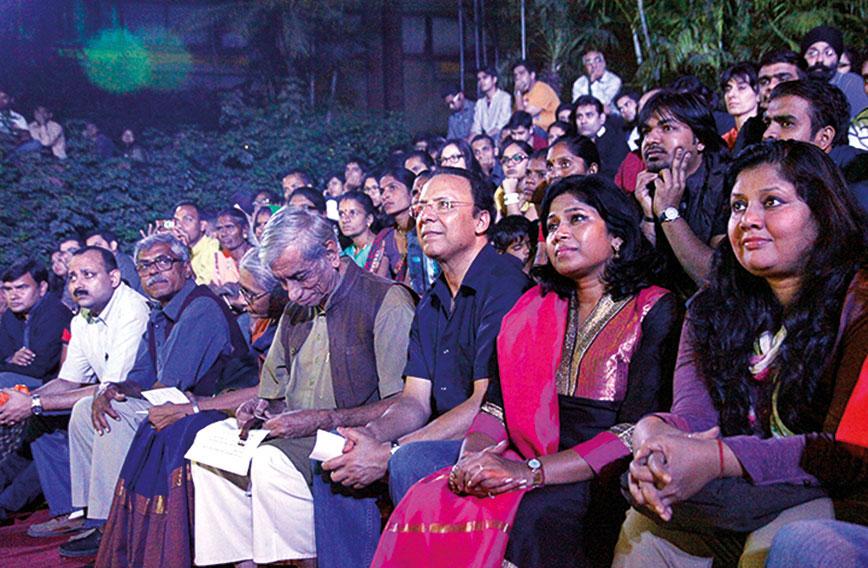 Vir with wife Namita at the Civil Society Hall of Fame event
The Vir Chopra we came to know and will always miss
By Umesh Anand
Published: Sep. 10, 2021
Updated: Sep. 10, 2021
"I AM Vir Chopra," said the very fit-looking and fair-skinned man of medium height, putting out his hand. "I would like to get in touch with you." I offered him my card and said, "Sure, anytime."
We had just completed an episode of Gamechangers, a series in which we were bringing alive cover stories of Civil Society for audiences at the India Habitat Centre in New Delhi. This one was on zero-emission housing and it had drawn a packed house.
After the show, there were people who wanted to say hello. Some were our friends and others regular readers who were happy to meet us in person. There were also those who had never come across us before.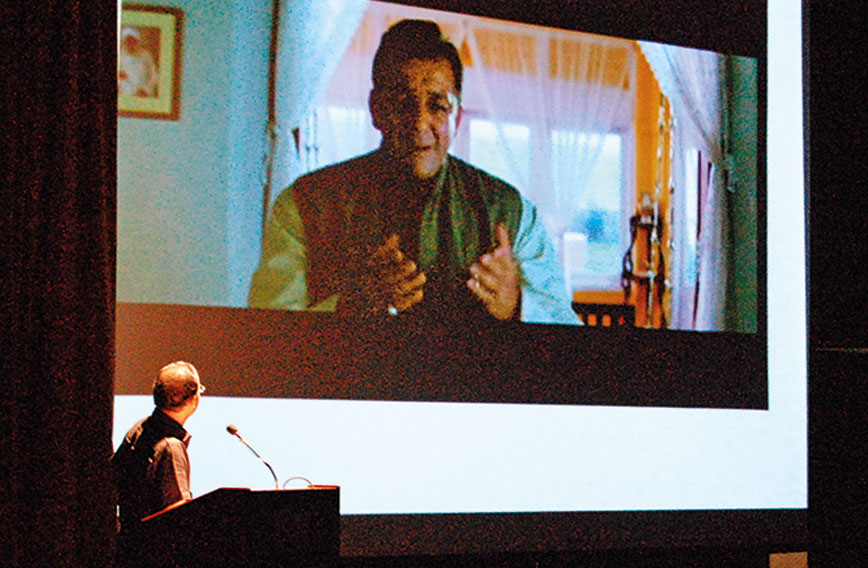 Vir makes the keynote address on 'Gandhigiri and Citizengiri'
I, being an ignoramus about commercial cinema, didn't know Vir Chopra was the producer of his brother, Vidhu Vinod Chopra's blockbuster films like Parinda, 1942: A Love Story, Parineeta, the Munnabhai series, 3 Idiots and so on.
I quickly moved on from him to meet others. But the next day, a Sunday, my mobile rang and it was Vir getting in touch. We agreed to meet and from then on began a close friendship which grew over almost a decade till he passed away on July 5 from COVID-19. He was 72, but always looked much younger then his years.
Vir was happy being anonymously famous. It was the kind of style I liked and was comfortable with. He was an insider to the razzle-dazzle world of cinema. But home for him was a nondescript bungalow in Bijwasan on the fringes of Delhi where he lived with his wife, Namita, and their two lovely daughters, Ananya and Saumya.
He seemed to value personal freedom more than fame. It was completely in character for him to look up the programme schedule of the Habitat and on impulse attend our Gamechangers event on zero-emission housing — occupying a seat in the hall like anyone else.
It was also in relative anonymity that he died in some nondescript hospital room in Mumbai, having been flown in at the last minute for treatment from the Maldives. News of his death was also brief and fleeting. There were no grand memorial services or lengthy tributes.
But he lived a very interesting life. He funded Parinda from his personal earnings while working in the UAE. Earlier, he had been in the Tata Administrative Service and worked with the Taj, setting up hotels as part of Camellia Panjabi's team in those early days of the Taj's expansion.
He moved on from the Tatas to work in the UAE and excelled as a manager of diverse businesses, putting together in the process the funds needed for his brother's filmmaking, the first really big success being Parinda.
But neither films nor money satisfied him. He was keenly interested in society and governance. He was an observer of politics and the processes of change. So it was that he enrolled at the London School of Economics and Politics and earned a proper Ph.D. It was on political leadership in India. He was rightfully Dr Vir Chopra.
As we knew him, he was sincere and serious-minded about everything he took up. When I asked him to deliver the keynote address at the Civil Society Hall of Fame, he at first demurred. He said he didn't know enough about Hindi cinema, which was the subject I had requested him to talk about.
When I persisted, he thought hard and came back with the topic, "Gandhigiri and Citizengiri". It was an interesting address in which he dwelt on a definition of civil society and used clips from Munnabhai to show how citizen action was beginning to matter and could be Gandhian in spirit.
Vir wasn't one for taking shortcuts. He agreed to come to the Habitat the night before the Hall of Fame event to check out sound and visuals and deal with umpteen hiccups that needed to be attended to. He was there in the auditorium until late, allowing us to set up systems for the next day. He was in no hurry and didn't seem to mind.
Every year, Vir would religiously block dates for the Civil Society Hall of Fame event and make sure he was in Delhi for it. He would come with Namita and sometimes their two girls as well. It was a touching gesture.
Vir had a super calm demeanour. But he also had the restlessness of an entrepreneur. He ran a software company and there was a resort in the Maldives. At first there was a resort which was on lease and then one which was his own. Turning an island into a hotel is no small task and when managers failed to deliver, he stepped in himself to rescue the situation. He was unflappable, no matter what the odds.
Because they looked so alike, often his brother's fame as a successful film director robbed him of his anonymity. When he and I went off to Sikkim to check out rural homestays, which Civil Society had done a cover on, people would spot him and ask: "Are you Vidhu Vinod Chopra?" Vir would reply deadpan that he wasn't and move on.
A Bohra Muslim family from Mumbai on vacation in Sikkim was especially persistent. In between upbraiding the young Sikkimese man at the reception for not having their rooms ready and asking for halal chicken, they spotted Vir and me having a cup of tea in a corner. The entire family descended on him like a line of bees.
"You are Vidhu Vinod Chopra," they said, pointing at him almost menacingly.
"I am not," said Vir, calmly.
"But you look exactly like him," they insisted.
"I assure you I am not Vidhu Vinod Chopra," said Vir without batting an eyelid.
We remember Vir for his simplicity and values. He had the pragmatism of a successful entrepreneur and was amused by my efforts to run Civil Society as a business. But there was much idealism in him too. He was a family man and believed that we needed to hand over a better India to future generations. Social fissures and tensions of recent years had him worried about the direction in which the country was headed. This was the Vir Chopra we knew and will miss.