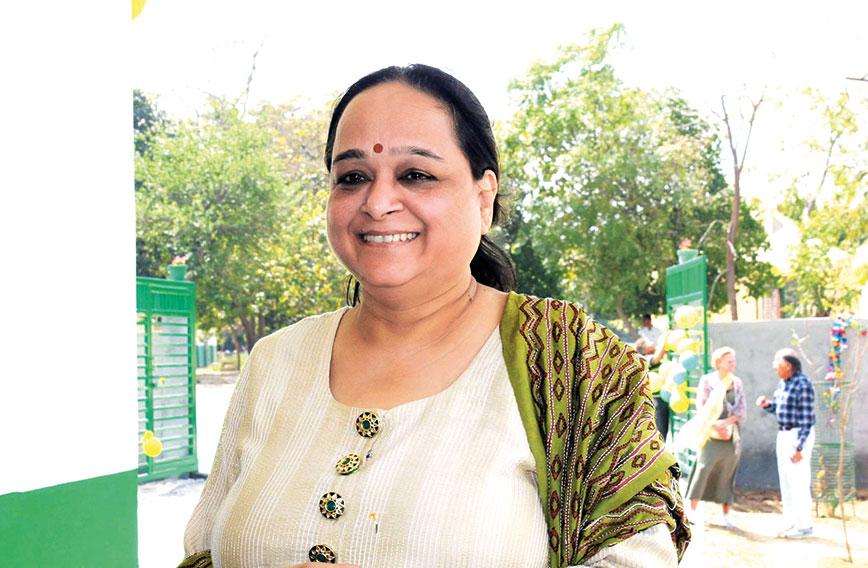 A mother to the girls in western UP's villages
By Civil Society Tribute
Published: Jun. 18, 2021
Updated: Jun. 22, 2021
When the spheres conspire to put an NGO on earth, the outcome can be pretty much heavenly. It has been so with the Pardada Pardadi Education Society (PPES).
Virendra 'Sam' Singh's decision to give up his life in America and return to India was as unconventional as his hiring of Renuka Gupta after their first meeting and waiting four months for her to join.
Together, over 20 years, they have transformed the lives of thousands of girls in villages in western Uttar Pradesh beginning with Anupshahr, which was Sam's family base and where he wanted to give back.
It was a partnership destined to happen. Sam had a dream and Renuka had the heart, talent and resolve to turn it into reality. Her untimely passing at the age of 56 from COVID-19 has left a void that will be difficult to fill not just for the organization but also emotionally for the girls and young women for whom she was like a mother helping them escape the oppression of entrenched patriarchy.
Renuka's was a quiet and reassuring presence. She was the chief executive officer and it was she who drove all that PPES sought to achieve. But she remained low-profile and far from the limelight even as PPES grew and changed lives on a scale that deserved accolades.
We at Civil Society covered her work several times, but the story was never about her. It was the way she managed it — being the driving force and yet not in the picture. In our archives the pictures we have of PPES are all of the girls — happy, empowered and brimming with energy.
Several days after Renuka's passing, Sam, speaking to us on the phone, couldn't stop sobbing. Theirs was a long and affectionate bond which had as much to do with working together as the outcomes from PPES which were all around them in the lives they had touched and changed, almost certainly for generations to come.
"When I came back from the US, I just knew that I wanted to do something. But I soon realized that I was no social worker. It was she who made everything happen. She was 1,000 social workers rolled into one," said Sam.
Renuka belonged to Delhi. She grew up the middle-class way. She went to Lady Irwin School and Kamala Nehru College. She earned a master's in social work from Jamia Millia Islamia.
Her first job was as a social worker at St Paul's School. By the time she joined PPES in 2000, she had worked with Oxfam Bridge, the Voluntary Health Association of Delhi, Bachpan Bachao Andolan and Catholic Relief Services.
For someone always ready to help others, Renuka's end was a troubled one as she went from hospital to hospital in Delhi in search of a bed and oxygen. There was turmoil all around. The end came on May 18, a month after she had tested positive.
Renuka is an example of the change people in NGOs bring by bridging gaps that governments don't know to close. She empowered village girls with education, skills and healthcare. But in the pandemic's shadow she was alone except for her husband, Indu, and children, Manav and Pragya.