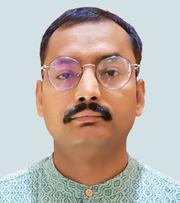 VENKATESH DUTTA
OVER the past two months, there has been a series of natural disasters including flash floods, thunderstorms, cloudbursts, landslides, and road collapses in various parts of northern India. Despite having access to advanced weather forecasting technology, it seems we are inadequately equipped to effectively address the situation on the ground. These events have caused extensive damage and chaos.
In the Himalayas, a distinct trend is emerging wherein greater amounts of rainfall are occurring within shorter timeframes. Dehradun experienced a staggering 135 mm of rainfall within a mere 90-minute period while Darjeeling recorded a rainfall of 227 mm on August 9. This year, the heightened precipitation can be also attributed to the combined impact of the southwest monsoon and western disturbances.
Specifically, in the states of Himachal Pradesh and Uttarakhand, there have been approximately 75 landslides and 40 instances of flash floods during July and August. The region witnessed the evacuation of over 50,000 tourists due to the unprecedented rainfall. On August 9, a cloudburst hit Sirmaur district, resulting in significant rise in the water level of the Giri river, causing it to overflow into nearby residential areas. On July 9 and 10, the village of Pandoh, located on the bank of the Beas river, also witnessed a sudden surge by the river. This powerful deluge wreaked havoc as it swept away a bridge and homes, carrying people and their belongings in its insistent flow.
The economic toll of these floods is estimated to exceed `10,000 crore. Popular destinations like Manali and Shimla were particularly hard hit by cloudbursts and landslides, leading to widespread destruction. The local tourism sector now faces substantial setbacks due to the severe disruption of road networks. In addition, schools, hospitals and community centres have also been affected by the destructive forces of nature.
The Sutlej, Beas, and Yamuna, along with their tributaries, are experiencing high water levels. Relentless rainfall has resulted in considerable destruction across various regions, including Pauri Garhwal, Rudraprayag and Nainital districts, where roads and bridges have been swept away. Landslides caused the closure of the Shimla-Kalka and Chandigarh-Manali national highways. Further, heavy downpours resulted in landslides that obstructed the highways leading to the shrines of Kedarnath, Badrinath, and Gangotri. In the light of these disruptions, pilgrims en route to Kedarnath were stopped and advised to seek shelter in safe areas until the route was restored. Tragically, a landslide occurred on the intervening night of August 3 and 4 in Gaurikund, situated 50 m above the swollen Mandakini. The force of the landslide washed 23 people away in the raging river.
In July, the Yamuna breached its banks, resulting in widespread flooding in Delhi, Mathura, Vrindavan, and Agra. Intense rainfall in the national capital, as well as in the upper regions of Uttarakhand and Himachal Pradesh, led to multiple rivers surpassing their previous recorded flood levels and inundating surrounding areas. The impact was also felt in Greater Noida, situated between the Yamuna and Hindon rivers, where the floods had a significant impact. The water from the Yamuna flooded the Ring Road in Delhi, while in Agra it reached the walls of the iconic Taj Mahal — a historic occurrence last seen in 1978. Images from these cities revealed settlements submerged upto waist level, with partially submerged vehicles resembling isolated islands amidst the deluge. The district administration had to undertake evacuation of thousands of residents to relief camps.
The floods in Delhi can be primarily attributed to excessive encroachment on the Yamuna's floodplains. Unregulated addition of built-up area and encroachment along the river has impeded its natural flow. Further, the build-up of silt has raised the riverbed, causing the river to hold less water than its original capacity. As a result, during high-flow events, the river will breach its embankments and deluge the city.
Rivers constitute the main drainage that allows water to move quickly during a rainstorm. During rainfall, water naturally seeks its own course — following the natural drainage system. During an extreme rain event, we cannot keep water stored. Whatever water comes from upstream has to be released downstream. The dams that impound water must release water. Every city should have a drainage master plan. But in reality, we disregard rivers' physical boundaries; we obstruct their natural course, we allow unregulated construction on their floodplains, we make highways and roads on waterbodies. Consequently, even during normal rainfall, rivulets and rivers experience swift and significant increases in water levels. The inadequate drainage systems fail to cope with intense bouts of rainfall.
Our fragile mountains are witnessing unprecedented development. Several hydropower and road widening projects are being carried out without proper ecological, geological and engineering assessments. The prosperity of the hill states is measured in megawatts (MW) and length of road network to attract investments. Rivers and their ecosystems are particularly vulnerable to such large-scale land use modifications. Hydropower projects have effectively turned once robust mountain rivers into mere streams. Some river channels have been redirected through tunnels that are carved into the mountains. Large-scale concretization and unscientific cutting along the mountain slopes for road widening and other tourism infrastructure are the major causes of landslides during flash floods.
In times of such extreme events and cloudbursts, the accumulated debris is washed back into the river by the surging water. This detrimental phenomenon is eminently observed in rivers like the Parvati, Beas, and Sutlej, as well as numerous smaller hydropower dams. Adding to these worrying factors, plans or projects for lengthy tunnels spanning upto 150 km along the Sutlej are causing substantial damage to the entire ecosystem.
Yes, the climate has indeed changed, but we are amplifying the impact. With climate change a reality, we should not add another layer to the problem, but make adequate adaptations and changes in our infrastructure planning to climate-proof future generations.
Venkatesh Dutta is a Gomti River Waterkeeper and a professor of environmental sciences at Ambedkar University, Lucknow