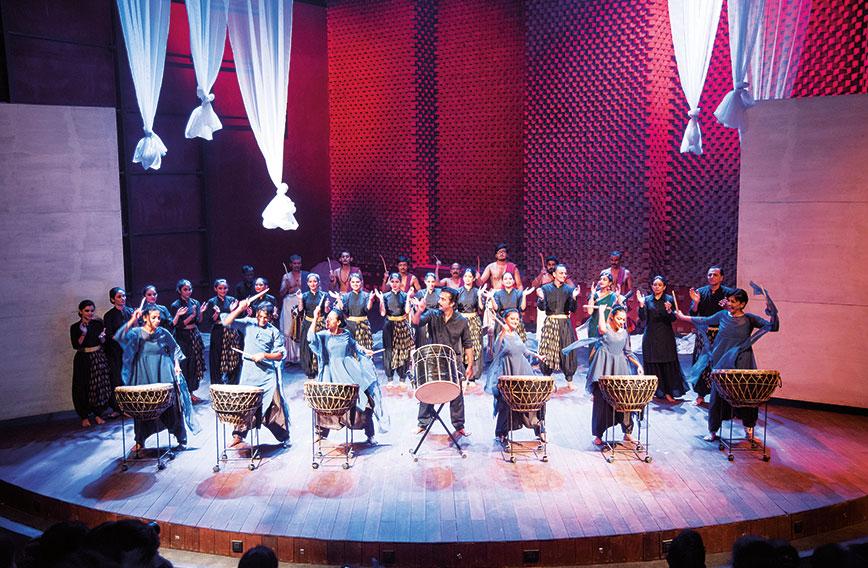 The Natarani Amphitheatre reopened with Mother River, an in-house performance
Natarani is back after three years with old flair
Priyanka Raja, Ahmedabad
Published: Oct. 31, 2018
Updated: Nov. 09, 2018
On September 24, after a three-year hiatus, the Natarani Amphitheatre reopened to a packed house with an in-house production, Mother River, ending Ahmedabad's cultural desolation.
Natarani is housed in the Darpana Academy of Arts founded in 1949 by Mrinalini Sarabhai, the famed danseuse, and her husband, Vikram Sarabhai, father of India's space programme. The academy was later moved to its own premises.
Mother River depicted the newly renovated space at its grandest. Performed by Mallika, Mrinalini Sarabhai's daughter, and her team of Darpana dancers and musicians, the theatrical production was rivetting. Directed by Yadavan Chandran, Darpana's artistic and technical director, it was an audio-visual delight for the audience.
Mallika hopes that the revival of Darpana will make Ahmedabad a throbbing cultural hotspot and a mecca for architects to see India's first green public arts space.
The academy's curated programme includes the Sunday to Sunday Theatre Festival, Karana, the classical dance drama festival, Re Rooted, the contemporary dance festival, Cinema of Resistance and D Talks, a lecture series.
The Symphony Orchestra of India is collaborating with Natarani to bring Western classical music to Ahmedabad every month. On September 28, the orchestra, with 24 musicians and conductor Evgeny Bushkov, performed at Natarani for the first time.
In the old days, when the academy was started, students were used to the sight of brightly coloured saris drying on the river sands, and the sounds of dhobis mingled with those of the tattakizhi (a musical instrument). Little Banjara girls running behind donkeys inspired Cartier-Bresson to shoot a photo series that brought the lives of people along the river bank to the notice of the world.
But over the years, floods in the river eroded the academy's land and the Darpana library, designed by noted architect B.V. Doshi, threatened to fall into the river bed. In 1993, it was decided to build a retaining wall to keep the academy safe.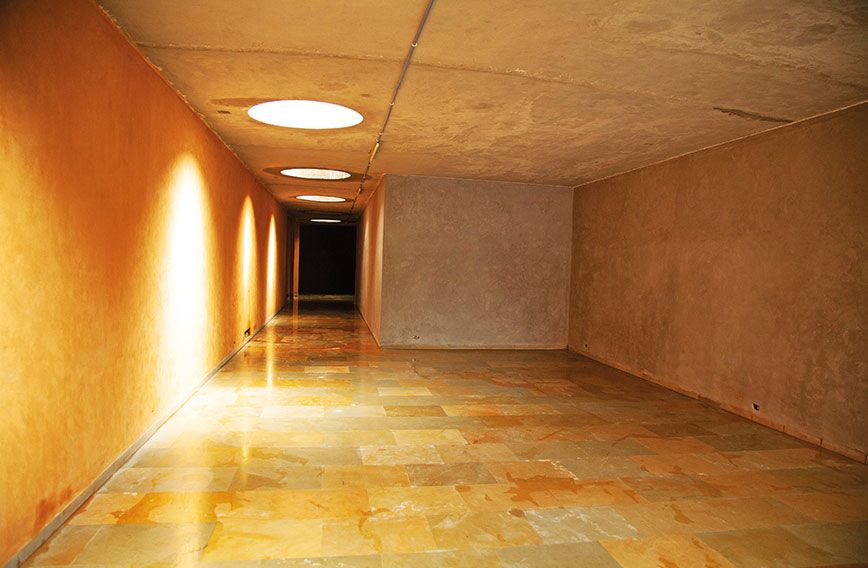 Mallika, who is joint director of the academy, realised that Ahmedabad lacked a properly equipped performance venue. She saw an opportunity to change that, and have a retaining wall, in one swoop. The solution was to use the erosion to carve out an amphitheatre that would become a retaining wall and a state-of-the-art venue.
In 1994, designed by architect Kirtee Shah, Natarani was born, named to celebrate Mrinalini, the rani (queen) of dance. Over the next 22 years, Natarani became the centre of the city's international arts scene, hosting over 1,500 curated performances from 40 countries, and providing free or subsidised facilities for budding artistes in the city. The broad river and its sands formed a magnificent backdrop.
But in 2004 the Sabarmati Riverfront Project brought all this to a grinding halt. The project took away part of the academy's land and half its stage to build a four-lane highway. A cacophony of noise caused by the rush of traffic disrupted its former serenity and the academy struggled to find its feet.
Heritage architects Nimish Patel and Parul Zaveri, known for their conservation work and for modernising traditional building technologies, were called in to figure out what could be done. They built an evocative wall in 2016 to prop up the amphitheatre after months of experimenting with form and material.
The magnificent serrated wall on the new Sabarmati riverfront road caught the eye of commuters. Some compared it with the original walls of the city, built by Emperor Ahmed Shah in 1411. Others thought it would be fun to climb. Soon the red brick and blue wall became a favourite selfie spot for people, and early mornings saw newlyweds, bikers and others crowding it. Some even climbed a few feet up to be photographed.
Besides being beautiful, the wall served its purpose of bringing down decibel levels from 75 to 45. Darpana activities could proceed in relative peace once again except that the venue itself sorely needed a makeover. Cosmopolitan Amdavadis missed the arts scene that it once nurtured, and in the three years without it, the city had lost the one venue that continuously presented top-level national and international arts events. Something needed to be reimagined.
Mallika has always been deeply committed to sustainability. She has a solar powered home at her organic farm and is the only Reva driver in the city. In Darpana too she had introduced solar power and composting. In developing new facilities she wanted architects to go completely green while creating a space that would be technologically ahead of its time.
Architects Mausmi and Uday Andhare of the Centre for Environmental Planning and Technology (CEPT) were brought in with their firm, Indigo Architects. They had never designed a theatre, had no idea of the needs and demands of a venue like Natarani, where audiences sometimes assembled on the steps of the stage to watch performers.
But they had built homes and a museum using recycled material and passive cooling technologies. Yadavan Chandran and Mallika became the driving force to ensure that the building worked as a high-tech performance space with diverse possibilities. Having designed many shows and lit them around the world, Chandran knew exactly what he wanted – the best for years to come, and better still. "We must build a space that can accommodate every technical demand of any performance," he said.
The space was small, reduced by the road and the wall. Something had to go. With deep regret, Darpana's first building, Doshi's library-cum-dance studio, was broken down. As the old Natarani too came down, it was decided to reuse the old bricks — bricks that had heard and seen decades of rehearsals and performances — to make new ones. Lime would be used rather than cement. A rainwater harvesting facility would be built underneath the sprung wooden stage, and water from there would be cooled and circulated beneath the seating, with a network of pipes, draining the heat from the building and creating micro climates that would be 10 degrees cooler than outside temperatures. A system was put in place to draw in atmospheric air, cool it and throw it continuously into the theatre through outlets at ground level, providing fresh cool air during events.
The new theatre was wide. To build a catwalk for the lights, without any pillars blocking audience views, was a challenge that structural engineer Mehul Shah had to face. And there were many more. The journey was bumpy, with frequent clashes between designers and practitioners, but common ground was found and work moved forward.
The rebuilding has also created a shaded plaza that will host events, book launches, play readings, craft demonstrations and discussions. Another exciting new venue is the Mrinalini Sarabhai Gallery, slated to be an interactive space. An exhibition to showcase Mrinalini's many-splendoured life is being developed. The exhibition, that will open later this year, will run for three months.
Darpana is all set to revive Ahmedabad's cultural ethos and be a template for architects aspiring to build green public spaces.