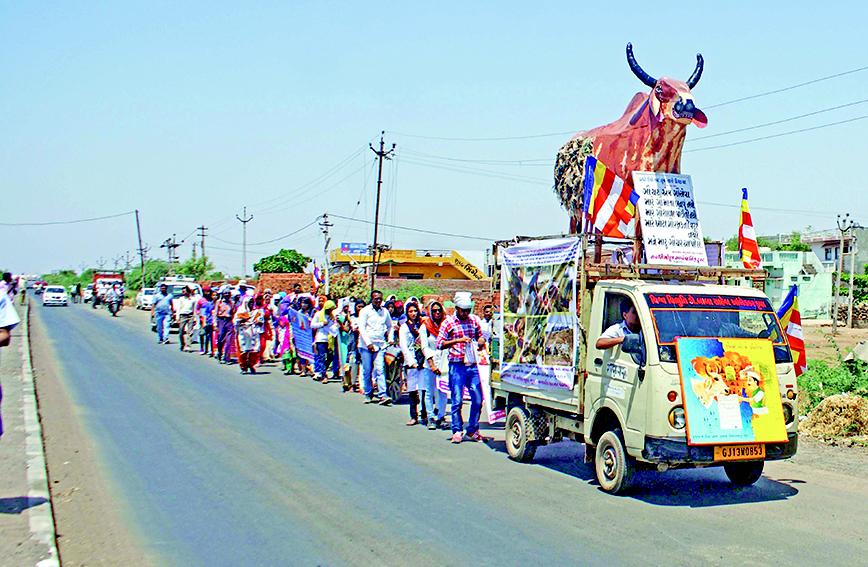 A huge replica of a cow, its insides stuffed with garbage, led the rally
Give cows pastures not plastic, say Dalits
Civil Society News, New Delhi
Published: Jun. 02, 2017
Updated: Jun. 02, 2017
Dalit activists in Gujarat took out a unique rally in Surendranagar on 10 May, Buddha Purnima, in protest over atrocities against them for suspected cow slaughter. They filled 182 bottles with plastic extricated from the stomachs of dead cows and then presented them to the District Collector. They requested the District Collector to hand over the bottles to the 182 MLAs of the Gujarat Assembly and ask them who should be held responsible for the deaths of those cows.
The protesters pertinently pointed out that the issues cows were facing were lack of land for grazing and availability of water. Instead of feeding on green grass in open pastures, cows were being forced to survive on filth and garbage.
"Cows are deprived of gauchar (grazing land) because their pastures have been transferred to industries by these legislators," said the Dalits.
The protesters said that several Dalits in Gujarat have been beaten up and even killed by gau rakshaks or cow vigilante groups in the recent past. In July last year seven members of a Dalit family were mercilessly beaten with iron rods and sticks for allegedly skinning a dead cow in Una town in Gir Somnath district. The incident shocked the nation.
In April, the Gujarat Assembly amended the Bombay State Animal Preservation Act, 1954, making cow slaughter an offence punishable with life imprisonment along with strict punishment for ferrying cows for slaughter.
Leading the rally, Natubhai Parmar of the Navnirman Trust, an organisation fighting for Dalit rights, handed over a plaque with a memorandum to the District Collector. Dalit activists from 12 states, including Telangana, Madhya Pradesh, and Chhattisgarh, walked five km in the blazing sun with temperatures hovering around 44oC, with a steel replica of a cow, measuring eight feet by seven feet and containing 182 kg of plastic extricated from the stomachs of dead cows.
Ashok, one of the four brothers flogged and dragged along the road in July last year in Una, joined the rally. "We are penalised for cow slaughter, but more cows die eating plastic," he remarked.
Dalits have a special place for Lord Buddha in their hearts, hence Buddha Purnima was the day chosen for this special programme, said Parmar. At the head of the procession was a statue of Lord Buddha and a poignant Buddhist verse was chanted.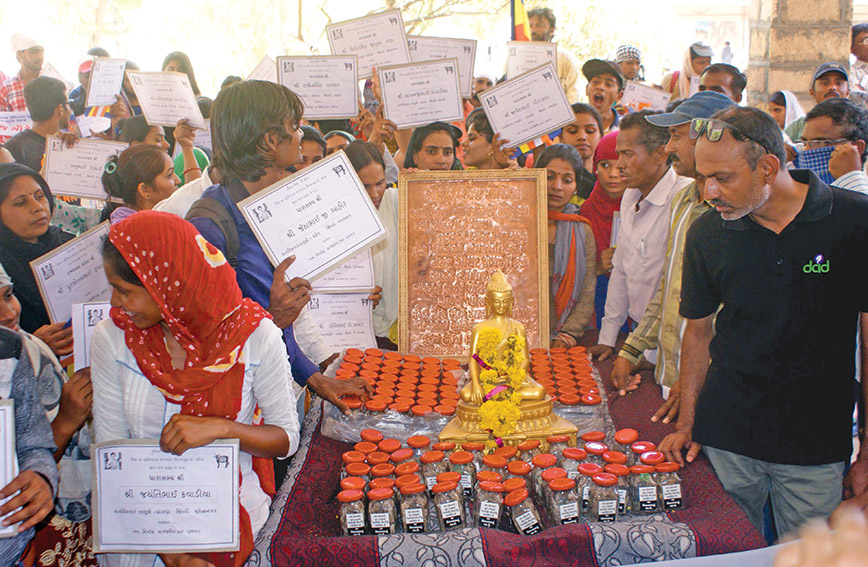 The rally was held on Buddha Purnima
En route Parmar, with a loudspeaker, kept explaining to people who had lined up along the road to refrain from dumping plastic. Last year, he dumped truckloads of cow carcasses at the District Collector's office in Surendranagar, Una and other district offices. "As much as 25 to 50 kg have been extricated from the stomachs of dead cows. We displayed the plastic garbage in a tractor," he said.
"Protecting grazing land will protect the cows and respect their sentiments," he announced. "The cow says: I give you milk which I cannot drink. You may get tuberculosis drinking my milk, considering all the filthy garbage I eat."
Dalit activist Martin Macwan said cows were compelled to eat vile and dirty stuff left behind by people.
In the old days, he explained, it was compulsory for every village to have 40 acres of gauchar where cows could graze on fresh, green grass. So cows were healthy and had no problems. The Nawab of Khabhat, 400 years ago, set up the first panjrapole or cow shelter for old and infirm cows.
The government has been giving away gauchar land to industries and panjrapoles, thereby reducing grazing land for cows, said the activists. Dakor, an important pilgrimage centre for Lord Krishna, has 2,000 acres. The state government allocates a daily allowance of Rs 20 per cow. But this amount is too little so most panjrapoles are in bad condition, say the activists.
"We demand that every village gets back all the gauchar land it has lost since 1960, the year the state of Gujarat was formed," they said.
However, how much gauchar land has been really given away by the government is disputed. Dr Vallabh Kathiria, Chairman of the Gujarat Gauseva and Gauchar Vikas Board, insists that only 20 percent of gauchar land has been handed over to the panjrapoles. The District Collector of Surendranagar denies that a lot of grazing land has been handed over to industry. But it is a fact that Surendranagar is in the Narmada Command area and is heavily industrialised.
The Maldhari Rural Action Group (MARAG), an NGO working with pastoral communities, investigated. In 2013 MARAG filed several RTI applications and discovered that the Gujarat government had allocated 81.95 crore square metres of gauchar land to industries at a paltry price.
Subsequently, the state government took a policy decision not to give gauchar land to industry. But gauchar land has been steadily encroached upon. In 2014 a report recorded 11,950 registered cases of encroachment on gauchar land. Gandhinagar, with 1,776 cases of encroachment, had the highest number. Also, the report said 424 villages out of the 18,000 villages in Gujarat have no gauchar land at all.
The denotified tribes, who comprise eight percent of the population, are the worst affected since they are mostly pastoral communities who earn their livelihood from rearing cattle and sheep.
Another issue for cows is water. Chhaganbhai Desai, who rears cows, said cows were seriously affected by the lack of drinking water. "But we look after our cows. We don't feed them garbage," he pointed out.
"We demand gauchar land and village ponds," said the protesters.
In the old days, the land revenue code provided an acre for 40 cattle as gauchar land along with a village pond for cattle. "Although the number of cattle has increased in the state, gauchar land has depleted," says Parmar, "One needs to recall the Charotar Sarvasangrah, a 1954 chronicle, which makes interesting reading: It says the Muslim Nawab donated 1,000 bighas of land for cattle grazing to 300-year-old cattle shelters or panjrapoles of Khambhat."
Bystanders at the rally were shocked by the amount of garbage cows carried in their bellies. "How can gaumata have 50 kg of garbage in her belly? This is real paap," said Lila and Sumi, two bystanders.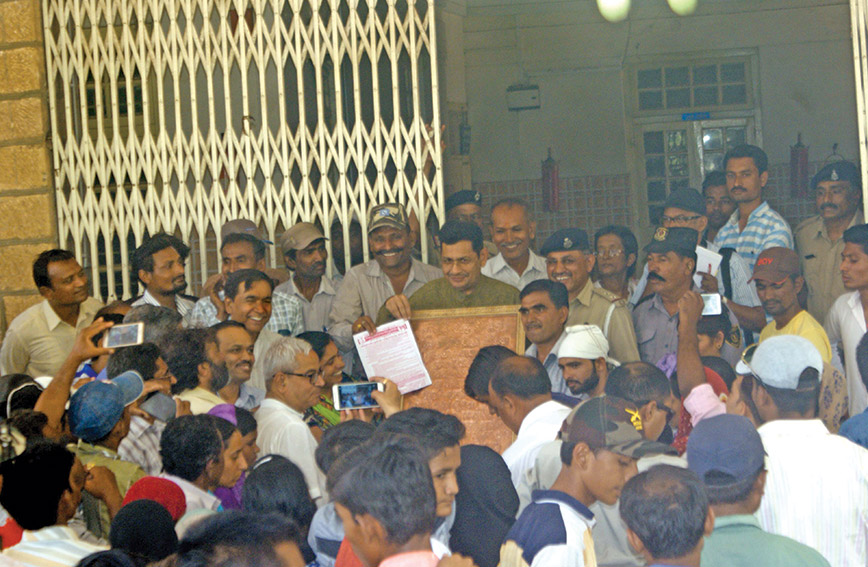 Protesters presenting a plaque to the District Collector