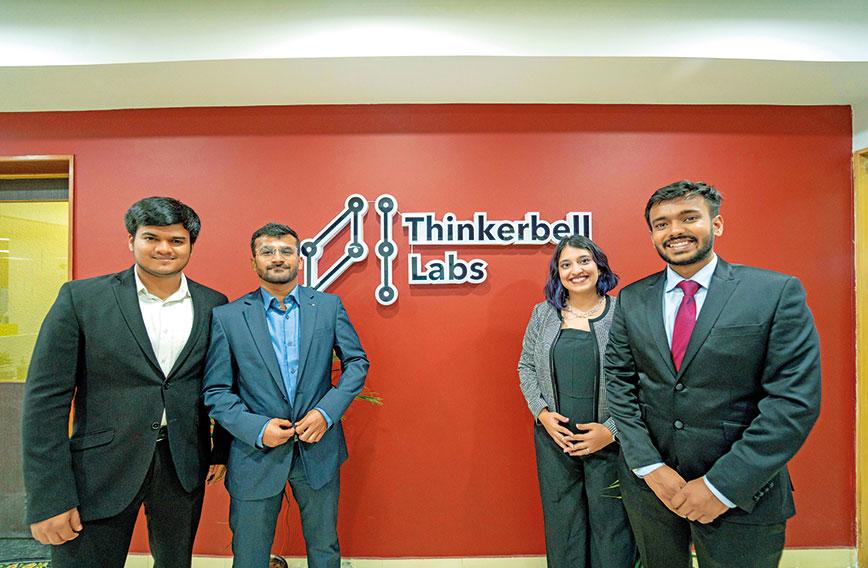 Co-founders of Thinkerbell Labs (left to right): Dilip Ramesh, Saif Shaikh, Sanskriti Dawle, Aman Srivastava
Learning braille is easier with voice feedback
Kavita Charanji, New Delhi
Published: Feb. 17, 2023
Updated: Mar. 05, 2023
WHEN four engineering students at the Goa campus of the Birla Institute of Technology (BITS) Pilani undertook a modest research project to make the learning of braille easier they hardly imagined that it would make them globally famous.
Some seven years later, however, their invention, now named Polly in the US, figures in a list of the best inventions of 2022 put together by Time magazine. In step with this stardom, their campus initiative, Project Mudra, has transformed into a trendily named start-up, Thinkerbell Labs (TL).
Polly is a wi-fi enabled device which was finally developed together with American Printing House for the Blind. Conventional braille learning requires a teacher to be present. But Polly provides braille learners with instant audio feedback and allows teachers to assign and assess homework remotely. It makes braille less daunting and more fun.
Instead of a standard metal or plastic slate used with paper, learners can write (and correct mistakes) using Polly's electronic braille slate and stylus. It is the first device of its kind.
Polly is being incorporated in the school curriculum of all 50 states of the US. Its official launch is in March this year. It will be available under the US federal quota as well as for general customers. There is already a waiting list of 1,000.

Back home in India, Polly is called Annie, which is also its name in Britain. The first Annie Smart Class in India was set up in 2018 in Rajyakrit Netrahin Madhya Vidyalaya, a blind school in Ranchi, Jharkhand.
NITI Aayog then recommended Annie to district administrations across India and, in this way, with a hop skip and jump, Annie arrived in government-run schools.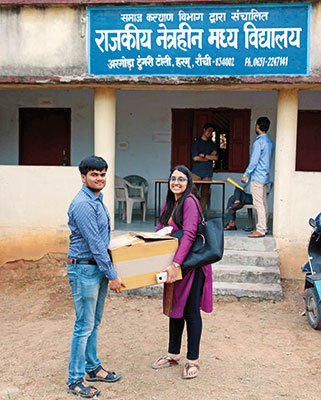 Now there are over 50 Annie Smart Class centres spread across 16 states in India. Annie overcomes the vernacular barrier too as it is available in eight Indian languages. With the addition of six more Indian languages in the future, Annie will have yet wider reach.
Polly is named after Polly Thomson who spent 46 years as the legendary Helen Keller's companion and interpreter. Annie was the trachoma-afflicted Anne Sullivan, who was known as a brilliant teacher, interpreter and friend of Helen Keller.
"Polly and Annie, gets so much traction because they support self-learning. There is a global shortage of special educators and no self-learning technology to help students with visual impairment," says 28-year-old Aman Srivastava, co-founder of Thinkerbell Labs which is currently Bengaluru-based.
"We saw this gap all over the world, in the UK, India and then in the US. Current products and pedagogy required constant supervision and special educators had very high caseloads, leading to inadequate personal attention," says Srivastava.
"In India, the acute shortage of educators, combined with fragmented and ancient pedagogy, compounded this problem. Countries like the UK and US have highly trained special educators but they depend heavily on personal teaching. We tried to solve that problem through Polly," adds Srivastava.
So, while on the one hand the technology enlivens braille learning and increases its reach, it simultaneously enables special educators to find the time to focus on the more complicated aspects of early braille literacy and skill development.
It took a gruelling one and a half years for Thinkerbell to get Polly off the ground. Their new product has had to go through extensive field tests by co-partner American Printing House for the Blind. Now that Polly is set for a US launch, the Thinkerbell team has found its place under the sun.
"The Time recognition gives us international credibility. It gives us a moment to think how far we have come since we first started out," says Srivastava.
Thinkerbell Labs was co-founded in 2016 by Srivastava, Sanskriti Dawle, Dilip Ramesh and Saif Shaikh.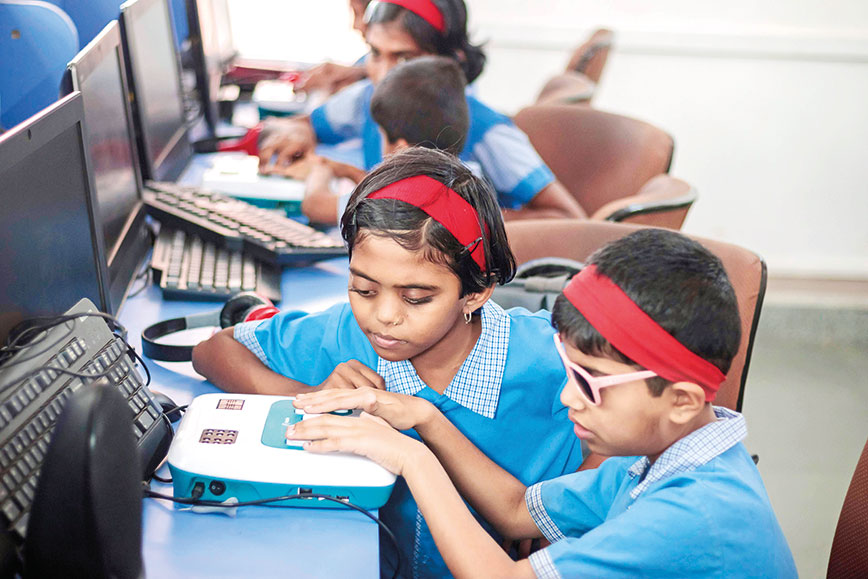 Students using Annie
But they go back to when they were students at BITS Pilani, Goa campus. It all started out as a research project at the campus. With a small grant, Srivastava and Dawle used campus facilities to build a braille alphabet song box made with a credit card-sized computer called Raspberry Pi.
Named Project Mudra initially, their first invention was essentially a very basic dicta-teacher designed to help the visually impaired learn the braille alphabet.
However, when Project Mudra received acclaim, they decided to set up a full- fledged venture that would deploy cutting-edge technology even as it gave an impetus to inclusive education.
Annie was a quantum leap from conventional braille learning. It comes packed with "gamified and interactive content, challenges and tests". A companion app called Helios allows teachers to track performance and schedule lessons so that all the students can learn at the same time.
In terms of content, Annie incorporates the Royal National Institute of Blind People's highly regarded Hands On for introductory braille reading. But, as time has gone on they have become more independent, with hands-on knowledge of Annie and their own braille learning.
There has been constant tweaking of technology to understand user needs ever since the early days of Project Mudra. When Mudra's prototype was first tested at L.V. Prasad Eye Hospital's rehabilitation centre and Devnar Blind School, Hyderabad, visually impaired students of the school were floored by its play-based learning features.
In 2017 field trials on Annie were conducted at the National Institute for the Empowerment of Persons with Visual Disabilities (NIEPVD) at Dehradun and Shree Ramana Maharishi Academy for the Blind, Bengaluru.

Consequently, the company went full steam ahead. The same year, they were able to raise investment from Indian Angel Network and Anand Mahindra.
Thinkerbell has benefited from incubation as a start-up by MassChallenge UK. The high-profile demonstration of Annie to the Duke and Duchess of Cambridge in 2016 also attracted media attention. Aided by Annie, the delighted royal couple typed their son, George's name in braille.
User research in India and UK, and participation at the View Conference, UK, followed the next year. The Thinkerbell team is in discussions with special needs institutions in the UK, Australia, and Ireland, among other countries, to promote Annie. They have also been selected for MIT Solve, a social-impact competition.