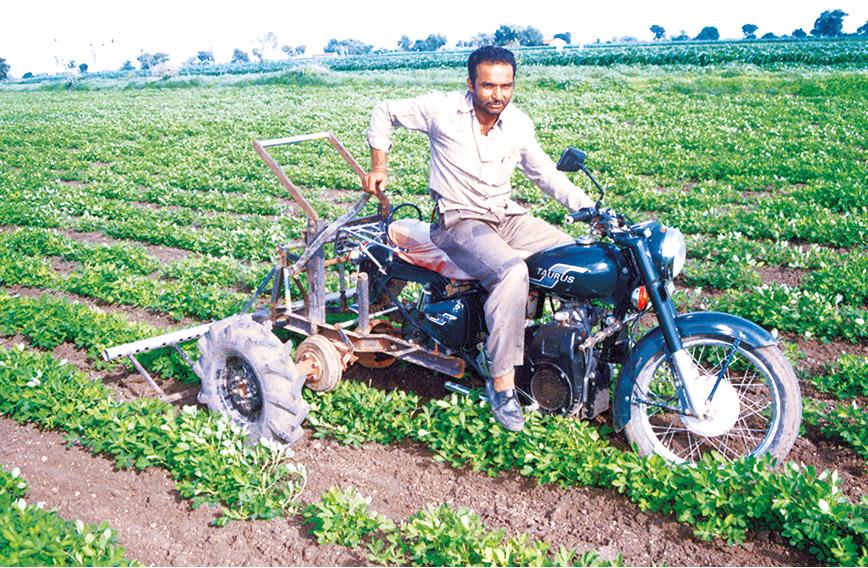 Bullet motorcycle becomes a tractor
Honey bee buzz: Tractor from a motorcycle and more
Kavita Charanji, New Delhi
Published: Dec. 28, 2022
Updated: Dec. 28, 2022
INDIA's villages create inventions which are sometimes so useful they even catch the fancy of a global clientele. Take, for instance, Bullet Santi, a motorcycle-turned-tractor invented by Mansukhbhai Jagani, a farmer from Mota Devaliya village in Amreli district of Gujarat.
About 14 Bullet Santis have been sent to Kenya under a 'transfer of technology' agreement, facilitated by SRISTI and GIAN (Grassroots Innovations Augmentation Network). In 2003, Jagani got a US patent for his invention.
Almost 10,000 Santis and its adaptations, Sanedo and Handiyo, are sold every year. To keep up with the times, the current Santi model does not use a motorcycle chassis. Instead, new chassis are made for three-wheel and four-wheel ploughs or small tractors.
No wonder Jagani was one of those who stole the show at the recent People's Festival of Innovations, jointly organized by GIAN, which is part of the Honey Bee Network and C-CAMP (Centre for Cellular and Molecular Platforms), at the India International Centre to coincide with its Diamond Jubilee celebrations.
As many as 100 grassroots innovators and deep tech innovators — entrepreneurs whose start-ups are based on high-tech science — took part in the 10-day event, which was meant to showcase inclusive innovation, build collaboration and link innovators to investors, entrepreneurs, policymakers and the ordinary middle-class citizen.
Jagani was discovered by the Honey Bee Network. His invention was born of dire distress. Frequent drought, a shortage of fodder for bullocks, scarce farm labour and no water had made survival difficult for small farmers in his part of Gujarat.
When a desperate farmer approached him, Jagani decided he needed to find a solution. He took a cue from the Chhakdo, a local three-wheel taxi, to design the Bullet Santi. He replaced the rear wheel of an Enfield Bullet motorcycle with a two-wheeled attachment. A tool bar fixed to the attachment enabled it to be used in farming operations like ploughing, weeding, sowing and spraying. Better still, it was easy to assemble and take apart, so it could be used as a motorcycle as well.
Bullet Santi turned out to be a fuel-efficient, easy to operate farm machine. Though Jagani has a patent for his invention in India too, he looks the other way when fellow farmers or small-time fabricators rig up his design. His philosophy is 'live and let live' — barring big companies, of course.
Today there are around 400 fabricators who make variations of his tractor and thousands of Santis ply the roads in Saurashtra. Jagani's invention has had far-reaching impact on employment and living standards in Saurashtra.
Another serial inventor who attracted attention was 24-year-old Bissu Hang Limbo from Geyzing, Sikkim. Limbo has devised the Noha Selroti-maker, a hand-held implement which helps make selroti, the traditional sweetbread of Nepal. He was motivated to invent it after he noticed how arduous it was for his mother to churn out selrotis.
Limbo's selroti-maker has a food-grade stainless steel cup which looks like a ship, with a hole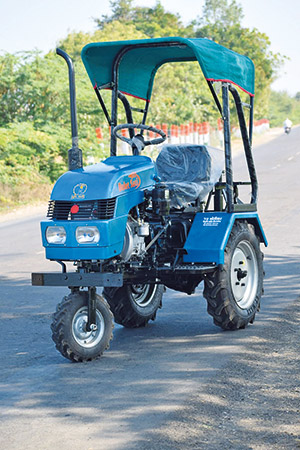 One of the many improved variants of the Santi Bullet tractor
to spread the batter evenly. It has a wooden handle to prevent the user's hand from getting burnt, a common hazard in making selroti manually. Thus far, Limbo has sold 200 pieces of his selroti-maker in Sikkim, West Bengal, Bhutan, Assam and Nepal.
Limbo studied at the local Industrial Training Institute. An inventor since the age of 16, he has devised 10 products which he says fill a gap in the market.
One such invention is his two-in-one Shena broom which has a pincer-like attachment at the bottom to easily rake up garbage. He said that a minister from Sikkim and an MP who visited the exhibition were so impressed by his broom that they picked up 15 pieces for a trial run.
The Shena broom has been recognized by the Department of Science and Technology's National Innovation Foundation (NIF). The government of Sikkim has given a grant of `1.5 lakh to develop it.
Other innovations by Limbo include a floor mat attached to a bell, a can in which to carry and dispense milk, a vehicle disinfectant bay for which he received `2.5 lakh from NIF and a corn roaster. He is now in the process of developing a cardamom harvesting machine.
"Some students in Sikkim are very active but don't have a proper platform to develop, showcase or patent their innovations. I want to be a role model for others in my state," says Limbo confidently.
It is the Honey Bee Network, founded by Dr Anil Gupta, which has been discovering innovators like Jagani and Limbo.
"There are people like Limbo in mountains, valleys, forests and plains. They are creative and impatient with inertia. And often they will not come to us, we have to go and find them," says Dr Gupta.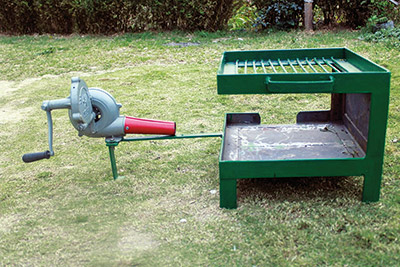 The Rocket Stove runs equally well on almost any fuel
He is also the founder of GIAN, SRISTI (Society for Research and Initiatives for Sustainable Technologies and Institutions) and the National Innovation Foundation (NIF). Gupta has started and led the Shodh Yatra or Research Walks to remote interiors of India in search of traditional knowledge and grassroots innovations. There are also teams of the Honey Bee Network that spread out across the country to discover local grassroots talent.
And just look at the number of innovators and inventions they showcased at the festival. A Rocket Stove that can not only run on firewood, coconut shells, wastepaper or any other bio-waste but also functions as an oven and a water heater.
Drinking straws made from eco-friendly coconut leaves. A solar/battery-operated mini-tractor developed by a bright young student. A foldable LPG cylinder carrier. Cold chain technology to transport perishables like farm produce. Ayurvedic oils that can be used for a range of ailments including diabetes.
Also, interestingly, there were deep-tech innovators scouting for investors to scale up their inventions.
Arun Cherian, a US-returned techie, is founder and head of Rise Bionics, an enterprise he founded two and a half years ago. He is looking for the right investors to support his pan-India plan.
Based in Bengaluru, Rise Bionics makes affordable and high-quality prosthetic and orthotic devices for the whole body. Cherian says, "Rise Bionics democratizes public access to high quality affordable assistive devices so that people can get back to their lives and integrate themselves into society."
The company uses advanced technology to make customized orthotic devices within just a day or two of scanning a patient. In contrast, public hospitals take up to two years to provide such devices.
Rise Bionics has simplified the procedure. All that local healthcare practitioners need to do is scan the head, hand, neck, spine or leg for assistive devices in just two minutes at the home or hospital. They upload the file to the Cloud. A central facility digitally modifies the file according to the diagnosis. Finally, the device is fabricated with sub-millimetre accuracy and couriered within a few hours to the healthcare provider for fitting.
So far Rise Bionics's devices have helped around 1,000 patients, including patients in the Indian Army, corporate and community hospitals and NGOs in South India.
Under its Help a Child Walk programme, Rise Bionics has tied up with the government of Karnataka to provide assistive devices to children with special needs studying in government schools in Bengaluru or children from BPL or low-income families.
To expand operations further in India, Cherian hopes for closer collaboration with the Central government in the form of technology transfer, and orders from patients in rural India.
Robin Singh, founder and CEO of Cluix Llp, is another deep-tech innovator who describes himself as a serial entrepreneur. A graduate in electrical and electronics engineering from Thapar Institute of Engineering & Technology, Patiala, he has many inventions to his credit.
He has developed what he describes as a superefficient wireless charging technology for electric vehicles. He has also developed and patented an automatic solution for protection of the electrical transformer, reactor and turbine from fire and explosion.
At the festival he showcased his latest innovation — a portable water quality analyzer developed by Cluix Llp. The analyzer monitors and consequently minimizes the consumption of undetectable contaminants through tests on eight critical drinking water parameters, such as turbidity, pH, free residual chlorine and lead, among others. Once the tests are done, the data can be shared with the Jal Shakti Ministry's Water Quality Monitoring and Surveillance System.
Tracing his journey, Singh says during the Covid pandemic he volunteered with INMAS to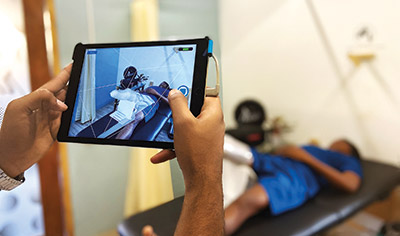 Rise Bionics provides customized yet affordable orthotic devices based on scans
invent green sanitization and outbreak containment solutions. He went on to win the Startup India challenge for developing the portable device for water quality testing. He received a grant of `25 lakh from the Jal Shakti Ministry and one of `10 lakh from Nidhi Prayas. Once the project was incubated at IIT Delhi, Singh says he formed a team, worked out the technology, and developed the device this September.
"The Jal Jeevan Mission has ownership of the water analyzer, so even an anganwadi worker will be able to deploy it to test all eight water parameters bi-weekly. If there is an issue about any of the parameters, the data can be sent to the Jal Shakti Ministry for corrective action. Consequently, there will be no lag between training people, collecting water samples and sending it to a lab because there will, possibly, be a lab in each gram panchayat," says Singh.
For his start-up the government offers the biggest market so far. But Singh hopes to sell his invention to consumers and businesses too. Labs, schools, regional labs for water quality, packaged water manufacturers and residential societies would all be likely customers.