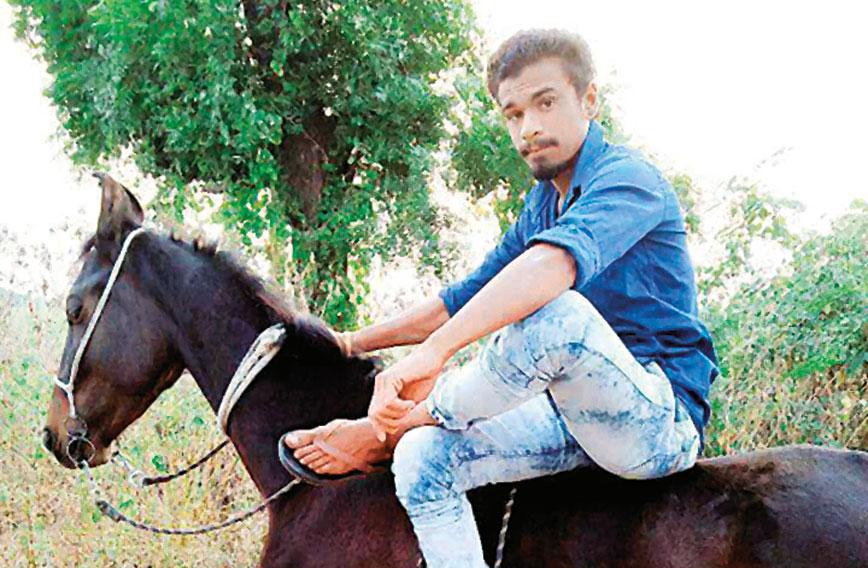 Pradip Rathod with his horse, Raju
Father says son killed for just owning a horse
Tanushree Gangopadhyay, Ahmedabad
Published: May. 16, 2018
Updated: Jul. 09, 2018
Since his childhood, 21-year-old Pradip Rathod, a Dalit from Timbi village in Bhavnagar district, always wanted a horse. His father, Kalubhai, tried very hard to dissuade him. "I tried to convince him to buy a Bullet motorcycle. He refused. He wanted a horse. I finally bought him one for Rs 30,000 just eight months ago. Pradip named him Raju. He rode the horse with great skill. He was a good horse trainer," says his distraught father.
On 29 March Pradip was found hacked to death on the road, allegedly by Kshatriyas for having the temerity to own and ride a horse.
"Pradip left for home on his horse while Rakesh, my older son and I stayed behind to milk our cow on the farm," says Kalubhai. When he didn't reach home for dinner, Kalubhai and Rakesh went on their motorcycle back to the farm to look for him since he wasn't answering his phone. They were shocked not to find him there. On their way back home, they were accosted by three motorcyclists from the neighbouring village of Pipralia.
"One of them told us that there was a man lying dead near a check dam," said Kalubhai.
Kalubhai found Pradip's body in a pool of blood. Police said that he had deep wounds on his head, throat and right arm. He was rushed to the government hospital in Umrala, where he was declared dead. Based on Kalubhai's complaint, the police booked Natubha Jhala and unidentified men from Pipralia village under the Schedules Castes adn Scheduled Tribes (Prevention of Atrocities) Act.
Pradip died between 7 pm and 8 pm. The police are questioning three persons: Jhala from Timbi and Ghughubha and Jitubha Gohil, two brothers from Pipralia.
The police took a long time to register the complaint. Social workers say the FIR was registered at around 1 am. Kalubhai was quietly confident that they would get justice. "Our efforts will pay off. But I have lost my loving son," he said.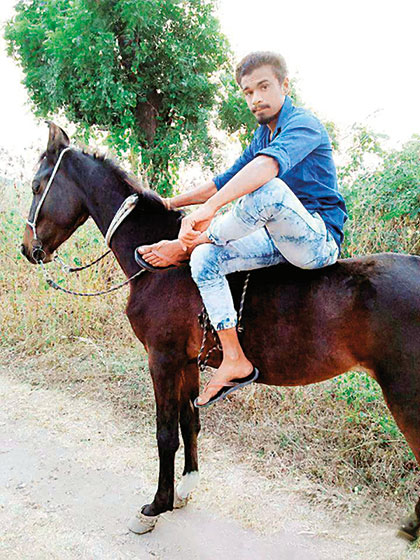 "My son died because of his love for his horse, Raju. We had often been stopped by several Darbars (Kshatriyas are called Darbars in Gujarat) who threatened Pradip. They told him never to ride a horse, that it was unbecoming for a Dalit. Owning and riding horses was seen as a Kshatriya privilege. He was told to sell the horse else he would be killed," Kalubhai wrote in his FIR.
Kathiawar in Western Gujarat, where Bhavnagar is located, was historically dotted with princely states. Kshatriyas ruled here for centuries and still hang on to their traditions. Dalits have often faced brutality. But they never dared to file a complaint. All this despite the Constitution and a law, the Scheduled Castes and Scheduled Tribes (Prevention of Atrocities) Act, which protects them.
Timbi, with a population of 5,000, is 50 km west of Bhavnagar. The village is dominated by Patidars and has 50 Dalit families and a dozen Kshatriya families. The village was in a state of shock. "Despite disputes we have never seen such brutality," says Chhotubhai, a 60-year-old farmer. "Never have I heard of a dispute over a Dalit riding a horse."
Neighbouring Pipralia is dominated by Kshatriyas. Martin Macwan, a Dalit activist and founder of Navsarjan, an organisation that works for Dalits, said that such brutality is unacceptable today. "Dalits in northern Gujarat face opposition when they ride a horse during a marriage procession. But this is the first instance when a Dalit youth has been subjected to such an atrocity for owning and riding a horse," he said.
On 5 April, around 3,000 Dalits joined Kalubhai in a condolence march to Umrala Police Station in Bhavnagar district to demand justice for Pradip.
Pravin Mal, Deputy Superintendent of Police (DSP) of Bhavnagar district, had permitted Kalubhai to take out a condolence march from Timbi to Umrala police station, the tehsil headquarters. Kalubhai had one demand of the DSP — to arrest all the accused. The DSP admitted that "prima facie, victim riding a horse led to his death".
"We wanted to tell the DSP that questions raised about Pradip's behaviour are irrelevant in the probe. We have faith in the Bhavnagar police. But if attempts are made to paint him in a poor light, we shall demand a probe by other agencies," said Kalubhai. Pradip had studied upto Class 10 and was popular in the village.
After meeting the DSP, Kalubhai submitted a memorandum demanding justice for the murder within 10 days, "failing which we shall take action". They mentioned several persons who ought to be arrested. These included Jhala and the Gohils, who had threatened Pradip for owning and riding a horse.
Some leaders tried to persuade Kalubhai to demand land. He stood his ground and said he sought justice. Officers from the social welfare department also rushed to the Civil Hospital with a cheque of Rs 415,000 as the first instalment of compensation. "I refused to accept any money. My son was very dear to me," said Kalubhai.
"We worked together as agriculture labour. Losing my son is very hard upon the family. I own three acres which does not fetch us much. Cotton is our mainstay," said Kalubhai.
Dalits view the judiciary as their sole hope. But the Supreme Court's recent observation that the Atrocities Act has been misused to harass innocent citizens has been a blow to Dalits. They participated wholeheartedly in the Bharat Bandh.
Navsarjan has been able to get 40 convictions in Bhavnagar district. "This, we feel, is small relief," says Macwan. After Pradip's death, Kalubhai was tersely told by the Kshatriyas of his village to sell the horse. Pradip also used to sport a moustache which the Kshatriyas consider their prerogative.
Kalubhai did not sell the horse. Raju led the procession of mourners for Pradip's funeral late in the night. "We wanted to take his body in a horse carriage as a mark of protest. Since it wasn't possible to get a carriage, we ensured that Raju led the procession to bury his master, Pradip's body."
Pradip case goes to CID
On March 29, Pradip Rathod, 21, a Dalit, was hacked to death in Timbi village in Bhavnagar district. His father alleged that upper caste Kshatriya men had killed his son for having the temerity to own a horse (see Civil Society May 2018 issue).
Unable to identify his murderers, Gujarat's Director-General of Police (DGP) Shivanand Jha, has handed over the investigation to the Criminal Investigation Department (CID).
Pradip's father, Kalu Rathod, had demanded the case be investigated by the CID. "Two months after the case was registered, police have not arrested the real perpetrators of the crime. They have not been able to conduct a proper investigation of the case. The Dalits of Gujarat are demanding the arrest of the real culprits. The case must be handed over to the CID," said Rathod, who had met the DGP and handed over a memorandum.
The Superintendent of Police, Pravin Mal, confirmed this development.
In his FIR, Rathod had named Natubha Darbar of Timbi village and two brothers, Goghubha and Hitubha Gohil, both residents of Piprali, a neighbouring village. Rathod said they had threatened his son with dire consequences if he did not sell his horse. Owning and riding a horse, they claimed, was the sole privilege of the Darbars (as Kshatriyas are addressed in Gujarat).
In April, the police detained three of the accused and, later, a fourth person. But they did not arrest any of them.
Instead, the police arrested Munna Thaleisha, 25, a sathi or bonded agricultural labourer, who worked in Piprali village and belonged to the Dhandhuka tehsil of Ahmedabad district.
"The police claimed that Munna had hacked my son to death, since he had harassed his wife. They arrested Munna on May 15. They claimed that he had confessed to Pradip's murder. But we have never seen or heard of this man Munna or his wife," said a clearly upset Rathod.
He said he and his entire family rejected the police investigation. In fact everyone in Timbi village scoffed at the police investigation. "None of us know Munna. Nor did Pradip know him," they all insisted.
Rathod and people in the village were very upset at the police for casting aspersions on Pradip. He was seen as a good man, who helped everybody in the village, they said.
They believe the investigation was primarily a cover-up to divert attention from the real victims. "Munna's wife told us that she had not heard of Pradip. Neither did Munna know of Pradip. So there was no question of Munna hacking him to death," said Arvind Macwana and Niruben of Navsarjan, a Dalit organisation which has been helping Rathod with the case.
Pradip was very talented, say the activists. He used to play percussion instruments. Pradip's mother showed this correspondent a room full of several drums of different sizes.
"Pradip played the drums and taught people who were interested in learning to play drums. Our village is far too small to have such instruments or people interested in such hobbies. We are all farmers and barely find time to pursue such superfine activities," she said.
"But Pradip developed such interests. My son's interest in horses was a childhood fad. He insisted on getting one. Finally, his father bought him a horse, Raju, a few months ago. He rode the animal with great pride. He wanted to participate in horse shows. He also taught our people how to ride a horse."
Western Gujarat, where Bhavnagar is located, used to be ruled by the princely states. Vestiges of feudal traditions linger.
"The Darbars still live in the past when they harassed Dalits with impunity. They felt irked by my son's refined interests, which they thought should only be pursued by them. They could not bear to see a Dalit youth enjoying himself riding a horse. They had threatened him so often. These mean people cannot accept that we live in a democratic setup today. Their days of ruling the world are over," sobbed his grieving mother.
Pradip's uncle also said that Munna Thaleisha was a good man, who was unnecessarily arrested.
Pravin Maru, the Congress MLA of Gadhada, a reserved constituency for the Scheduled Castes where Timbi village falls, was surprisingly callous about the police investigation. "I was present at Pradip's cremation. I carried his body and was also present during the post mortem," he said. "The police is the best judge of any crime."
Pradip's family is disappointed. His father said, "Pravin Maru owes us a lot. All the Dalits rented their vehicles to help him during the last election. Around 32,000 Dalits voted for him."