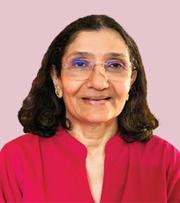 ZAKIA SOMAN
THE significance of recent initiatives for Hindu-Muslim dialogue, reported in the media, cannot be under-valued in our highly polarized times. Five well-known members of the Muslim community met Rashtriya Swayamsevak Sangh (RSS) chief Mohan Bhagwat. According to the media reports, concerns such as the insecurity of Muslims were discussed. Bhagwat himself visited a madarsa and interacted with the students and imams there. It is good that Bhagwat is keen on a continued Hindu-Muslim dialogue. However, for Muslims to feel secure in their own country nothing short of a fundamental shift in the politics of the RSS-BJP would be called for.
Today, our society is in an unprecedented crisis. Religious polarization and hate towards fellow human beings not only threaten social harmony but potentially threaten disintegration of the nation. Although communalism and communal riots are nothing new, the present onslaught of divisive politics has reduced citizens to being merely Hindus or Muslims who must be continuously at loggerheads with each other. Electoral democracy has led to a kind of majoritarian triumphalism that runs contrary to the spirit of democracy, fraternity and social justice. It continuously asserts itself in a toxic and socially injurious manner with Muslims at the receiving end. Processions taken out during Ramnavmi and Ganesh Chaturthi through Muslim ghettos with chanting of abusive slogans in front of mosques is a new low for our multi-faith society.
Although a large mass of Indian Muslims have been educationally backward and economically deprived, today they are alarmingly on the verge of disenfranchisement. The representation and participation of Muslims in our polity is at a historic low numerically as well as substantively. There are daily reminders of their second-class status being openly served. Elected representatives and top-ranking functionaries of the ruling party openly use labels such as anti-nationals or jehadis or Pakistanis to refer to Muslims in the public domain. Identity markers such as azaan, namaz, hijab, madarsa are being systematically politicized to drive the agenda of polarization. The official machinery submits to diktats of political bosses and acts swiftly with arrests and bulldozers instead of protecting citizens' lives and properties. Being Muslim in "Modi's India" is not easy.
There seems to be no solution in sight to religious polarization with a fragmented political opposition and stifled civil society. In such a scenario any initiatives coming from different quarters are welcome.
The RSS chief raised certain concerns in his meeting with the Muslim intellectuals. These must be addressed genuinely by Muslims. Besides, there is need for Muslims to introspect about worsening Hindu-Muslim relations and think of what they can do to build bridges across communities and towards responsible participation in democratic processes.
While the heightened hostilities and lack of trust are an outcome of divisive politics, Muslim political leaders and conservative clerics need to accept their share of the blame. Ever since independence, they have been selectively invoking constitutional principles of justice, secularism and democracy as per convenience. Their irresponsible actions and public utterings paint the entire community in poor light and alienate ordinary Hindus. Unfortunately, there has been a total absence of robust, committed and democratic leadership amongst Muslims in independent India. The so-called Muslim leaders have remained obsessed with religious and narrow identity-centric issues. Recently the Nupur Sharma episode demonstrated how the religious leadership mobilized overnight to save the honour of the Prophet. These leaders never felt the need to save the Muslim from poverty or educational backwardness or economic distress! They never felt the need to support Muslim women's equality and tried every trick to undermine the struggle of women fighting against instant triple talaq! They need to pay attention to social reform apart from building education and economic options for the community.
Referring to fellow human beings in derogatory terms such as "kafir" is unacceptable. Muslim leaders must understand that diversity, pluralism, respect for those belonging to other faiths are democratic imperatives in our society. There can be no place for notions like blasphemy and apostasy in a modern democratic nation. Muslims must show respect to Hindu gods and goddesses and cannot make fun of idol worship. A responsible participation in a multi-faith democracy demands shedding of certain orthodox and extremist interpretations of religion. They must highlight that Islam teaches Muslims to respect the faith of others. Besides, mutual respect, sensitivity towards each other and mutual accommodation can go a long way in building social harmony and peace.
India badly needs a societal response to hate and polarization. Political parties seem focused only on electoral calculations and social harmony does not appear to be a priority. Unfortunately, both the major national parties have deployed religion to further their political ends rather than work for harmony. The Shah Bano episode, demolition of the Babri Masjid and construction of a grand Ram temple in Ayodhya demonstrate how both the Congress and BJP have politicized religion for political purposes. In the process, thousands of innocents have lost their lives, our social fabric has been torn apart and secularism has become a maligned term.
The RSS chief has given calls for Hindu-Muslim dialogue, social harmony and the Constitution being sacrosanct at various fora. And yet the onslaught of mob lynching to genocide calls has continued unabated. It is evident that these violations are happening under the BJP government. It cannot be denied that nobody from the RSS-BJP speaks out against these atrocities. There are no steps taken by the ruling establishment to address the sense of fear and alienation amongst Muslims and towards halting the onslaught.
There is need for the RSS-BJP to shun Hindu nationalism and instead embrace civic nationalism rooted in the Constitution. All Indians are equal and must be accepted as equal irrespective of religion. Without these corrections our slide into civic discord will continue.
Zakia Soman is a founder-member of Bharatiya Muslim Mahila Andolan, a mass organization of Muslim women in India