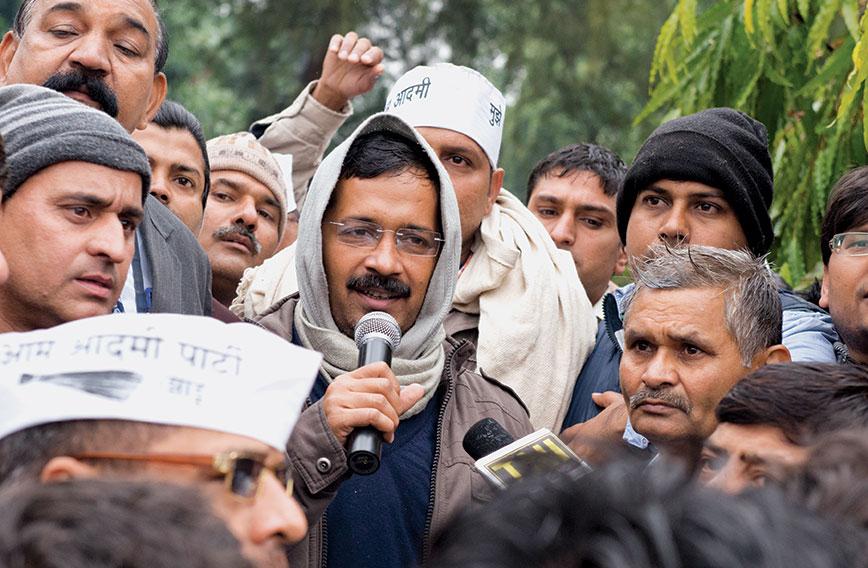 Delhi CM's protest turns off many
AAP all street, no govt?
Civil Society News, New Delhi
Published: Feb. 11, 2020
Updated: Feb. 11, 2020
This story appeared in Civil Society's February 2014 edition.
Just three weeks into the job of governing the state of Delhi, the Aam Aadmi Party (AAP) took to the streets and clashed with the police, prompting many of its supporters to question the party's style of functioning and the ability of its leaders to serve in high office.
Declaring himself an anarchist and threatening to disrupt Republic Day, Chief Minister Arvind Kejriwal camped with his cabinet outside Rail Bhavan in the high security zone of Delhi to demand the suspension from service of five offi- cers of the Delhi Police.
But even as Kejriwal protested with TV cameras rolling, many AAP supporters began having second thoughts about the party. If this was the approach to solv- ing a relatively simple issue relating to police accountability, how could AAP's leaders be expected to cope with the bigger challenges of being in government?
"I didn't join the party for this. I wanted AAP to reform politics not be like any other party," said an important functionary from a southern state. "I agree there is a need to deal with corruption in the police. But surely there are better ways of doing it."
This functionary worried about the impact Kejriwal's protest would have on middle-class support that had been built up in the south. "People don't want anarchy. They want the system to be reformed," he said.
"He won't get my vote again," said a well- known academician in south Delhi who voted for AAP in the Assembly elections. "For a party with national ambitions, AAP is making crude choices. It is sad, but I don't see the middle class opting for it again. AAP needs to be much more nuanced in its poli- tics. It was given a chance to run Delhi and it should have focussed on improving water supply, electricity, transportation, housing and so on."
The Kejriwal protest was preceded by the?Law Minister, Somnath Bharti, insisting?that the police arrest, late at night, Africans living in a south Delhi neighbour- hood, saying they were involved in prostitution and drug-running. Bharti also prompted beat constables to shut a 24x7 convenience store. Walking into the store at night, the minister wanted the store's attendant to produce its licence.
The Women and Child Minister, Rakhi Birla, ordered the police to arrest members of a family where a woman had allegedly been burnt alive for dowry. As with Bharti, the police said they needed legal sanction to act.
Using drugs, prostitution and the safety of women as issues, AAP then took to the streets in what many see as a calculated gambit to keep the party in the news before the parliamentary elections that are due in a few months.
AAP has some successes to show for the short time it has been office. It has conducted a detailed survey of 700 government schools (see Pages 8,9, 10) for which it deployed its volunteers. It has also ordered the removal of a transport depot from the banks of the Yamuna. Environmental activists for long have been demanding that the riverbed be freed of encroachments. It has been examining what it can do for improving state-run hospitals as well. Teams of volunteers are going to government hospitals to assess their functioning. There was prompt action to provide shelters for the homeless freezing in Delhi's bitter winter chill.
These are good initiatives capable of providing dividends in the long run.
But AAP is clearly in a hurry. After its success in the Delhi Assembly elections, it believes it is capable of striking it big at the national level. There is talk of Kejriwal being a candidate for Prime Minister.
The protest in Delhi was intended to keep the party in the news on the sensa- tional issue of police corruption, which is a huge problem in the north where AAP hopes to win seats.
AAP also needs to deflect public attention from serious promises the party made during the Assembly elections. The promises of free water and reduction of electricity charges by 50 per cent are going to be very difficult to fulfil.
Kejriwal issued orders on water and electricity soon after assuming office. He has also got the Comptroller and Auditor General (CAG) to audit the private power distribution companies to see if they have been inflating their costs. But electricity can only be cheaper with a subsidy and that needs the approval of the Delhi Assembly. It is yet to happen.
With water the challenges are of distribution and availability. AAP does not seem to have done the groundwork for its promise of free water and it could be a long time before it is implemented.
Kejriwal had also said he had evidence of corruption against Sheila Dikshit and her government. But it is not yet known what the wrongdoing is and whether there is indeed solid proof.
AAP has made mohalla sabhas or neighbourhood councils in Delhi the cor- nerstone of its strategy for better governance. It has said it will go to the people for all its decisions. How public money is to be spent will be decided at the low- est local level. But the mohalla sabha is yet to be defined in legal terms. It is not known how it will fit in with the current constitutional structure of local self- governance. (See 'Define mohalla sabhas first' on Pages 10-12).
The government's first effort at implementing its ideas on direct democracy was a Janata Durbar or public hearing outside the secretariat on 11 January. It ended in a fiasco because Kejriwal and his ministers were inundated with com- plaints. Kejriwal himself had to beat a hasty retreat. Using police protection he sequestered himself in the secretariat while large crowds thronged the gates demanding to be heard. The Janata Durbar idea was then dropped.
Many of AAP's good ideas regarding clean politics, accountability, transparen- cy and local governance come from social movements and NGOs. The party's success is, in fact, seen as the culmination of multiple efforts over the years across the country, mostly at the grassroots. Kejriwal ran an NGO and took help from the MKSS. He was part of the NCPRI.
There is concern among activists that AAP's populist measures to bring in votes will result in hopes that it cannot meet and result in a backlash that will tarnish all good efforts in the social sector.
"If AAP raises expectations and lets down people it will be a blow to the move- ment for a new politics. We don't want to wreck the system. We want to improve it. We all realise that democracy is not perfect, but it is better than totalitarianism. Everyone wants AAP to succeed because if it fails as a result of reckless behaviour, people in their search for stability will turn to the older parties, which may reform themselves somewhat but will essentially represent the old order," says a leading activist who made the crossover to formal politics much before.