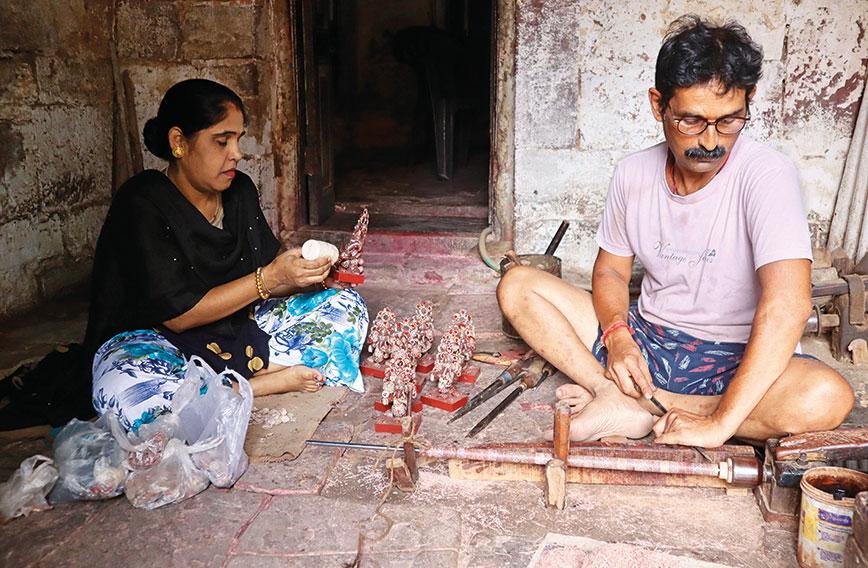 Durgesh Kunder and his wife, Savita, crafting idols
Supari art is unique: Ganesh, kangaroos and the Taj
Shree Padre, Kasaragod
Published: Sep. 10, 2022
Updated: Oct. 06, 2022
IN 1942 the King of Rewa asked Ram Siya Kunder, a toy maker, to peel away the thin outer layer of his supari or areca nut, to make it easier for him to chew on. Ram Siya had the tools to carry out this job. While scraping the nut, its intricate patterns caught his eye. "Why don't I craft a few products with this design," he thought.
He set to work and made three products out of areca nuts or betel nuts as they are also known: a tea set, a kangaroo and a mandir. Sometime later he began crafting idols of gods and found that they attracted buyers. Slowly he built up a repertoire of 40 products. That's how 'supari art' took root in Rewa district of Madhya Pradesh. Ram Siya was given an award by the President of India for his beautiful products. He passed away in 1993.
Three members of Ram Siya's family continue this hereditary craft in Rewa town, which is 700 km from Indore and 500 km from Bhopal. One of them is 50-year-old Durgesh Kunder, the youngest of Ram Siya's five sons. He lives on Fort Road in his century-old home-cum-office. Abhishek and Rakesh Kunder, Durgesh's nephews, are the other two artisans who earn a livelihood from supari art.
Durgesh's shop, Supari Kala Kendra, has dozens of handicrafts made from betel nut —from tiny kumkum boxes to shivlings to big idols. Prices range from Rs 2,000 to Rs 10,000. He also has walking sticks which cost Rs 3,100.
His most popular item is the Ganesh idol which he always keeps in stock. There are 10 models of Lord Ganesh and the biggest demand is for the smallest one which measures 2.5 inches in height. Depending on size and work, prices vary from Rs 140 to Rs 500. Their star attraction is the panchmukhi or five-headed Ganesh. Two-foot-long lathis which are locally called 'rule' have takers too. Durgesh gets orders for rules from the Rewa Sainik school.
"When I started making such art pieces, bedside lamps were in heavy demand. Day in and day out, I was producing table lamps. I must have sold more than 1,000. But once plastic table lamps started arriving in the market, demand for our lamps reduced drastically," recalls Durgesh.
Another lovely product they used to make were facsimilia of kangaroos. But they needed a particular tree stem to make the neck and legs of the kangaroo. Since the wood was not easily available, they stopped making kangaroo replicas.
Though the three supari artists make more than three dozen handicrafts, only about a dozen are now in demand. Most products are made to order. When you approach any of them, you are shown the same old photographs of products. "All these are old photos," admits Durgesh, "Most of them are not in demand today. But if someone places an order, we can make it."
Durgesh bags most of the orders from Madhya Pradesh itself. This form of artwork is unknown elsewhere. Some orders trickle in from people in other states who get to know of supari art products from their friends and relatives. Durgesh has started a Facebook page named Supari Kala Kendra, after his shop. He gets a few orders from other parts of India.
When Chhattisgarh was carved out of Madhya Pradesh, Durgesh received a huge order for 400 walking sticks. "It was a time-bound order. I requested 20 carpenters to join hands with me. We worked together and delivered the products in two weeks," he recalls. Similarly, he received an order to craft an over bridge when a new over bridge was being inaugurated in Rewa.
Durgesh is a graduate. He has been practising this traditional art for the past three decades. Thirty-year-old Abhishek has been in the profession for 15 years. The Kunder family has three artists. "Idols of Radha-Krishna and Lord Ganesh are the most popular nowadays," says Abhishek. They get orders on the phone or from walk-in customers.
Panchmukhi Ganesh, their most popular item, is priced at Rs 1,600 and requires three hours of work. The Kunders can make three such idols in a day. Abhishek says they have only five artisans in the three families who can undertake this work, out of whom two are very aged.
Half their products are bought for gifting, during weddings, birthdays and even when someone wins elections. They use areca nuts of the mora variety. These are large handpicked nuts which cost Rs 750 per kg. The nuts come to Rewa from Karnataka and elsewhere. Supari artisans have, over the years, learnt to pre-treat the areca nuts with chemicals to protect them from being damaged by insects.
They have a few techniques of their own to make a neat product. For example, the walking stick has an iron rod in the centre. To make a replica of the Taj Mahal, they stick cross sections of suparis on to a wooden base which they join together to fashion the product.
The lathe is their main professional equipment. They also have 10 to 15 simple iron tools especially made for them by the local blacksmith. "Our lathes have to be operated in a sitting position. If only we got lathes of the type used by the toy makers of Channapatna in Karnataka, we could have performed better," says Durgesh. This is because long hours of squatting and working makes them tired.
"I think this craft will end with us," says Durgesh. "We get work for only half the month," says Abhishek. "And we sit idle for the remaining days."
Areca nut is grown on millions of acres in our country. It is used just for chewing and spitting out. But artisans in Madhya Pradesh convert the areca nut into a collector's items and lend it eternal life.
Contact: Durgesh Kunder – 99938 99177; Abhishek Kunder – 88784 76560