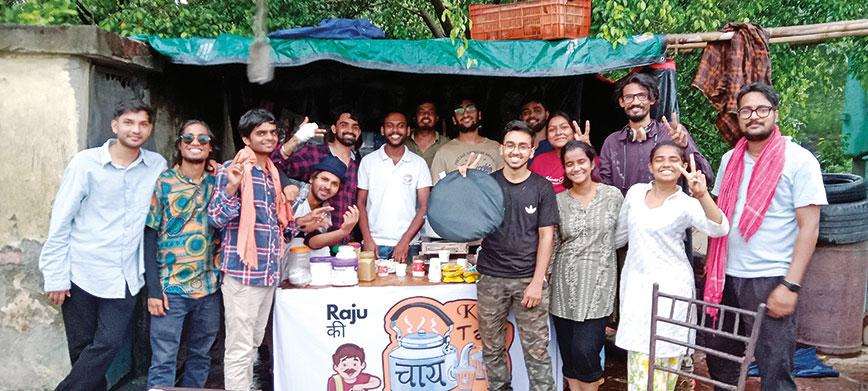 The film crew on location outside the teashop where the first episode was filmed
Shopfloor thriller: Vijay loses fingers
Kavita Charanji, Gurugram
Published: Dec. 26, 2022
Updated: Dec. 26, 2022
A video series with a title like Gang of Shramikpur suggests a thrilling edge-of-the-seat film full of action and gore. In fact, Gang of Shramikpur is an eight-episode series which tells the story of Vijay, an injured factory worker, who must negotiate a maze of red tape to claim the compensation rightfully due to him under the Employees State Insurance (ESI) scheme.
The first episode of the eight-part series tackles a serious issue sensitively with a light touch. Vijay's friends engage in banter at a tea stall manned by Raju, a tea-seller, who knows the processes, procedures and heartburn involved in traversing the ESI system and advises Vijay.
The film has been produced by Safe-in-India (SII), which campaigns for the rights of exploited auto workers in the Gurugram-Faridabad-Manesar industrial belt.
"Gang of Shramikpur is our team effort to create edutainment content that engages workers. We really hope the worker community sees season one," says Sandeep Sachdeva, co-founder and CEO of SII.
Vijay, the central protagonist, loses his fingers working on the infamous power press machine in a factory. He is traumatized by the injury which incapacitates him. To add to his distress, he has to deal at once with complex procedures to claim his ESI benefits. There is an endless list of documents he must produce: an accident report, witness statements, medical clearance from a local ESI dispensary, an ESIC identification card, an accident form given to him by the factory owner within 24 hours as well as a ledger number.
The series premiered at SII's third Shramik Sammelan on August 15 this year. A sizeable audience of over 300 factory workers, 250 of whom had been injured in industrial accidents, came to see the film. "We hope that business owners, managers, and even labour unions, find it useful to learn about Employees State Insurance Corporation (ESIC) benefits and processes through this medium and share it with their workers and members," says Sachdeva.
To make the first episode, SII tied up with FilmArt, a film production company in Delhi. "Understanding pain is not enough. Tactics are needed to get ESI benefits. Experts from SII gave us the description and brief. We had long discussions about the ESIC system and the attitude of workers to it. They were keen that the story should connect with the audience," says Lalit Saini, co-founder of FilmArt and director of Gang of Shramikpur.
Video content is a great way of creating awareness about ESI benefits to which factory workers are entitled, says Sachdeva. There are 140 million Indians who lack awareness of healthcare and compensation benefits under ESIC. Sachdeva believes ESI is one of the best social security schemes for workers in the formal sector in India, and perhaps in the world.
"Our message to workers, business owners and labour unions is that we need to be much more aware of ESIC benefits and processes to obtain disability pension, maternity benefits and healthcare, " says Sachdeva.
FilmArt proved to be a supportive partner of SII for the video series. A lean team, mostly from lower income backgrounds, FilmArt has made films on stories of change for Indus Action, Tata Trusts and Save the Children. The Gang of Shramikpur series brings together real-life stories and situations aptly. Saini also teaches filmmaking to children from vulnerable communities, who lack financial resources to study the medium.
The next episodes of Gang of Shramikpur will debut in November or December. They will cover how to get ESIC pension after a disability and include messages on workplace safety. The following episodes will inform women workers how they can claim maternity benefits.
The immediate challenge SII faces is in getting their film across to a larger number of workers. While Gang of Shramikpur had almost 5,000 YouTube views in the first week itself, Sachdeva acknowledges that they must reach many more workers."We need partners in businesses, labour unions, worker communities and community influencers who are happy to help India's workers. We would be grateful if they could contact us at team@safeindia.org. We can create the right partnership model with them as long as we are value-aligned," he concludes.