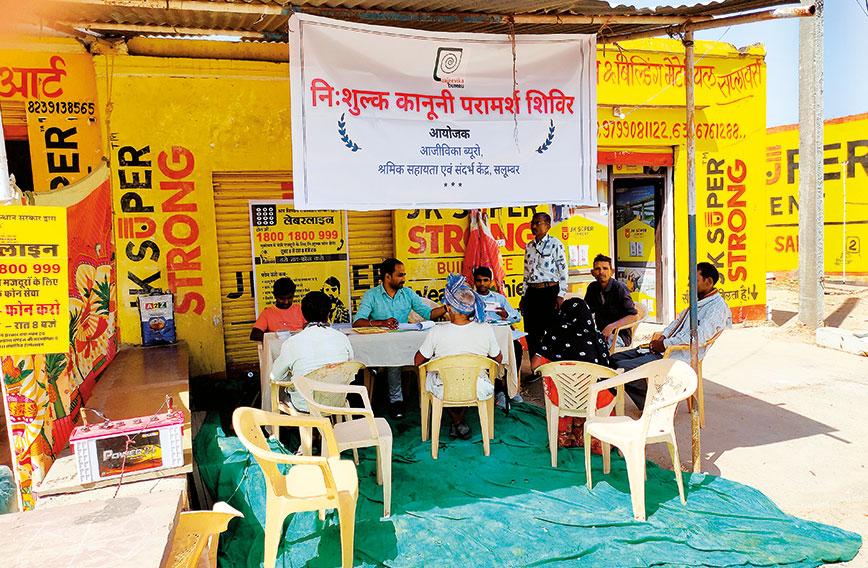 A mediation camp run by Aajeevika Bureau
How hybrid mediation got workers their dues
Surmayi Khatana, Mumbai
Published: Jun. 08, 2022
Updated: Jun. 08, 2022
WHEN the sudden lockdown during the pandemic put unorganized sector workers out of job, Aajeevika Bureau was flooded with calls for help on their Labour Line. The NGO usually uses mediation to settle disputes. But bringing workers and employers face to face during the lockdown was impossible.

So instead it went in for what it calls "hybrid mediation" in which matters were settled on the phone and using email. Employers were contacted and informed of the consequences of not paying up. Many of them settled workers' dues almost immediately and there were others who needed some persuasion.

As factories, offices, workshops closed overnight, workers were left in a limbo. Many were stuck and needed help to get home or money to buy food. Wages had not been paid, some of them had been suddenly retrenched, or not paid during their notice period and more.

At that time the phone-based Labour Line became a saviour for workers in distress. As many as 1,000 to 1,200 calls were received daily. In Rajasthan, Aajeevika Bureau operates the Labour Line in partnership with the state government's department of labour. It is part of Aajeevika's Legal Education and Aid Cell (LEAD). The helpline provides legal aid, interventions, mediation and registers complaints. It also connects workers to appropriate stakeholders like the police and labour departments.

Between April and June 2020, LEAD helped to resolve and recover, through hybrid mediation, approximately Rs 1.36 crore by way of compensation for workers.

The Aajeevika Bureau has been working for the rights of workers and labour communities since 2004. Based in Rajasthan, they work closely with the labour markets of Gujarat, Maharashtra and Rajasthan to fight for the rights of workers in the informal economy.

Labour Line is now an all-India service. On July 16, 2021, Aajeevika Bureau, in partnership with the Working People's Coalition, set up an India Labour Line (1-800-833-9020) to provide legal aid and mediation services to workers across the country. Labour Line now has offices in five states — Maharashtra, Delhi, Uttar Pradesh, Karnataka and Telangana — and provides free help to workers. The helpline is headquartered in Mumbai and works like the Rajasthan Labour Line. Since it started functioning, the all-India Labourline has registered 2,800 cases and recovered compensation of Rs 1.6 crore.

Informal work is less secure. Little of the labour law in India applies to informal workers. They are also unaware of their rights and entitlements. LEAD conducts legal literacy programmes and awareness programmes on the legal rights of workers. Since 2011, LEAD has been doing physical mediation and providing legal aid to workers for formal legal processes and litigation. LEAD scaled up their work in 2014.

"For physical mediations and interventions we were limited to the areas around us, but the problem is widespread and everywhere. Which is why we gave hybrid mediation a shot," says Santosh Poonia, programme manager of LEAD. Poonia has been working on labour issues with Aajeevika Bureau for 15 years and holds degrees in sociology, political science and law. Most of their cases come from Rajasthan, Delhi-NCR, Maharashtra, Gujarat, Jammu and Kashmir, Uttar Pradesh and a few other states.

CALLS, TEXTS, EMAILS
Hybrid mediation includes mediums like phone calls, text messages, WhatsApp and emails. Telephonic mediations would involve conference calls with the concerned parties.
The mediation is usually in matters pertaining to unpaid wages, service-related issues, retrenchment and unfair dismissal. There may be situations where workers complete assignments but are not paid due compensation or there is a delay or deduction in the promised wages. Since informal work is unorganized, documents, written records and contracts are hard to come by. Whatever documentation is available is communicated through email and messaging. Physical mediation and intervention are used as and when needed, or if telephonic mediation is not working, making this a hybrid form of mediation. "While we had been doing some telephonic mediations earlier, from 2020 we did it on a much larger scale," says Poonia.

Most workers that Aajeevika Bureau helps are employed in the construction sector. Many are also service providers like truck loaders and security guards. Some are employed as factory workers and others as manual labour. Hybrid mediation works as an accessible dispute resolution for workers who have limited resources.

The mediations are carried out only for civil matters like wages and dismissal. For cases pertaining to injury in the workplace, bonded labour, abuse, and hazardous workspaces, LEAD helps workers file FIRs and provides legal aid for further action and interventions.

COUNSELLORS, VERIFICATION
A call on the Labour Line to file a complaint is answered by counsellors trained in labour law. They collect the details of the complaint, information regarding the employer and relevant documents. Details like the promised wages, the rate applicable for the work they were performing, measurements or any other metrics to understand the nature of work are collected. Documents are sent across using WhatsApp and email. The counsellors use this information to understand where the dispute is arising, what the nature of the dispute is and what kind of intervention is required. The Aajeevika Bureau team has five counsellors and an on-ground team of 15.

Within three days of the complaint being filed, the counsellors reach out to the employer to verify and cross-check details. The employer is also informed about the complaint against them.

Poonia explains that since the workers are often recounting from memory, there are chances they miss out on some details so the verification process becomes important. Not all employers cooperate rightaway. "Experience has taught us that they are likely to deny everything, but the counsellors are trained to get the required information," he says.

After this the mediation process begins. LEAD has some eight to 10 advocates along with the counsellors. Both parties are brought onto a conference call where the dispute and entitlements are explained. "We let employers know what the worker is entitled to as compensation and what charges and penalty the employer would face if the matter was to go to court," explains Poonia. Most cases are resolved with mediation. Some mediation processes can be as short as just two sittings. An average mediation for Aajeevika Bureau takes two to three months.

If the mediation fails then Aajeevika Bureau provides legal aid to the worker to take the matter to court. They have 20 advocates, practising in the courts, and advocates who are part of their team.

In two years, from April 2020 to April 2022, Aajeevika Bureau has recovered over Rs. 11.47 crore in compensation for over 30,000 workers. They registered 7,000 cases and resolved 4,839 cases.