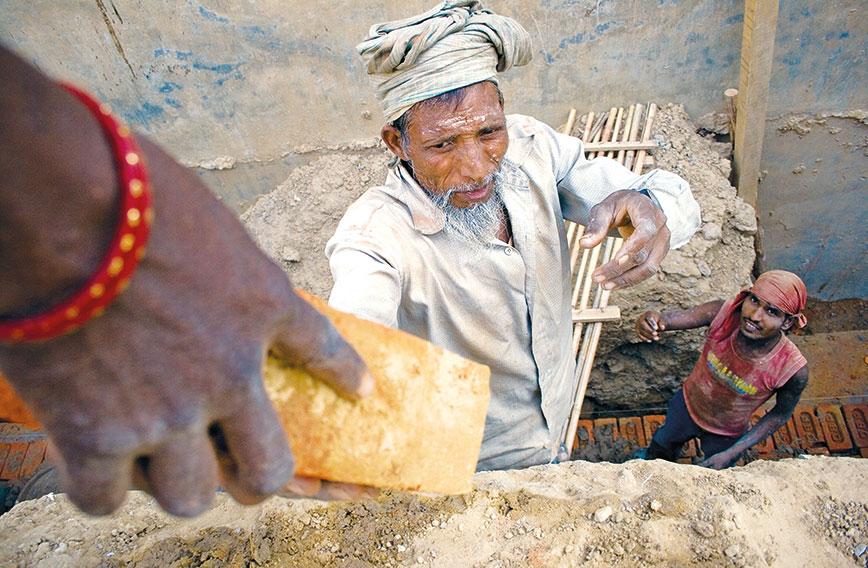 Workers pass bricks at a site in Gurugram
At construction sites, a continuing death roll
Civil Society News, New Delhi
Published: Nov. 28, 2022
Updated: Nov. 28, 2022
AT least 84 workers have lost their lives and 60 have been injured in accidents at construction sites across the country between January and November this year. Invariably they have fallen off upcoming buildings or been crushed under collapsing structures from which there has been no escape.
The lack of safety measures and poor construction practices adopted by builders appear to be the main reason for the accidents. In the absence of stable scaffolding, safety nets, harnesses and protective gear, the workers seem to be exposing themselves to risks from which they cannot save themselves when things go wrong. There are deaths which happen during a cave-in at an excavation site or when a pick-up van crashes. Then again, it could be an iron pipe falling.
The numbers of dead and injured have been put together by Civil Society on the basis of news reports in the English-language media. The numbers could actually be much higher because of reports that have not been accessed. Or accidents that are likely to have gone unreported.
In the absence of central, state or city level records of these accidents, it is not known how many accidents happen and what really causes them. It is also doubtful how much compensation the workers get because they are unorganized, lack formal terms of employment and don't have the means to assert their rights legally.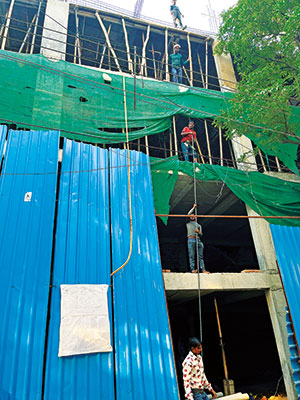 A building coming up in South Delhi
But from the little that is known from the sites of accidents there emerges a worrisome picture of the construction industry being exploitative and unaccountable. While real estate is a driver of the economy and apartments and commercial properties attract ever rising prices, workers, mostly seasonal migrants from rural areas, aren't beneficiaries.
It is not known how much compensation they receive and what happens to families after these tragedies. Those who injure their limbs and are impaired for life are most likely worse-off than those who lose their lives. There are no provisions for their rehabilitation.
Several of the news reports are chilling. On September 15, there were eight workers who went plummeting down a lift shaft in Ahmedabad. Five fell from the 13th floor and three from the fifth floor. Seven died and one was seriously injured.
They were plastering the lift shaft when the wooden platform on which they were standing gave way. They fell straight down into the basement. "On hearing what happened, three workers on the fifth floor went to see and they too fell into the shaft," ACP L.B. Jhala of the Ahmedabad police was quoted as saying by The Times of India.
Imagine the scene. Five men fall 13 floors. Another three go to see what happened from the fifth floor and also fall to their death. It would appear that there were no safety provisions at all for the men working on plastering the lift shaft. Nor were they cautioned or trained for the job.
The labourers who died included Jagdish Nayak, 21, of Samakuva village of Panchmahal; Sanjay Babu Nayak, 20, and Ashwin Nayak, 20, of Virol village in Devgadh Baria of Dahod; Sanjay Manga Nayak, 21, and Shailesh Nayak, 19, and Mukesh Nayak, 26, of Vavkuli village in Panchmahal; Rajmal Kharadi, 25, of Ganoda in Banswara, Rajasthan.
These were all young men in search of daily wages in the city of Ahmedabad. They typically get whatever they can get and become part of a churning labour force that is incapable of dealing squarely with employers or negotiating work conditions. In the absence of effective regulation there is no one to represent them either.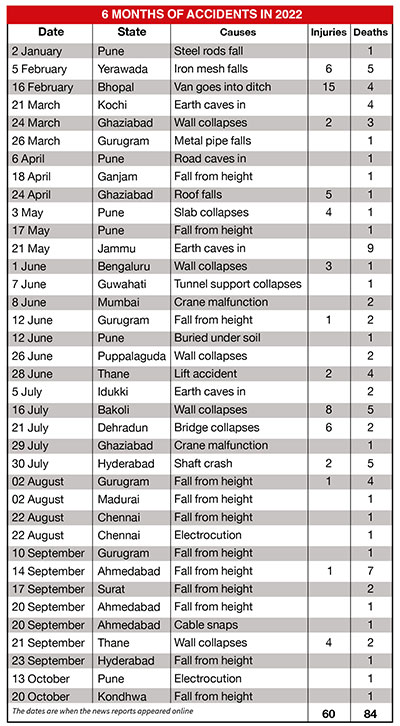 Cases were registered under the Indian Penal Code, Sections 304 and 114, against the contractor and sub-contractor. But the developers seem to have got off scot-free without taking any of the blame. Who should be held responsible for such deaths is the question that arises.
The Tribune reported on August 2 that four labourers fell to their death from the 17th floor of a building under construction in Sector 77 in Gurugram. They were reportedly fixing a tower crane used to take up construction material when an iron angle broke and they went into a free-fall. A fifth worker who also fell got stuck on the 12th floor and was injured.
The workers were all from Kishanganj, Bihar and their names were Mohammed Tahmid, Kamod, Naveen, Parmesar. They had been working at the site for several months. Emaar, the developer, is putting up a residential colony there.
On July 16 in Delhi, five workers died and eight were injured when a wall collapsed on them. They were working on the foundation of a warehouse adjacent to the wall when it came down on them.
Local residents said these were unauthorized constructions and at least one resident claimed to have filed complaints with the local authorities much before the accident actually happened.
In all the cases it appears that action taken by the authorities follows the event. While rules pertaining to safety exist, there seems to be little or no effort to ensure that they are implemented. Inspectors don't seem to be visiting sites and auditing what builders are doing. It is also seen that accidents happen at large projects. The cost of having safety measures in place would be a mere fraction of the entire project cost.
Also missing is awareness among buyers. While they make significant investments in property, they show no interest in how buildings are coming up. The crude use of human labour doesn't seem to have pricked the conscience of buyers or for that matter the banks and large investment institutions which fund them.
For a long time a large fund for the welfare of workers collected by way of a levy on projects remained unutilized in Delhi. It was not even known how many workers there were. Now in Delhi at least, under the Aam Aadmi Party, government workers have been registered, but their empowerment is still a long way off.
Voluntary organizations such as Safe-in-India and Aajeevika Bureau have been helping workers in the unorganized sectors get their rights and employment benefits. (See Civil Society November 2021 and April 2022). Such efforts are laudable and important, but not enough.
They cannot substitute sustained initiatives by the government and sharper regulation. The data collected by Civil Society shows accidents happening at construction sites all over the country from Maharashtra to Haryana, Delhi, Gujarat, Rajasthan, Andhra Pradesh, Jammu and Kashmir and so on. Clearly, it is a problem deserving of a national solution.