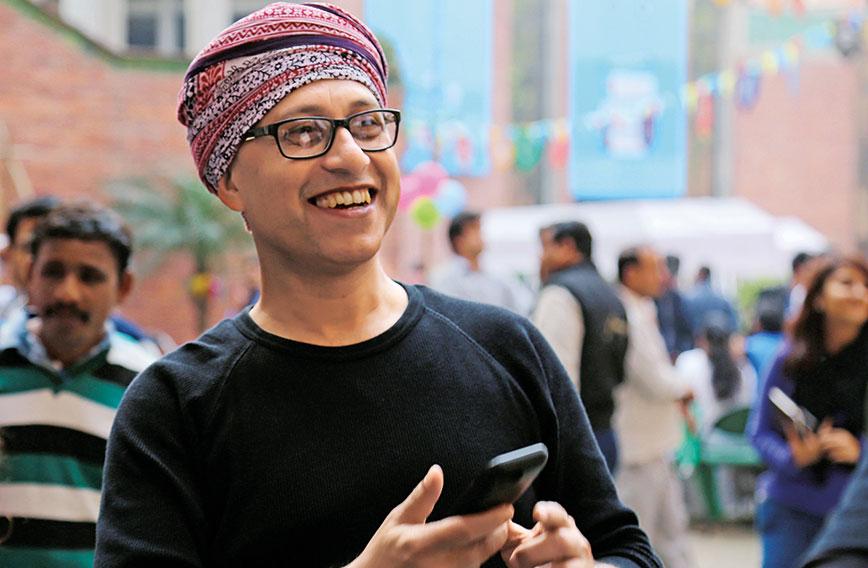 Osama Manzar: 'People are sitting on information, blocking it and making it a commodity that is saleable through bribes'
'From info to entitlement is a long journey'
Civil Society News, New Delhi
The Digital Empowerment Foundation (DEF) has been delivering government entitlements efficiently to villages in 350 locations since the past one year. It has trained 100 information intermediaries called SoochnaPreneurs who go door-to-door with an Android tablet and a Mera App, helping villagers know about the government's schemes and ensuring they get their entitlements.
Grassroots NGOs and activists have for long pointed out that the poor don't get their entitlements. The money either remains unspent or is siphoned away by corrupt intermediaries.
The Union government's response has been to transmit entitlements digitally. Biometric identity has become the new instrument of delivery. The aggressive push of the Pradhan Mantri Jan Dhan Yojana and Aadhaar has increased hugely the number of people with bank accounts making it possible to transfer money directly for some schemes.
But digitisation is an imperfect system. Connectivity is poor in rural India. There is illiteracy. Sometimes biometrics don't match. Cumbersome government processes and red tape are yet to be sorted out. Knowing about schemes and then downloading forms and filling them is
a challenge.
"A simple piece of information of an entitlement has to traverse at least 10 layers before it gets into the bank account of the beneficiary," says Osama Manzar, Founder and Director of DEF. In an interview with Civil Society he spelled out DEF's strategy for making things work.
So, who is a SoochnaPreneur?
The SoochnaPreneur project is based on the premise that there is a serious lack of information in villages and people suffer as a result both as consumers and producers. We need to concede that they need information, one reason why RTI (right to information) came into the picture.
They need to know what their entitlements are first, isn't it?
It isn't just about knowing. Information comes in many layers. I would say knowing is the beginning of the suffering caused by lack of information.
You can advertise on radio or make it known by word of mouth that a pension fund is available but that's not the end of it. Where is that information available in detail? No idea. You go to the panchayat or the block office they give you half-baked information. That's the first layer.
If you get the information how do you access it like say fill a form. You will be lucky to get the form. Who will fill it? Most people, for whom those entitlements are meant, are illiterate. Functional illiteracy in rural areas is high. Just being able to sign doesn't make you competent to fill a form. Therefore, you are dependent on somebody who is an information agent or a dalal for whom filling up your form is a business proposition.
Then you have to submit papers to support your form and deposit it. After that, you wait…. How much money is disbursed into your account, how much goes to the intermediary… it's all a big question mark. The flow of information, its stability, its availability, is all subject to exploitation.
How many people get their entitlements this way?
We figured out that the time taken for oral information to convert into actual entitlements for the poor is a long journey. According to official estimates, the number of people living below the poverty line (BPL) is 270 million. But they aren't the only ones who depend on entitlements. There are people on the poverty line, above the poverty line, too. The figure goes up to 400-500 million.
If you look at functional literacy around 34 per cent of people are illiterate. The figure for women is 40 per cent. That means this vast population is dependent on somebody to get them their entitlements. So there is a role for the information intermediary.
Unfortunately, that role is not being legitimised or professionalised. It is being played in such a way that everybody makes money in the middle. There is no going rate on who will make how much money whether it is NREGA payment, pension or school scholarship.
So there are intermediaries across the board?
Yes. If you look at India's rural development budget it includes all these entitlements. These are major expenditures.
We have established community resource centres in villages equipped with computers, IT, broadband and an LCD projector in 350 locations. We realised that in 100 locations we were basically delivering entitlements and that there was space for the role of an intermediary.
So in the 350 Soochna Seva Kendras that we have set up, in 100 we put in place Soochna Sevaks. We decided to professionalise this role and that's how the SoochnaPreneurs came into being.
How were they trained?
People are sitting on information, blocking it, hiding it and making it a commodity that is saleable though bribes. So you get only half of your entitlements since the rest is given as bribes.
We realised that training of the information intermediary has to be handled carefully — how they tackle people, create a database, and offer information.
You can't charge for all the information because then you become a new digitally enabled information dalal or exploiter.
The cadre we built up are entrepreneurs of information across the board. They photocopy, email, get your ration card or Aadhaar card, do lamination, scanning, fill up your form, deposit it, follow up on it and use RTI if required.
When did you start this project?
We launched it last year and announced it publicly only recently. We are working in six backward districts — Ranchi in Jharkhand, West Champaran in Bihar, Guna in Madhya Pradesh, Tehri Garhwal in Uttarakhand, Barmer in Rajasthan and Barghar in Odisha.
Our 100 SoochnaPreneurs are mostly men and some women. The next 100 SoochnaPreneurs will be only women. We have realised that they are more accountable, responsible and they don't migrate. They also get digitally empowered and gain respect.
If a woman wants to set herself up as a SoochnaPreneur how much does she need to invest?
We usually look for people who have passed Class 10 or 12. But we also look at their personality. Are they proactive, can they communicate and mobilise people, do they consider this work important, can they innovate and make money out of the facilities not available but required in that area?
We create two SoochnaPreneurs in a block as well as a physical space with a printer, lamination facility, camera and computer. The SoochnaPreneur is equipped with an Android tablet and Mera App, an app which includes all government schemes. We are gradually adding information on education, agriculture and micro-business to the app.
What work does the SoochnaPreneur do?
We have 2,000 government schemes in the Mera App. On an average every state has got 350 to 500 schemes. We work in six states. The app locates where you are and tells you which schemes you are entitled to.
The SoochnaPreneur goes from house-to-house doing a baseline survey to find out who the beneficiaries are. So if I am a Dalit, a person from a minority community, an elder or a student, Mera App tells me which schemes match my profile. The SoochnaPreneur informs the person and registers him or her on the database.
Mera App is crowd-pulling information. Gradually this app is building a database of beneficiaries. It contains details of who is availing which scheme, and how much is being disbursed in a particular area.
Everything is priced. If it is an oral message it is priced, so is a written message. We are providing SoochnaPreneurs, the infrastructure. Their revenue in the first few months was only between Rs 200 and Rs 500. So we gave them a stipend of Rs 1,000 for three to six months. They are now earning an average of Rs 2,000 per month. Charges range from Rs 5 to Rs 25. They can also undertake digital literacy programmes and charge from Rs 100 to 200 per person.
They undergo an orientation programme every quarter. They also have a WhatsApp group where they share problems and help each other.
We have 500,000 villages and 250,000 panchayats. There are 272 backward districts in India. That means 3,000 blocks with a million sarpanches. So we can scale to a million SoochnaPreneurs. Our focus is on backward districts where people suffer because of lack of information and where digital inclusion has become digital exclusion.
Doesn't all this clash with the government's Common Service Centres (CSCs)?
Its only complementing them. CSCs are concentrated more in urban areas, in towns and don't focus entirely on entitlements but on commercial services. They aren't provided tablets and their training is zero. Working as an information entrepreneur in a village is an art in itself. You need to understand relationships, campaign, know how the government works. The CSCs don't go house-to-house mapping people's needs.
Unlike the CSCs our SoochnaPreneurs work at the village level. We also market the government's schemes by organising information camps where we tell people what's meant for them and what isn't.
What are the entitlements that people are keen to access?
For the NREGA scheme the demand is not so much for work but payments for work done. Other schemes in demand are pension, housing, scholarships, health schemes, land records, ration cards and Aadhaar cards. We have a list of popular schemes, disbursement and the turnover.
Qualcomm funded this project to the tune of Rs 2 crores in the first year and another Rs 2 crores the second year. With this investment we disbursed Rs 200-300 crores of entitlements.
With just 100 information providers. Imagine if there were millions of them.
This story is about how much money meant for the poorest of the poor is not getting into their hands because of bad systems and a piece of paper. A simple piece of information of an entitlement has to traverse at least 10 layers before it gets into the bank account of the beneficiary. The biggest hurdle is illiteracy and digital exclusion.
What is your response to activists who say the poor are being digitally excluded?
Going digital may be more efficient for the government. But it is excluding the poorest. Earlier the form was free. Now you pay for the photocopy and then deposit it. A poor person pays as much as Rs 250 for a photocopy. He doesn't have a choice. He needs to deposit the form with a photocopy of his Aadhaar card for one entitlement.
Photocopiers don't exist in the village. So he has to travel 10 km to 20 km and forego his daily wage of Rs 180 or so. He will pay for transport and Rs 10 for the photocopy since those guys buy everything costlier. If the machine isn't working, he loses another day's wages.
We are now considering putting the printer in a backpack so the photocopy can be delivered at the doorstep to the beneficiary. You can't make people suffer. If technology like this doesn't work, if a poor person's biometrics don't match in your machine, you need to have an alternative. It's a violation of human rights.