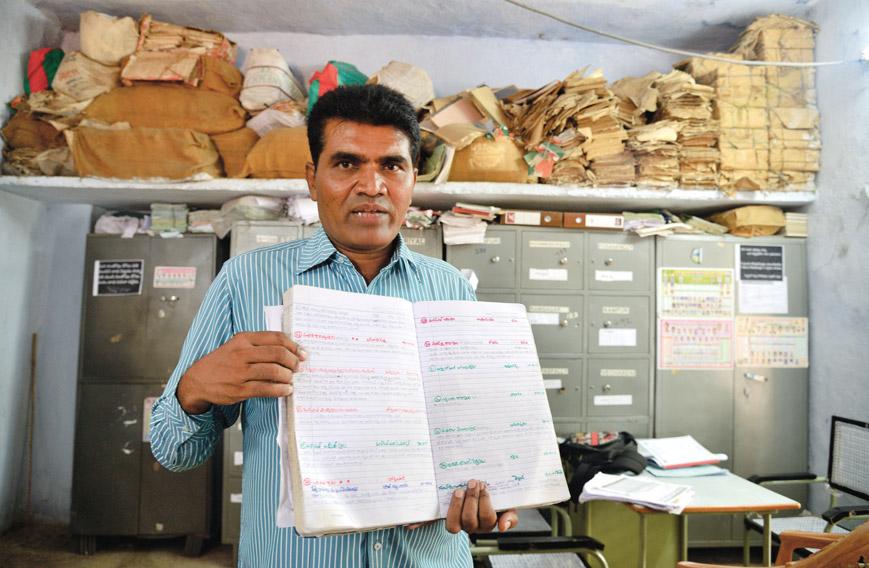 Beeram Ramulu holding up a notebook with details of farmer suicides in Warangal district
Warangal's rights man
Umesh Anand, Harsha Sai and Photographer P. Anil Kumar
It is tough being a farmer in Telangana's Warangal district. Water is difficult to come by. The soil lacks in fertility. Middlemen and moneylenders reign supreme. If a couple of crops fail, chances are that you will be staring at a deadend with no one to go to. Banks won't touch a farmer in trouble. The government doesn't have the sensitivity to pick up distress signals.
Beeram Ramulu, 48, knows how challenging life can be for Warangal's farmers because he is one himself. He is luckier than others because he has four acres, a family support base, an education and some money. He is also more savvy because he has lived and worked in Hyderabad. But if the second tube-well he has dug on his land were to fail, he would be in a spot. It is as tricky as that in Warangal. A tube-well fails, the rains don't come, a crop gets hit by pests — and just like that one's world goes topsy-turvy.
Most farmers suffer quietly. Several thousands have, in desperation, taken their own lives over the years. But Ramulu is one farmer who has decided to do his bit to find a way out by campaigning for farmers' rights and highlighting their problems.
It is not easy for a farmer to also be an activist. Ramulu works hard at it with personal conviction and perseverance. He moves around a lot in Warangal district and uses the right to information (RTI) law to access government records. He has also linked up with civil rights groups.
Warangal's farmers suffer because of their choice of crops and their overuse of chemical fertilisers and pesticides. Cotton brings in money if a crop is successful. But it is not suitable for a ...