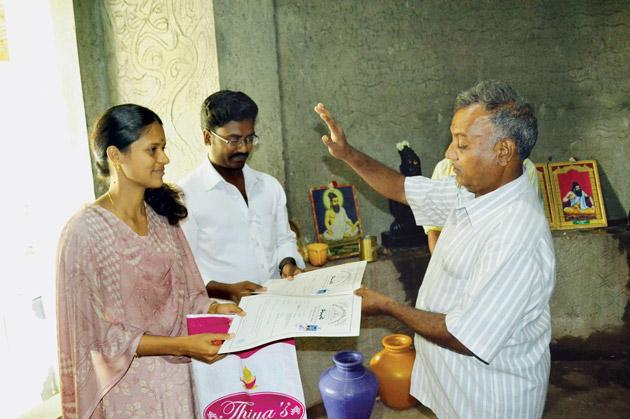 Dr K P Arjunan blesses students who have got Siddha degrees
Master of the pulse
One morning four fresh graduates from Government Siddha Medical College in Chennai came to pray at a tiny shrine in the lower reaches of Vellore's Fort Hill. The shrine is dedicated to Puttu Maharishi, the first guru to start a gurukulam (school) in the 15th century to teach Siddha medicine.
After praying the graduates sought the blessings of a middle-aged man standing nearby. They bowed before him and respectfully asked him to bless their degrees.
The man they approached is Dr Kalyani Parasuraman Arjunan, 58, an outstanding practitioner of Siddha medicine and a guru to hundreds of Siddha students. According to historical records, Dr Arjunan is the 47th guru of the Puttu Maharishi Tradition.
"We learn mostly theoretical knowledge in college. To gain practical knowledge, including how to make medicines, we approach Dr Arjunan's gurukulam. I spent around 60 days there to update myself," says Dr B.V. Thiyagarajan, a BSMS (Bachelor of Siddha Medicine and Surgery).
Siddha medicine dates back to 2,500 years. It is one of the oldest systems of medicine known to mankind. The land of its birth is Tamil Nadu. The basic concepts of Siddha medicine are similar to Ayurveda. Both advocate 'food as medicine and medicine as food.' The difference between the two lies in their methods of diagnosis and use of herbs.
"Over the last 30 years, Dr Arjunan must have provided medical services to 30,000 to 40,000 people in Vellore. He has conducted 3,700 medical camps and treated about 500,000 people free," says G. Hariramamurthi, Assistant Director and Head, Centre for Local Health Traditions, Institute of Ayurveda and Integrative Medicine at the Foundation for Revitalisation of Local Health Traditions (FRLHT), in Bangalore. "I have travelled to 18 states in the country. I have yet to find another person ...