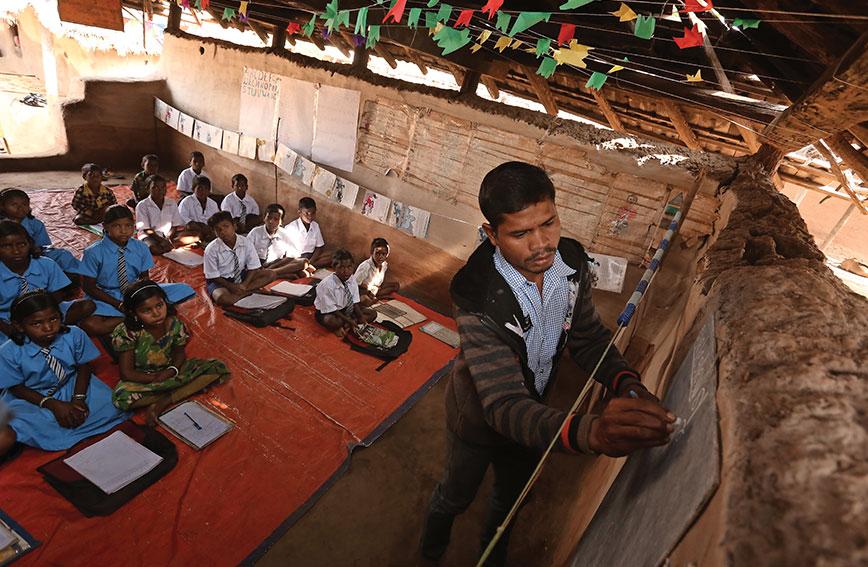 Suratho Juanga takes class in Baunru village
Forgotten Baunru gets its school in the sky
Umesh Anand, New Delhi
Published: Mar. 02, 2017
Updated: Jan. 30, 2020
It takes more than two hours to climb to Baunru village. It is on a hill, and though some paths exist, they are strewn with rocks and you have to be careful as you find your way. The slope is steep and there isn't much greenery to hold on to. There are also streams, shallow but fast, to contend with. It is important to climb steadily and not look back because otherwise you just might want to quit.
As you reach the flat top where the village begins, a small mustard field is a happy sight which signals that the trek is over. But there is nothing pretty about Baunru and its grim poverty quickly swamps the celebratory yellow of the mustard plants. It is really no more than a scratchy settlement with thatched huts and undernourished people. There is a single source of water — a small stream flowing out of the hillside.
The 20-odd families who inhabit the village, which is in Harichandanpur block of Odisha's Keonjhar district, are mostly of the Juang tribe plus a few Scheduled Caste people. For long, they have lived in obscurity, finding a place in the official records, but getting nothing more. They eke out an existence growing maize, mustard, paddy and some other crops. They also rear chickens and goats. They are not used to visitors, not even government officials who should be calling on them regularly but can't seem to handle the tricky and taxing climb.
A year ago, however, Baunru came to miraculously acquire a school of its own. Two young men, Gadadhar Mahanta and Ashok Kumar Mahanta, turned up at the village as intrepid frontrunners for an education project run by Tata Steel. The opening of the school followed and it is housed under a thatched roof with flimsy walls. Perched on the hill like a fragile nest, it is every bit a school in the sky.
There is a single teacher who helps children of the village learn to read and write in the Juang and Odia languages and do some numbers work. The children wear uniforms — blue and white with a tie. On Independence Day last year, for the first time the Tricolour was hoisted and the national anthem sung with the whole village gathering with pride at the school.
The Baunru school is one of the links in a chain of efforts under what has come to be known as the 1,000 Schools Project by which Tata Steel ambitiously seeks to improve education standards in six blocks across three districts in Odisha where the company has facilities, the most important one being a greenfield steel plant at Kalinganagar.

Tata Steel has collaborated with Aspire, a Delhi-based NGO, which is responsible for implementing the project with a grant from the company. Earlier, Aspire was meant to provide only technical support for the project. But the Tata Steel Rural Development Society (TSRDS), the company's social arm, didn't have the capacity to implement a project of this size on its own.
Aspire has experience in structuring and implementing education projects. It knows how to set up systems and motivate communities at the village level. For Tata Steel's project, it has been shaping pedagogy, training teachers and putting in place processes. More than 500 people have been hired by Aspire. Some are professionals who come with experience and there are others who belong to Odisha's villages and towns and have been trained.
"We all know government schools don't function. Parents blame teachers for not teaching and teachers say they can't teach children who don't have a learning environment at home. Our job is to break this cycle of negativity and create a win-win situation for the parents, teachers, children and the community," says Daya Ram, who is Secretary of Aspire.
The first phase of the project has a time-frame of five years. It is hoped that as children go from Class 1 to Class 5 and make the transition to middle school, village-level aspirations will rise. The expectation is that community management of schools will improve and teachers will be motivated to perform better.
"We tell them they are capable," says Daya Ram, who at 58 is a veteran of many grassroots initiatives — going back to the Lok Jumbish programme in Rajasthan where he served as deputy director from 1993 to 1997.
It is a whole lot of positive energy that has led to Baunru, remote and inaccessible, being included in the project's footprint. Gadadhar Mahanta as Cluster Facilitator identified the village while mapping the Badapalaspal panchayat. He took along Ashok Kumar Mahanta, a Community Mobiliser. Then Ravi Kumar, the Block Coordinator, began going there.
The children of the village are now coached daily so that they can read and write a little and have some idea of what school is about. Until it opened, Baunru's children would help their parents with growing crops or looking after livestock. The parents, being unlettered and very poor, didn't see how life could be any different for them or their children. They didn't see sense in giving their children an education.
There are government-run schools Baunru's families can access in the Harichandanpur block, particularly at Nolo, a revenue village at the bottom of the hill. But sending children to school requires orientation and grounding. If children know nothing about reading and writing and feel frightened by school, they won't go. Parents who are very poor and don't have an education themselves are unlikely to send them.
Now, attitudes have begun to change. The children learn to read and write and count, but more significantly they have begun to lose their fear of school. Much of the learning is through singing songs and reciting rhymes and it's all happening in their own village, next to the huts in which they live. Their parents, on their part, have begun to see education as a way out of their poverty. There is a demand for education, which is the first step towards getting it from the government. In one year, 15 children have already been given the basics and placed in government schools.
In Tata Steel, Smita Agarwal leads the 1,000 Schools Project. She is also Head of Education in Tata Steel's department for corporate social responsibility (CSR). She explains that the project has three goals: to improve access to government schooling; reduce the learning deficit in schools; and strengthen governance by empowering parents and community groups in School Management Committees (SMCs) to demand better education.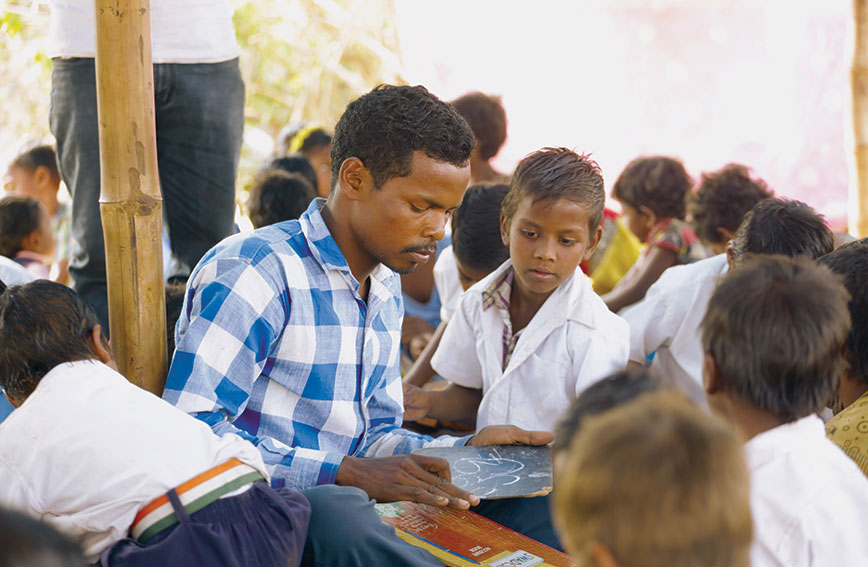 The teacher, Pradhan Munda, works with his students
Around 18 months of the project's five years are over when we talk to Agarwal at her office in Jajpur. It is a good time to do a reality check. How does Tata Steel see the impact of the project? Is it on course? Are the goals being achieved? How are communities responding?
Agarwal tells us the project has performed much beyond expectations. "We have reached out to the entire geography of the project, which is 691 revenue villages and 2,478 hamlets. We have reached out to all of them. Not with equal intensity, but we have reached them."
There is a mobiliser in place for each of the 115 gram panchayats under the project. In 50 percent of the SMCs, there are at least two trained people to articulate the demands of the parents and others in the community.
The project's Learning Enrichment Programme (LEP) is running in more than 200 schools. Under the LEP, teachers trained for the project hold special classes in the morning and evening outside school hours to help children who haven't been able to learn in class.
"We have a programme for long absentees, especially for those at the cusp of the primary and secondary transition. Typically, you find a lot of children do not want to appear for the Class 5 exam. Through the LEP in 200 schools, we have reached kids who have no ability to read and write in Classes 3, 4 and 5. These children were really under-confident and would sit in class just blank. They have gained so much confidence. The classes they sit in are buzzing," says Agarwal.
In Odisha, children have to take an exam in Class 5 before they go to the secondary school, which is in another village. This is the stage at which they tend to drop out because, teaching being poor, they have learnt almost nothing at the primary level.
The LEP classes are for children who are in school but not learning. There are bridge courses, including residential ones, for children who have dropped out and have to be put back.
The project has managed to put more than 9,000 children back into school. Of these, 3,500 were
long absentees.
"Those who have totally dropped out are a very tough category. They would not have gone back if we had not worked with them," says Agarwal.
It is the goal of the project to eliminate child labour in each of the six blocks by making sure every child is in school.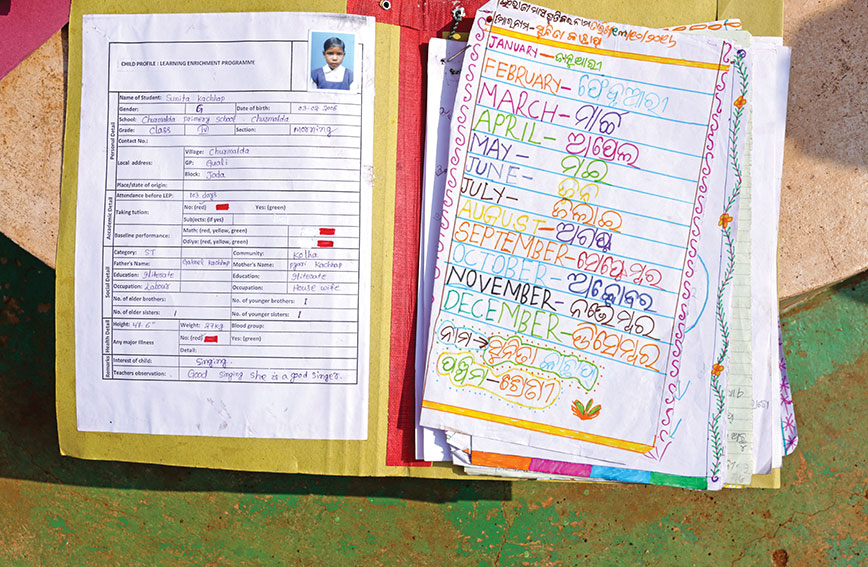 Detailed records are kept of each child
"We already have 250 habitations which are free of child labour," adds Daya Ram. "No child is out of school and every Tuesday SMCs do a head count. Every child aged from 0 to 18 is tracked. There is a panchayat register and a village education register."
The project has trained 180 teachers. They are mostly from villages with no teaching experience. Some are graduates and others have passed school. They are trained in some of the best teaching methods garnered from across the world. They learn to keep detailed records of each child. The classroom experience is supposed to be participatory and teachers are shown how to use interactive methods with the children working in small groups.
The project seeks to make education a celebration of talent and abilities in children. The teacher is key to setting this tone in class and through personal interaction.
"The teacher must think that every child can do wonders. Only then can we generate the positive energy that enthuses children to come to school," says Agarwal.
The training has many aspects. Teachers are encouraged to introspect on their role as educators. They are encouraged to open up through discussions. Training goes beyond imparting pedagogy to also addressing attitudes and social biases. Children who need to be helped mostly belong to Scheduled Tribes and Scheduled Castes. Teachers come from a milieu in which it is not uncommon to discriminate against them. Ensuring that teachers are even-handed and inclusive is, therefore, important.
Improving teaching in government schools is the ultimate goal of the project. The original idea was to have a tripartite understanding with the government as the third party, Daya Ram tells us. But the Odisha government is not part of the project as yet though officials in the districts of Keonjhar and Jajpur are supportive and appreciative.
So, the government is on board and at the same time not on board. It seems to be hesitant to admit that children are not attending school. The very basis of the project, on the other hand, is to put children back in school.
In the absence of a formal agreement it is not possible to work directly with government schools or train teachers there. Therefore, to get down to working in villages, the project depends on the invitation of the SMCs. The project's teachers work with children outside school hours. One teacher looks after 60 children in two separate sessions in the day.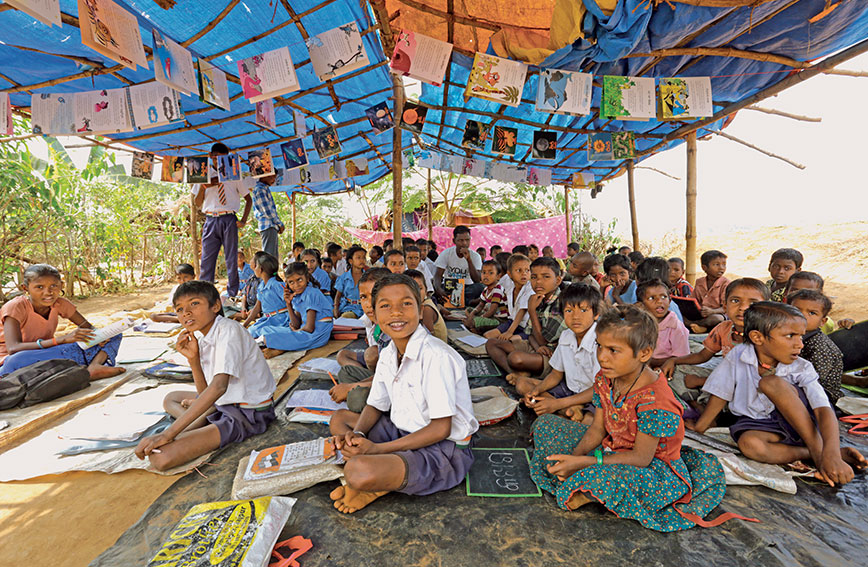 A non-residential bridge school
The project has three approaches to helping children learn and catch up:
The Learning Enrichment Programme or LEP under which it works with children already going to school to make up for the learning and teaching deficit in the government system. It addresses the needs of children in danger of dropping out.
Non-residential bridge courses to help children who have dropped out of school to learn what they have missed and get enrolled again.
Residential bridge courses for children who will never go to school if they are with their families in their villages. They get to live and study free of cost in a hostel with other children like themselves.
Even in the absence of a formal arrangement with the government, the LEP classes seem to have begun having an impact on the teachers of government schools. This is because LEP classes are held on the premises of government schools at the invitation of the SMCs. The children who attend these classes are seen to perform better in the government schools.
"In a significant number of schools we have been invited to, teachers and headmasters watch us. We find many of our teaching methods adopted by them. Sometimes we are asked to hold demo classes," says Agarwal. "The reason is our children do better in class. The feedback from the Harichandanpur block is that children from the LEP classes there stood first, second and third in
Classes 3, 4 and 5."
"Parents have tears in their eyes when the same child who had been written off as a failure performs well. Government teachers also begin to introspect on why they didn't succeed with the child when the project's teachers, who are younger and far less qualified, did," says Daya Ram.
CHOOSING TEACHERS
The project has been discovering individuals who turn out to be gifted teachers. Binapani Mahanta, 32, is one of them. As we watch her take an LEP class at Chormalda in the Joda block of Keonjhar district, it is apparent that she is outstanding at communicating with the children.
Binapani used to be a housewife, but now she teaches 60 children twice a day in the LEP classes. She rides her cycle or takes a bus to the government school where the classes are held.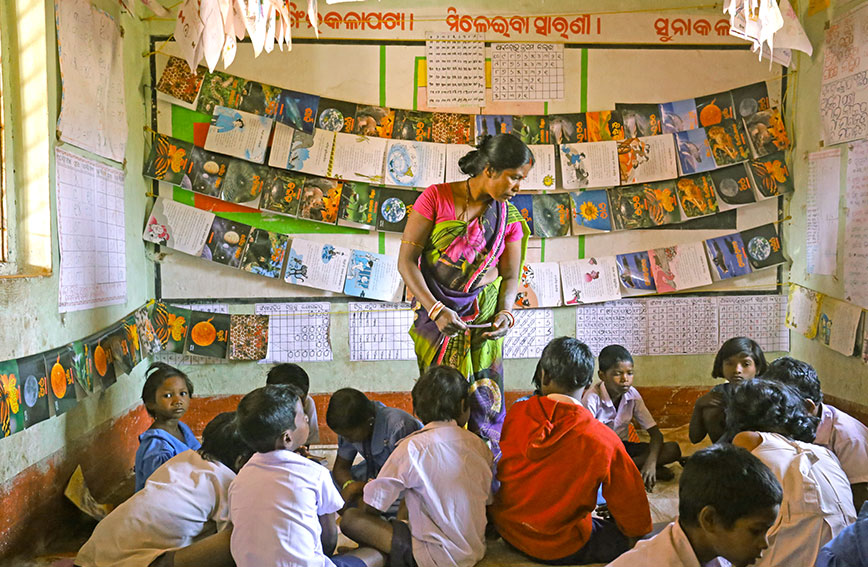 Binapani Mahanta in her classroom in Chormalda
Binapani is a confident woman who speaks her mind about teaching, the standards in schools, the importance of personal savings and having more than one income in a family. Asked her name in Hindi, she makes it a point to reply in English. Thereafter our conversation is in a mix of Hindi and Odia with interpreters helping out.
"From childhood I dreamt of being a teacher. It was the one thing I wanted to do in life. So this is a dream come true for me. When one of the community mobilisers told me this project had advertised for teachers, I put in my application," she says.
She is from the Other Backward Castes (OBCs) and has studied upto Class 10. Her husband is a fitter. They have an 11-year-old son and a six-year-old daughter who go to a private school in the village.
"Government schools are good but the teachers there don't teach," she says. "So, we send our two children to a private school though it costs us more."
The transition from housewife to teacher has brought her respect in the village. She earns Rs 7,000 a month, which when added to her husband's income of Rs 11,000 means the family can put a little away.
"I feel very happy to be teaching children and seeing them learn to read and write. It gives me a lot of personal satisfaction," she explains.
With the job, she has seen changes in life. She has not only found her metier in being a teacher but has also pushed the borders of empowerment. She is out of the house a lot more now, having to take class twice a day. After she was selected for a teacher's job she had to go away for six days for training. It was the first time she had left her family.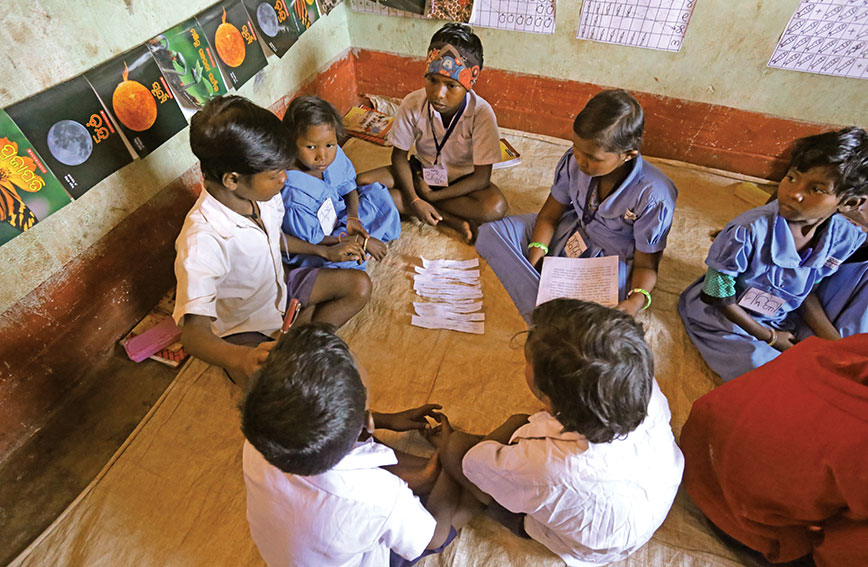 Children studying in a group
"It was fun and the time flew as it does when you are among friends," she recalls. But who looked after her two children while she was on training for six days? "My husband," she replies without hesitation.
LANGUAGE APP
There are multiple challenges in teaching children. They belong to an oral tradition and getting them to read and write is not easy because it involves a shift in the way they know to communicate.
Also, Odia alone as a medium will not do. There are different languages and dialects. In certain tribal areas, there is a predominance of children who speak Ho and Santhali. It has been found that with them, even after four or five months, non-tribal teachers make no headway.
The project reached out to Rohini and Nandan Nilekani's Ek Step Foundation to create an application to solve this problem.
"The app contains 250 common words, and their equivalents in Santhali, Ho, English and Hindi. The teacher while telling a story about a mouse has to open the app, go to the animals category, get to the mouse, tap on the word and she will get the Ho/Santhali word as text and voice. She can continue with her story," explains Agarwal.
"There is also an Odia story app that is being used in LEP classrooms. Storybooks move page by page with colourful pages, text and voice-overs. If connected to a small speaker it can work for a group of children. It is as yet a pilot but children have taken to it excitedly," says Agarwal.
The plan is to put 50 to 60 percent of the maths and language workbooks on a digital platform. This will help the project do more activities with the children. It will also expose them to technology.
But there is no substitute for teachers and because the schools are far-flung, they have to be local people who are picked up and trained. Binapani cycles to school. The teacher at the village of Baunru, Suratho Juanga, belongs to Nolo at the bottom of the hill. He has studied upto Class 12. He stays in the village and goes home to his wife and child once a week. At Baunru he sleeps on a cot in the open and collects water in a bucket from the stream which is the single source of water for the village.
At Sabar Sahi, the teacher, Pradhan Munda, is also a local youth. He is 24 years old and has passed Class 12. Earlier, Rajshree Rana did his job for three months. She has an honours degree in psychology from a local college. She is now a mobiliser, which means she has to build support for the project's objectives among parents, young people and others in the community. Rajshree is 25 and the money she earns from the project gives her a newfound freedom to make choices. She definitely does not want to get married like other girls in the village. She is also on Facebook.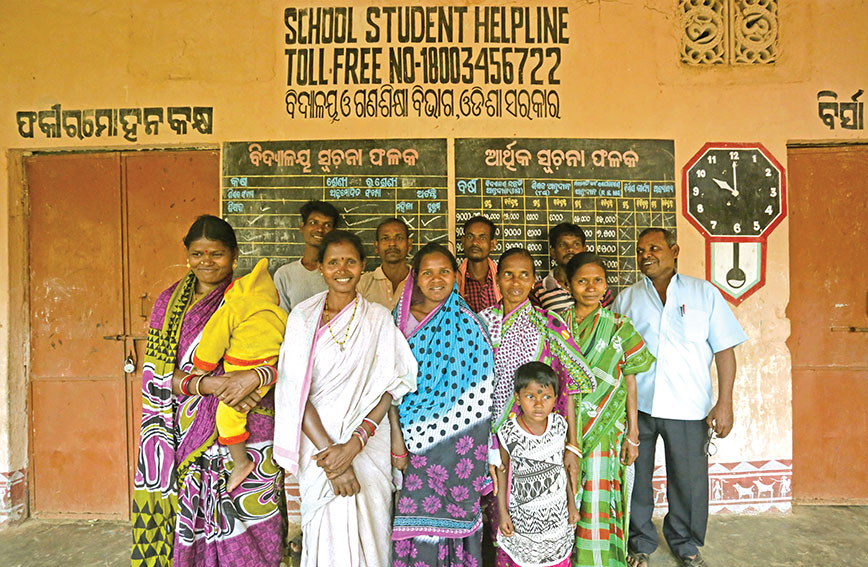 A School Management Committee
People like these have begun to make up a growing cadre of homegrown professionals with hands-on experience in teaching, dealing with children and evangelising the need for education.
DEVELOPMENT PROFESSIONALS
At another level, the project draws on the experience of well-trained and experienced professionals who have worked elsewhere in the country. Their contribution is significant.
Agarwal herself comes from the American India Foundation (AIF) where she worked on a similar but much smaller project to put the children of seasonal migrant labour back in school.
Tata Steel and AIF have had an important partnership in a project for improving maternal and infant mortality in Jharkhand. The original idea was to partner AIF in education as well.
While trying to decide what kind of project to pursue in education, Biren Bhuta, Tata Steel's Head of CSR, talked to different NGOs. He met Daya Ram at Aspire, who told him about the work AIF was doing at Nuapada in Odisha with the children of migrant workers.
It was there that Bhuta came across Agarwal. The AIF initiative with the children of migrant workers was exactly the kind of project he had in mind. At first a partnership with AIF was attempted and then it was decided to hire Agarwal. The agreement with Aspire followed.
The AIF project was on a much smaller scale. It involved only about 250 schools in different parts of the country. Agarwal felt she wanted to attempt something much bigger.
"I said to Biren we should do it in 1,000 schools and he said, let's do it in 1,000 schools. That was it. It so happens that the number of government schools in the six blocks we have chosen in Odisha actually add up to 996 or almost 1,000," says Agarwal.
The project covers the Danagadi and Sukinda blocks in Jajpur district; Joda and Harichandanpur blocks in Keonjhar disrict; and the Koira and Kutra blocks in Sundargarh district.
"One does not really understand the challenges of improving government schools without saturating the system like we have done in Odisha," she explains.
The project's block supervisors have all come from Nuapada where they had worked with Agarwal.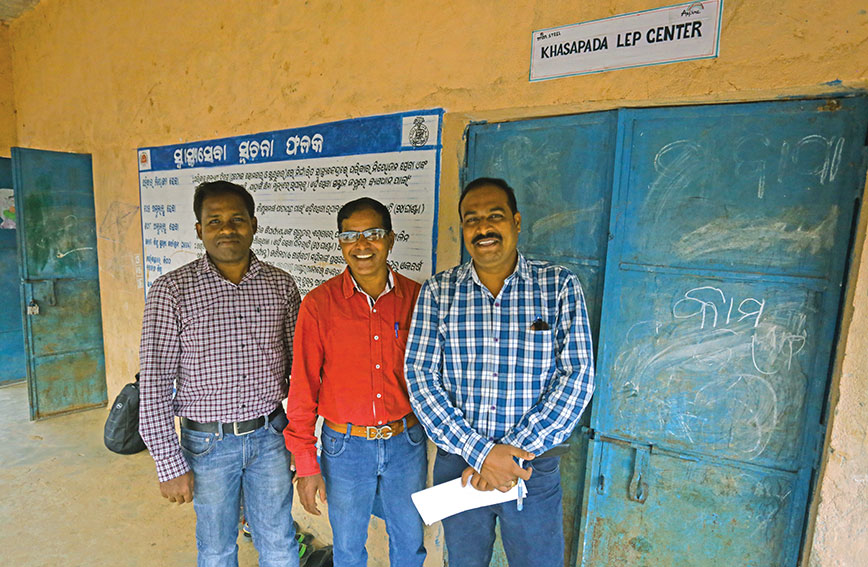 Amarish Kumar Dandsena, Yadaiah Tokala and Arvind Toppo
For the key verticals of the project, there are three seasoned and well-qualified development professionals: Amarish Kumar Dandsena, Arvind Toppo and Yadaiah Tokala.
Of them, Dandsena was with Agarwal in Nuapada. He has done a master's in social work and has a bachelor's degree in education. He has 12 years' experience of which he spent five teaching and the rest mobilising communities and training teachers.
Toppo is a tribal from Jharkhand. He has a master's in philosophy from Loyola in Chennai and a post-graduate diploma in social work. He has spent two years as a teacher and eight years in the development sector. He has worked with the Aga Khan Rural Support Programme.
Yadaiah was a bonded labourer as a child, but broke free and finally qualified as an electronics engineer from Osmania University. He has experience in land reforms and child rights. He worked with the Mamidipudi Venkatarangaiya Foundation (MVF) and the National Commission for Protection of Child Rights (NCPCR) and then Aspire.

There are others like Ravi Kumar, who is from Bihar, and is the coordinator of Harichandanpur block. Since 2006 he has worked with the MVF, Action Aid, and NCPCR's Bal Bandhu programme.
'DOING GOOD, BEING GOOD'
Bhuta believes that it is only the government that can provide education and healthcare on the scale needed in the country. But the private sector can play an important role in helping the government bridge gaps in development work.
"The government would do well to draw on the private sector for managerial skills, new technology and innovation. The private sector is also needed for the softer side of development such as promoting peace, developing leadership and encouraging civic values.
"We all know that not much teaching and learning happens in government schools. But without improving government schools India's demographic dividend will be a demographic disaster," says Bhuta.
"A lot of people have worked on different aspects independently like improving access and quality of teaching. We felt we would like to bring access, quality and governance into one programme and do it in a large number of schools in three districts of Odisha."
Tata Steel's CSR initiatives are in the geographies in which it operates, but aren't specifically aligned to the company's business interests. The management has encouraged Bhuta to find what is worth doing for its larger social impact instead of focussing narrowly on how it directly benefits the company.
"Every company has its life song. Altruism and contributing to nation-building is the life song of the Tatas. Our CSR reflects that," says Bhuta.
Bhuta is 42, lean, energetic and almost Quaker-like in his abstemious preferences. "At the Tatas it is all about being good and doing good," he says.
He was a well-regarded journalist before he switched careers. In his new role he shows the same energy and restless search for ideas that good journalism thrives on.
He holds a tribal conference in Jamshedpur once a year at which tribal leaders from all over the country and of different persuasions speak their minds, no matter how radical their opinions might be.
Bhuta has made CSR refreshing and spontaneous. He has taken a lot of the window-dressing out of it.
LONG-TERM GAINS
Tata Steel has committed Rs 100 crore over five to seven years for the project. Daya Ram says it is unlikely that the entire sum will be needed. In the first year about Rs 2 crore was spent, in the second year Rs 5 crore and in the third year about Rs 8 crore will be spent.
The return on this investment will be in the long term. Gains are expected to far outweigh the cost. They will be in the long term and may not even be quantifiable in the ways in which auditors assess a project for impact.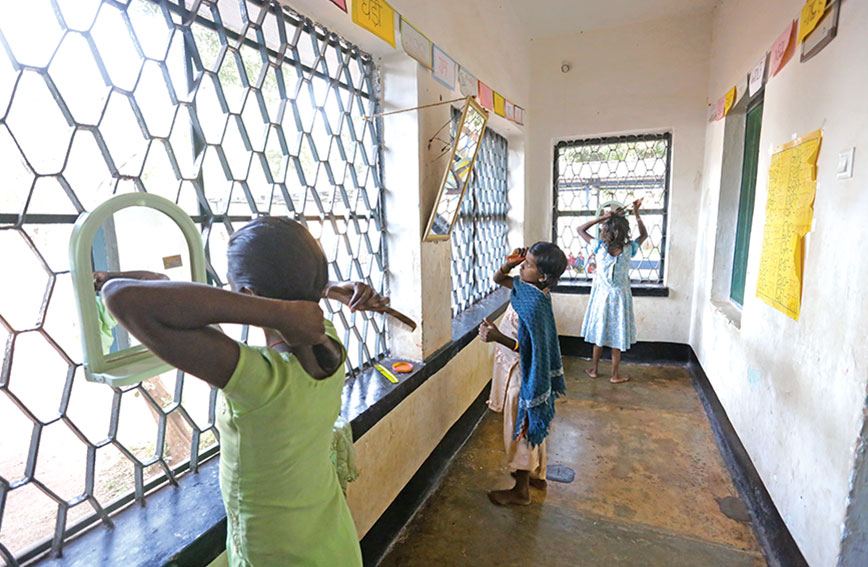 Girls get ready in the morning at the hostel
The more significant impacts will be in the way people's lives change and how they perceive their own well-being and paths to prosperity. It will be in their exposure to new technologies and better ways of learning. The systems the project has put in place will promote transparency and accountability.
"We have protocols for everything and people are recognising the value of systems," says Daya Ram.
By the time five years are over, he expects people to have greater awareness and be capable of governing themselves more effectively. Every 15 to 20 villages will have a resource centre, he says, with a library, computer, access to information and contact with local-level institutions.
He places great store by the youth of these villages who have already shown an activist spirit by coming out against child labour. He sees a combination of self-help groups (SHGs), SMCs and youth organisations carrying forward the gains of the project.
"There is a problem with complete control and complete withdrawal," says Daya Ram. By involving and empowering people from the beginning, the 1,000 Schools Project has tried to ensure that when the time to hand over arrives, the transition will be seamless.