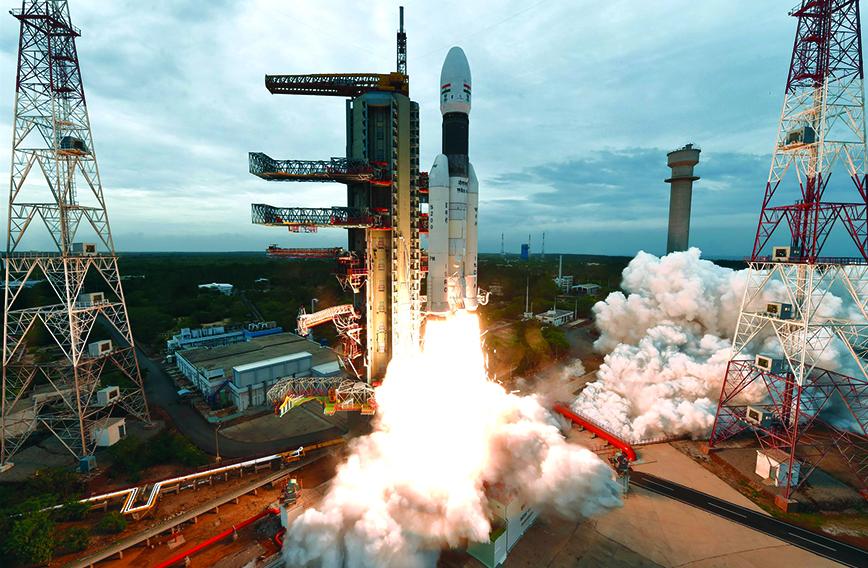 The Chandrayaan-2 take-off
Cut out the space tech drama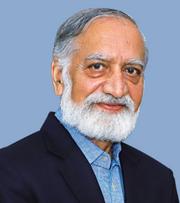 KIRAN KARNIK
Mllions of Indians stayed awake all night on September 6-7, 2019, eyes glued to their TV sets. It was not, as one mightimagine, a thrilling cricket World Cup final featuring India; what had them transfixed was something equally exciting — the descent of a lander on the Moon, as part of India's Chandrayaan-2 mission. The real-time relay from ISRO's control room in Bengaluru showed the path of actual final descent matching the planned path, and excitement built up in homes across the country. With just a few minutes to go for what promised to be a perfect touch-down, a few noticed an apparent deviation. Millions of hearts missed a beat as no news of a safe landing came at the appointed hour; instead, they saw worried faces in the control room. All desperately hoped for the best. But that was not to be: despite possibilities of a safe landing despite loss of communication, the lander had, in fact, crashed.
As those connected with it are aware, space missions are risky, with failures not being uncommon. This, despite design reviews, rigorous testing and every possible precaution. All space-faring nations have seen failures and these are accepted as part of the inherent uncertainties of the very complex equipment and operations that space technology entails. India's policy-makers and leaders have been very understanding of this, accepting occasional failures as part of the process.
In this context, raising public interest — as Mangalyaan, the Mars orbiter mission, and Chandrayaan-2 did — is a double-edged sword. While there are undoubted benefits, there is also a downside. The former includes getting young people excited about careers in science and research. It is also an opportunity to create scientific temper amongst people at large, with extensive media coverage on the project and what it entails providing a means of expounding the basic principles of science behind such a mission. On the other hand, excessive publicity and (as its cause and effect) the presence of top political figures at the live-viewing makes these "prestige projects", and raises expectations. This can cause undue pressure on the mission leadership. While few will admit to it, such high-level "presence" surely lurks at the back of the mind and may well tilt the balance if a split-second decision has to be made on postponing or aborting a launch.
There is another factor too at play. Media coverage and attention are inevitably focussed on events: a rocket launch, a Moon landing. The fact that they also provide great visuals — a rocket taking off, a tension-filled control room with multiple large screens and a backdrop of anxious faces – adds to their attractiveness for audiences/readers, and hence for media.
In the process, elements of the space endeavour that lack such instant appeal draw little media attention. Yet, it is these programmes that bring true benefit to the people and the country. These include satellite communication, encompassing broadcasting, telecommunication and disaster warning; remote sensing, with its ability to monitor crops, identify and plan land use, water-shed mapping, urban planning, helping fishery and oceanography; weather forecasting and meteorological applications. These and a whole host of other applications make space technology an invaluable accelerator of development. However, these are on-going processes, not events; therefore, they are hardly amenable to the same type of media-driven mass attention. Such applications have been the mainstay of India's space programme — efforts that have not only contributed to the country's development, but have also won wide acclaim world-wide.
India's space programme was conceived and has been executed with the philosophy that it must aid the country's development. Accordingly, it has been applications-led, with possible uses being the main determinant of which technologies are developed. Unlike space programmes in almost all other countries, which have their origin in military (missile) development, in India it is the reverse, with civil and development needs being the genesis.
An interesting indicator is that in its formative years, ISRO had well over a hundred social scientists on its rolls — uniquely amongst global space organisations — to ensure that its application programmes met the real needs of the country. One of its arms looked at technological feasibility, analysed economic viability and assessed social desirability, so as to identify applications that would be at the intersection of these three sets. Ideally, programmes would ensure development or use of technologies that made economic sense and met social goals. An example from 1975 is the use of a state-of-theart high-power satellite to take TV programmes on agriculture, education and health to villagers through an ISRO -developed reception system (the precursor to today's DTH). Another example is the use of satellite
communication to take health services to remote areas: tele-medicine. These instances from ISRO 's early days are indicative not only of its focus on the development challenges facing the country, but also on its sensitivity about "inclusion", of using technology for services for the disadvantaged.
This application-orientation was a great motivator for the scientists and technologists, as it gave relevance and meaning to the development of technologies. One hopes that this focus and commitment have entered into the DNA of ISRO, and that it does not get carried away by the hype or publicity of high-profile events. With Moon landings and human flight programmes (like Gaganyaan), justified as they may be, there is a danger — and nascent signs — of organisational effort and direction being mainly concentrated on such prestige projects at the cost of applications that support development. In his centenary year, ISRO may like to heed the words of Vikram Sarabhai, the visionary regarded as the father of India's space programme: "…we must be second to none in the application of advanced technologies to the real problems of man and society, which we find in our country…. (this is) not to be confused with grandiose schemes, whose primary impact is for show…."
Dr Kiran Karnik is an independent strategy and public policy analyst. His recent books include eVolution: Decoding India's Disruptive Tech Story (2018) and Crooked Minds: Creating an Innovative Society (2016).