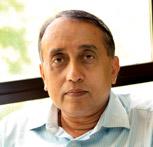 MATHEW CHERIAN
India's older population has trebled since Independence and is now significantly at 100 million. But the number of people over 65 years is about to double in 25 years. It is likely to affect India's economy much more than the demographic dividend we reap today if we do not reform the health sector.
The proportion of the population aged 60 years and above was 7 per cent in 2009 and was projected to increase to 20 per cent by 2050. In absolute numbers, the elderly population in 2013 was approximately 100 million and is expected to sharply increase to more than 315 million by 2050.
The more developed states in the south and a few others like Punjab, Himachal Pradesh and Maharashtra have experienced demographic transition ahead of the others and are therefore growing older faster than other states. Certain regions, primarily in the central and eastern parts of the country, still have high fertility and mortality levels, and therefore younger population age structures. While improvements in health, decline in fertility and increase in longevity are desirable, the projected increase of the elderly population over the next few decades warrants priority attention for economic and social policies to become senior citizen-friendly. In particular, we need to look at healthy ageing.
Unless we spend on pension, care and healthcare for the elderly, the impact of ageing will become a demographic burden. The "grey tsunami" is very much at our doors. One-third or 66 per cent of older persons are living below the poverty line (BPL) and 90 per cent are from the unorganised sector with no regular source of income, dependent on family members economically, socially, emotionally and for caregiving.
But with a demographic transition taking place there is reduction in the pool of persons potentially able to provide family care. As people age, often their independence declines, dependency on family increases and they become more vulnerable to abuse, exploitation and violence which damages their dignity and mental health and compromises their rights. Older women, in particular, are vulnerable to 'property-grabbing' by family members or others and older single men are more vulnerable to undesirable companions robbing them of their assets.
Physically, ageing takes a greater toll on women than on men. Women experience proportionately higher rates of chronic illness and disability in later life than men. It is observed by researchers that older women have greater problems related to non-communicable diseases and have lower social and mental health status, especially single women and widows. Older women live with numerous gender-specific chronic conditions like osteoporosis, arthritis, post-menopausal problems and depression, which are often disregarded as 'women's problems' and not treated as geriatric problems requiring treatment and management. Further, for women especially, old age connotes reduced sexual appeal and, in denial of their sexuality, they are classified as asexual.
India needs to commit at least 6 per cent of its GDP to public health, leave alone geriatric health. Currently, public health centres for seniors (geriatric centres) are available in only 30 out of 622 districts; there is no geriatric training for doctors or medical personnel; and there are 12 million cataract patients without treatment.
The ageing of the population in India brings with it an increase in the burden of chronic disease. The Global Burden of Disease (GBD) study estimated that in 2001 almost half of the adult disease burden in low and middle-income countries was attributable to non-communicable diseases. Ischemic heart disease and stroke were the two leading causes of mortality and disease burden in people aged 60 and older.
In India, healthcare is unavailable for the bulk of the elderly. There are just three geriatric wards in the country – the first was opened at the Madras Medical College, the second at the All India Institute of Medical Sciences in New Delhi and the third in the Thiruvanthapuram Medical College. We have less than 5,000 geriatric beds in a country of our size. China has 500,000 beds for older persons. The progress in the National Programme for Healthcare of Elderly, launched by the UPA, is abysmal after three years of work. Nobody is listening even in the current government.
In this context, reversing ageing and staying healthy and active have become of paramount importance. There are two ways to reverse ageing: lifestyle factors and specific techniques. At HelpAge India we promote 'active ageing' which rests on the three pillars of social connection, a fairly good dose of exercise and moderation in food habits. The aspect of food in moderation is called optimum nutrition or, as yogic masters have always emphasised, the overworked stomach should be filled only a third with food.
Many talk of stress reduction and relaxation but a simple way to reduce stress is social connectivity. The older you get, the more you need others' company. We have found that senior citizen associations in many parts of India are the best antidote to loneliness. Many such associations are involved in teaching the young, constructive work in slums, and keeping themselves occupied in civil society. These associations are the future - be they morning clubs, laughter clubs or Reiki societies and yoga groups. Many of them continue to identify healthy and active ageing as a significant objective and a large number run community activities to help older members stay healthy through exercise. This area of intervention is about creating environments and policies that foster active and dignified ageing, allowing an older person to actively participate in family, community and political life, irrespective of level of functional ability.
Another important aspect of healthy ageing is intergenerational love. The relationship that grandchildren have with grandparents is relished by both – a case of pure unconditional love. This improves elders' health. One may call it family connectedness, which is essential to combat loneliness and depression. It is difficult to compensate for this love. Indeed, the longer older persons stay active, the longer they may enjoy good health and well-being and remain independent. The reverse is also true: the longer they enjoy good health and well-being, the longer they can contribute to and participate in society.
Mathew Cherian is CEO of HelpAge India