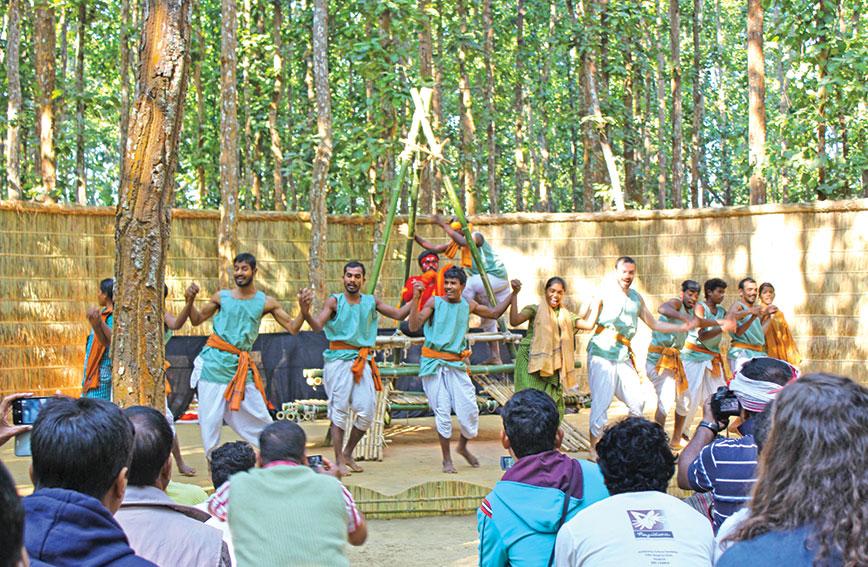 A play in progress at the Under The Sal Tree theatre festival
Theatre in the jungle attracts thousands
Saibal Chatterjee, Goalpara
It is a nippy mid-December morning. A quiet forest in the middle of nowhere comes alive as the stage is set for a play to get underway. It is a sight to behold: a stream of unlikely theatre enthusiasts — men and women, young and old, villagers and small-towners — emerge from all directions and cram themselves into a clearing in the jungle. A temporary stage has been created here, under sal trees, entirely with locally sourced bamboo and hay.
It's magical. One minute there isn't a soul in sight, the very next the forest begins to buzz with activity and excitement. The spectators, mostly members of the Rabha community that inhabits this part of the world, come on foot, on bicycles, and on motorcycles. They quickly fill up the rows of planks that have been built in a semi-circular curve in front of the proscenium.
The occasion is the four-day Under the Sal Tree International Theatre Festival 2016, hosted by the Badungduppa Kalakendra of Rampur, Goalpara district, Lower Assam.
Rampur, a small hamlet off NH 37, which links Guwahati to Goalpara, a distance of about 150 km, no longer languishes in anonymity. The village is now on the to-do list of theatre gurus who believe that the medium is not just about performance and entertainment, but also about community engagement and empowerment.
Under the Sal Tree is the brainchild of Sukracharjya Rabha, a self-effacing, visionary theatre activist who has for long been employing performance art as a means for cultural change and social assertion in this once severely disturbed, remote rural outpost of Assam.
"In the initial days, the audience here would be foxed by the experimental theatre that they watched. But now they have developed a taste for it and know exactly what they are in for," says ...