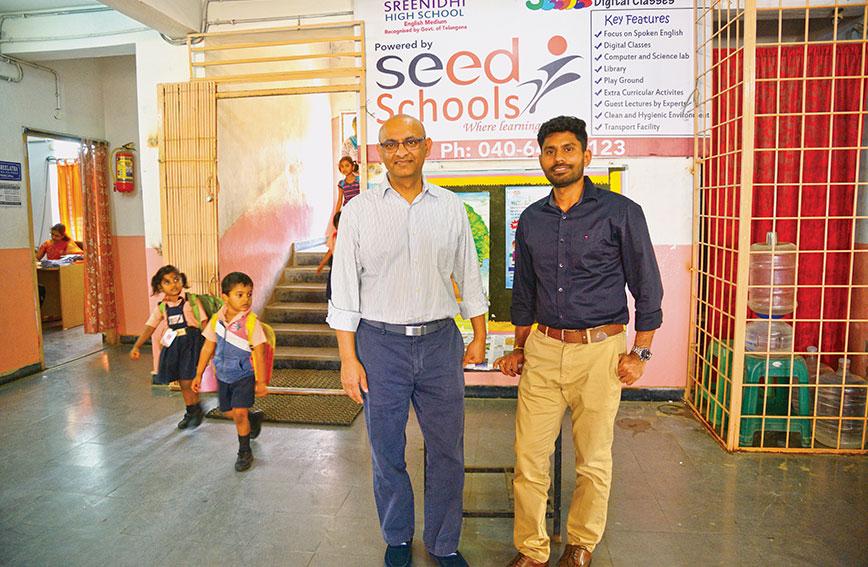 Harish Mamtani and Manish Kumar at a low-cost private school in Hyderabad. SEED has helped to improve the school's quality of education
SEED takes over, upgrades low-cost pvt schools
Civil Society News, Hyderabad
Private school education has been much in demand because most government schools don't do a good job. Everyone can go to a government school, but how does that help when teachers don't perform, pedagogy is dysfunctional and infrastructure sucks? The result is that setting up a private school has come to be seen as nothing less than a great business proposition. There are children and there is demand for anything that is a few notches above what the government offers.
The bigger and better private schools have become brands to contend with. They charge fancy fees and many exotic considerations go into gaining admission. But far from this high-end action, there are also tens of thousands of small private schools mushrooming in remote neighbourhoods across the country where the less fortunate are compelled to go. Because of their accessibility, they are the real substitutes for government schools but, in fact, aren't significantly better. Demand keeps them running and yet financial sustainability, hiring teachers, maintaining buildings and so forth are challenges they are faced with. For many promoters, such schools become a burden they would happily dump if they could.
This is where Manish Kumar, 34, and Harish Mamtani, 50, have decided to step in and use their entrepreneurial skills to put these low-cost private schools through a transformation. It is an end-to-end approach in which they fix the finances of a school, upgrade teaching, improve learning outcomes, introduce new technologies and establish better managerial practices. The idea is to give children from modest homes the equivalent of the best at an affordable price and ignite in them the desire to learn and go on to college and so on.
In 2013, Kumar and Mamtani created SEED Edu Corp (India) Pvt Ltd for which they have raised funds from social investors, ...