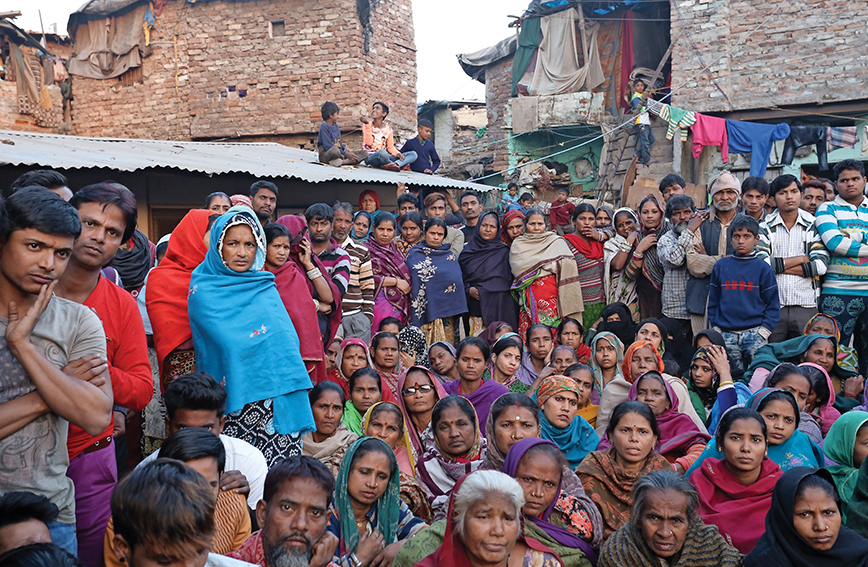 A public meeting in Kathputli. People are bewildered and worried about the future
With fear in their hearts, Kathputli performers shift
Ajit Krishna, New Delhi
Ravi Bhatt, a dhol player, stands tearfully inside his partially demolished home in Kathputli slum. He has agreed to shift but it's a heartrending decision. "Raheja sahib said after two years you will be back here in a permanent flat. Trusting in God, I allowed my house to be demolished. My parents lived and died here. I was born here," he says in sorrow.
For 50 years the Kathputli slum has been the world's biggest settlement of traditional performers. Its fetid lanes and bylanes contained a wonder world of musicians (bhopas), magicians (masihats), singers (langas), actors (behroopias), acrobats (nats) and puppeteers (kathputli).
The settlement is slowly being demolished to make way for multistoried apartment blocks where each Kathputli family will get a small flat. In the interim, they have to move to a transit camp where conditions aren't exactly ideal.
In 2009, the Delhi Development Authority (DDA) drew up an 'in situ rehabilitation scheme' for the first time, ostensibly to provide better housing and services to the residents of Kathputli. It got into a partnership agreement with Raheja Builders under which 35 percent of the 5.2 acres on which the slum stands will be given to the builder.
In exchange, Raheja would construct apartment blocks with water, electricity and toilets. Each Kathputli resident would get a flat of 30.2 square metres consisting of two rooms, a toilet and verandah. While their apartments were being built, the residents would live in the transit camp for two years.
But the DDA's plan got stuck. For the past three years, out of 3,600 residents only 527 agreed to move by 19 December 2016.
DDA began pressuring residents to shift in December. Earth mover machines appeared on the fringes of the slum, causing panic and fear among residents. The police turned up. Activists converged, urging residents to resist. People were confused. Everybody wants a better life but should they trust the government?
DDA's recent report card now says around 1,301 families are shifting.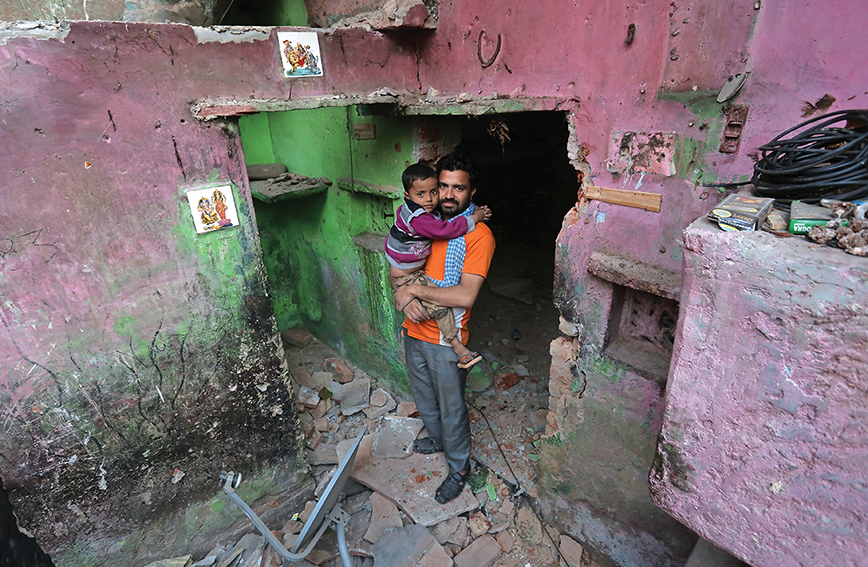 Ravi Bhatt, a dhol player, stands outside his partially demolished home with his child
Around 1,400 families, all members of the Bhoole Bisre Kalakar Cooperative Industrial Production Society Ltd are tired of living under the constant stress of losing their homes. A few have left for the transit camp. Earlier Dilip Bhatt, the popular pradhan of the slum, would talk about how they needed larger spaces to live in so that they could preserve their 12 art forms. "But I can't get the moon. Now, I just hope and pray that every resident of Kathputli finally gets a home," he says.
At the entrance there are families loading their possessions into trucks. People stand around in groups, discussing their plight. A little farther on, the police and para forces equipped with automatic rifles and batons ask you to watch out as workers wearing helmets tear down a house with large hammers.
In a narrow alley a DDA official and a policeman are trying to find a house. The alley leads to an open space where hundreds of residents gather and listen to social activists who tell them the DDA is cheating them. "We don't oppose rehabilitation but we have to ensure that it is done in a fair way," says one activist.
Across the street is the DDA camp with a hoarding providing information on two words of utmost importance to every resident: agreement and survey. A nodal officer sits inside, hunched over paperwork.
Agreement and survey
In the last survey carried out by the DDA, 2,641 families were deemed entitled to a flat. Residents contest this figure. "There are around 3,600 families living here," says Bhatt. To arrive at the truth, the DDA agreed to do a spot survey. Residents who have been excluded can now bring relevant documents to the DDA camp and get included.
That doesn't impress Bhatt. He points out that in 2014 when they approached the High Court about the mismatch between the DDA list and the actual number of residents, a similar survey was done.
"More than 1,200 people applied but they received a letter from the DDA saying that only 44 applicants were eligible. So how can we trust their spot survey?" says Bhatt. They want the DDA to carry out a fresh survey and share the findings with residents so that they can cross-check if anyone has been left out.
"When we restarted our survey, many people whose names had been left out approached us. There were adults living with their parents on the first floor. Anyone who approaches us with valid documents is added to the list," assures Shabnam Kundra, nodal officer. "We are committed to providing flats to all those who have been living here since 31 December 2011."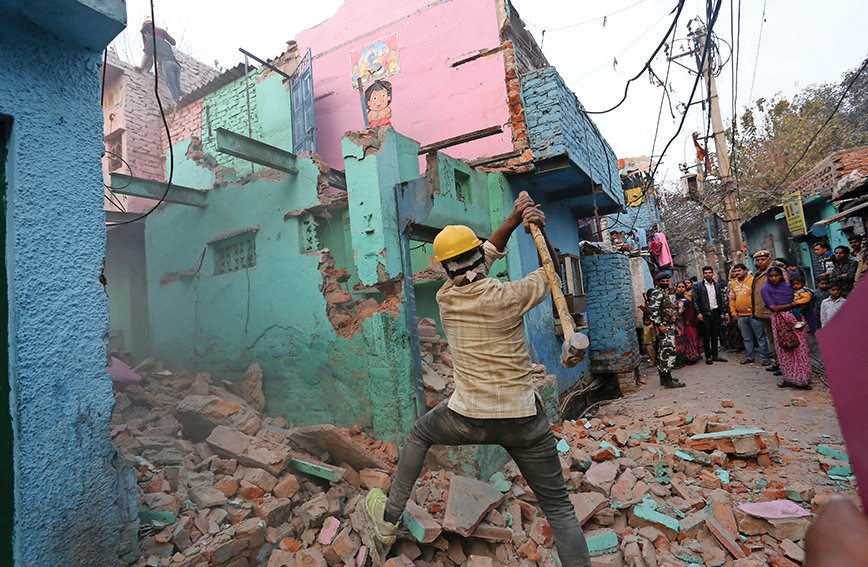 A worker from DDA knocking down a home
But residents fear that only one flat will be allotted for one house even if theirs was a joint family living in a two-storied house. The nodal officer says that's a lie being spread to misguide residents. "We are allotting separate flats to families living on two separate floors," says Kundra. The activists retort, why did the DDA then only survey people living on the ground floor?
The DDA has pushed back the cut-off date from 31 December 2011 to 31 January 2015. It is also accepting applications from people with documents dated after 2011 under the Pradhan Mantri Niwas Yojna which guarantees a house to all. But the people ask if they will get a flat in Kathputli or elsewhere. The agreement, it seems, will just state that they will get a place to stay.
Under the tripartite agreement, each flat will cost Rs 1,12,000. Every family will have to pay Rs 30,000 for five years for maintenance and administration of the apartment block to the residents welfare association (RWA).
Kathputli residents are mostly illiterate or not very well-lettered. They can't understand the agreement, although the terms and conditions are in Hindi. This remains their topmost concern, voiced at public meetings. They have been told that the agreement is not valid because it has not been registered in court.
"Will the government cheat?" says Kundra angrily. "A deputy director-level officer is signing the document. The NGOs have personal motives. They don't want the residents of Kathputli to be educated or live in a clean environment." Pratashi, the pradhan of Bhaat samaj, supports the officer. The notary is approved by the Delhi government and recognised by the court, she says.
"If their intentions are good then why have they changed the language of the agreement three times?" retorts an activist. "Why can't the DDA just come up with a single final draft."
Chaos and panic
The NGOs and activist groups say that the DDA is forcing people to leave. The DDA denies this. "We don't need to force people. We have their consent," says Kundra. Residents, who had come to the DDA camp to get their papers verified, agreed.
Prakash Bhatt, a dhol player, and Mohammad Alami, a daily labourer, who were packing their belongings, said they decided to move on their own. Alami, who has two children in Classes 2 and 4, said he just wanted his children to grow up in a better environment.
But at a public meeting other residents said the DDA was forcing them to leave. "DDA officials told me, whether you give your consent or not, we will demolish your house as it's marked with P," said Seema, a resident.
The DDA adds to the chaos and panic by marking homes with P and L, the most feared letters in the slum. "P means present," said Shankar. "No, it means parcha and L means locked," said another resident. People are afraid that if they leave home for work the DDA officials will mark their homes with a mysterious P or L.
"P means pending, that the matter needs to be discussed further. L means locked. When we did an earlier survey some houses were locked. So we wanted them to come and show us their documents. DS means the family has shifted and we can demolish the house," clarifies Kundra.
However, a video by a social activist doing the rounds shows people saying DDA officials are demolishing their homes without consent. A man from the Gujarati Samaj claimed that DDA officials demolished his brother's house when he had gone to attend a funeral.
But DDA officials say that the people who are shifting to the transit camp are themselves demolishing their homes because they don't want their empty home to be misused. A notice issued by the DDA to people at the transit camp states that for renewing the agreement, people have to give video evidence that their house has been demolished or get it done.
The transit camp
The transit camp is located at Anand Parbat, about 1.7 km from Kathputli colony. Around 327 families shifted here three years ago, believing they would move to a modern apartment after two years. Each family has been allotted a small cabin.
"We have already spent three years living here. Now we are told we will have to spend another two years. The DDA should have been strict and insisted on shifting all of us together. Now this place too has disintegrated. Back in our colony we had individual water connections and a toilet. Here we have to access water from a common source and use public toilets," said one woman in despair.
Mohammad Ishraf came to the transit camp to assess things for himself. He was disappointed. "Some places here already look like a slum. If all of us shift, the place will degenerate. Besides, the cabin has just one window. There is no cross ventilation and no space to cook."
Hari Nat, a puppeteer and singer, who also came here three years ago, says his livelihood has been severely affected. "Not all our customers have our phone numbers. Most of the time people who wanted to hire us would come to Kathputli since it was well-known for its artistes," said Hari. "Much of our lives still revolve around Kathputli. Our children go to school from there. We have to change two e-rickshaws to get to the old colony, adding to our expenses."
But not all are complaining. With his family of seven, Raju, a daily labourer, moved to the transit camp. He says his children have more open space here and that has done them good. Mohan, a former pradhan, said the transit camp is cleaner and has drinking water. But his travel costs have increased while his earnings have dropped by 25 percent. "To gain some, you have to lose some," he says philosophically.
The people of Kathputli have never lived in flats but in houses. Venkatesh, who runs a shop in Kathputli, has a family of six and lived in a two-storied house. How will he run a shop and live with his family in one small cabin, he asks.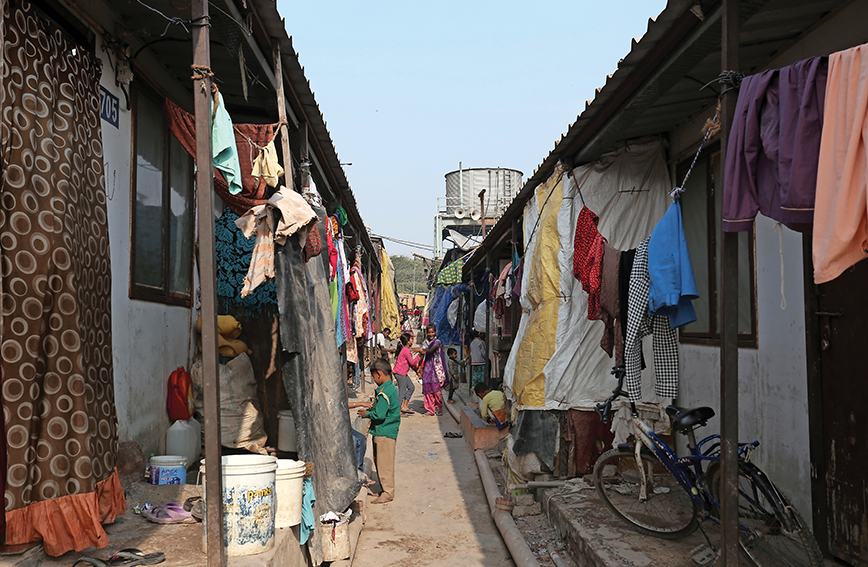 The transit camp. People don't have individual taps or toilets