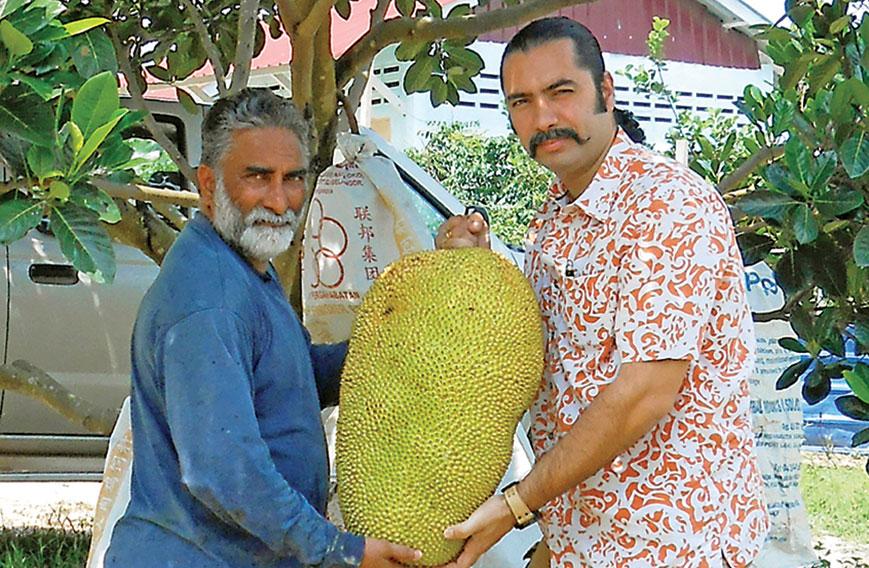 Manmohan Singh and Harvinder Singh with a prized jackfruit from their farm
Punjabi jackfruit quest succeeds in Malaysia
Shree Padre, Kasaragod
Jackfruit isn't prized in Punjab. It doesn't have the status of the aromatic basmati rice or the tongue tickling sarson ka saag. Yet two Punjabis, Manmohan Singh and Harvinder Singh, whose families migrated to Malaysia decades ago, are running a successful 30-acre jackfruit farm in Pahang district of Malaysia.
They started their farm in 2012 and named it Barqat, which means 'blessed' in Punjabi. In just four years they have become seasoned jackfruit farmers.
When Malaysia's agriculture department recently held a jackfruit competition in Sarawak, many senior farmers sent their jackfruits to compete. Barqat Farms' jackfruits walked away with the second prize.
"We started jackfruit farming accidentally," say Manmohan and Harvinder. "We began with 'zero' knowledge, but now, after five years, we are happy to say we have learnt and we feel very content."
While 38-year-old Harvinder Singh belongs to the third generation of Indians who settled in Malaysia, 55-year-old Manmohan Singh represents the second generation.
Harvinder's grandfather, Gajjan Singh, came to Malaysia in the early 1900s and joined the police force. Harvinder works in a financial investment company. Manmohan's father, Saun Singh, left India in the early 1950s. He too joined the police initially and then went on to join the IT sector before becoming a jackfruit farmer.
Both of them have reason to be proud. India doesn't have a single state-of-the-art jackfruit orchard like the one they have in Malaysia.
HOW IT BEGAN
Five years ago Manmohan, while attending a meeting with his boss, came to know that the Malaysian government was giving land on lease for agriculture. The idea of farming appealed to him. His close friend, Harvinder, also showed interest.
Decades ago, Harvinder's grandfather had started rubber farming in Malaysia. "I recalled accompanying my grandfather on his rounds of the farm with some nostalgia," he says.
...